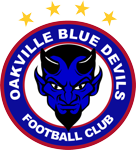 ..................................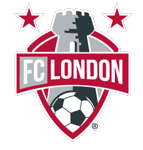 Result and details of the Saturday August 31, 2019 League 1 Ontario game between Oakville Blue Devils
and FC London played at Ontario Soccer Centre in Vaughan at 7:00pm.

Oakville Blue Devils (all navy, white numbers)

.......................22 Eliza Lapdula
....6 Leanne Forker...15 Rachel Melahado (cpt)...3 Rama Hamdy...13 Talia Marino-Sierra
11 Maria Poveda...4 Laura Twidle (cpt)...19 Mahira Ali...20 Danielle Vis...7 Patty Kozak
.......................9 Oshay Lawes

Subs:...1 Veronica Kozak (gk)...2 Alexa Miller...5 Erin Cliff...8 Amy MacLellan
...10 Jivan Yacou...13 Nichole Mailloux...16 Patrice Koutoulas...18 Jordan Auger
team officials:...team head coach John Yacou...assistant coaches Duncan Wilde and Panagiota Koutoulas
manager Kim Ashton...equipment manager Peter Stratigakis...therapist Mark Heathcote

FC London (white socks and shirts, red shorts, black numbers)

......................0 Emily Gillet
20 Amber-Lea Hodgins...13 Denise Fortin...8 Daniella Strano...23 Chelsea Zavitz
.........3 Kayla McQueen...4 Julia Benati...14 Angelika Mihalopulos
.........9 Jade Kovacevic (cpt)...11 Nicole Nielsen...10 Marisa Oliveira

Subs:...1 Emaly Martin (gk)...5 Briana Garcia...16 Madilyne Michienzi...17 Alexandra Hicks
...18 Juliana Popovic...22 Karsen Fuhrman...26 Hailey Burk
team officials:...team head coach Michael Marcoccia...assistant coach Randy Ribeiro...therapist Mike Robinson

Game officials:...referee Kim Lee...referee's assistants Nava Rajabi and Beth McClelland
...fourth official Jessica Patton...(watermelon shirts, black shorts and socks)

First Half:...game starts 7:02pm...OBD defends north end on this mild evening although it cooled as it got dark.
50 sec...FCL Fortin makes key clearance in FCL box.
1 min...OBD Ali on right centers pass to OBD Vis who shoots low 22 yarder that goalie catches.
3 min...FCL Nielsen receives through ball pass at 25 yards but is stopped by OBD Hamdy on edge of box.
4 min...FCL Oliveira low 22 yard freekick is around player wall but defender behind them clears at 10 yards.
5 min...FCL Kovacevic makes solo run 1v4 has sliding defender concede cornerkick on left end line.
6 min...FCL player crosses into box after working out short cornerkick from left has FCL Fortin miss tap-in doing
splits on right post.
9 min...OBD goalie beats FCL Oliveira to through ball pass to smother at 15 yards.
10 min...OBD Twidle low 25 yard shot down middle is wide left.
12 min...FCL Nielsen cross into box from left has defender duck in middle at 10 yards and head away.
12 min...FCL goalie is out left to clear ball before OBD Lawes can get to it.
13 min...FCL Zavitz wins freekick at FCL 40 yards when injured on check.
14 min...FCL Benati cornerkick from right is short and intercepted for OBD fast break out.
16 min...FCL Kovacevic charges in from 35 yards after receiving pass and goalie slides to make point bland stop
at 12 yards. Kovacevic cartwheels over her but wins cornerkick.
16 min...FCL short cornerkick is battled around on edge of box in middle before being cleared.
17 min...FCL Oliveira 18 yard shot is blocked by OBD Forker.
18 min...OBD goalie is out to edge of box to pick up through ball before FCL McQueen can get to it.
19 min...OBD Lawes spins around and takes 15 yard shot that partially deflected for goalie to pick up.
20 min...FCL Kovacevic takes low 20 yard shot around defender and goalie dives left to stop then smother ball.
20 min...OBD Twidle looks to have scored on 28 yard bender from right into left side of net but offside flag is up.
21 min...OBD Twidle sends in cross and OBD Lawes pops up header.
22 min...OBD Lawes low 22 yard shot from right end line is caught by goalie on bounce.
23 min...OBD Poveda eludes defender who missed bounce of cross from left into box and her 8 yard shot is batted
away by goalie near right post.
27 min...OBD Ali 40 yard freekick from right sideline is caught by goalie drifting left into crowd of players by post.
28 min...OBD sub...Yacou replaces Kozak.
29 min...OBD Vis cornerkick from right has OBD Melahado head 12 yarder in crowd of players well over net.
30 min...OBD Forker 40 yard freekick from right is over to OBD Twidle at 30 yard line on right sideline has play whistled
down on cross into box.
31 min...OBD YELLOW card...Lawes earns it for tackle at FCL 22 yard line.
32 min...FCL Kovacevic wins cornerkick on low cross on run to OBD 20 yard line on right.
33 min...FCL Benati short cornerkick from right wins another on deflected cross.
33 min...FCL Benati high cornerkick from right has goalie bat ball away in crowd of players. FCL Mihalopulos low shot
up middle from 22 yards is wide right.
34 min...OBD Twidle 28 yard shot is well high and right of net.
39 min...OBD YELLOW card...Yacou earns it for complaining about FCL player being awarded freekick at OBD 50 yard line
even though she wasn't involved in play.
41 min...FCL Benati 25 yard shot from right deflects off defender and goalie comes out to 10 yards to pick up.
43 min...FCL Benati 22 yard shot from left is around defender but just wide left of net.
45 min...OBD Melahado is able to push back when FCL Kovacevic tries to bump her off ball at 22 yards and tips ball away.
46 min...half ends 7:48pm.

Halftime Entertainment: Two foodtrucks are inside the gates. There's a t-shirt toss into the crowd by some ballgirls
with the League 1 Ontario logo on each shirt.

Second Half:...starts 8:04pm.
49 min...OBD Yacou is tapped pass and 25 yard shot is wide left but wins freekick.
50 min...OBD Ali rolls 25 yard freekick to open OBD Twidle on left side of box but falls over and ball is cleared.
54 min...OBD Twidle low 28 yard shot up middle bounces wide.
54 min...FCL Kovacevic is given through ball pass and round goalie at 15 yards but finds herself on 1v4 at 8 yards
on left and cuts back over and pass is broken up on edge of box.
55 min...FCL Hodgins clears for cornerkick when facing 1v2 in own box at 6 yards against her.
56 min...OBD Twidle cornerkick from left has FCL players make two headers to clear ball out right side of box.
56 min...FCL goalie catches high chip before OBD Lawes can get to it at 10 yards.
57 min...OBD Melahado low shot is caught by goalie then she almost pushes it into won net between her legs
but deflects off post for her to pick up.
58 min...OBD Twidle cross from 30 yards on right has OBD Ali lift leg with back to goalie but can't deflect at 7 yards.
FCL defenders partially clear and OBD Twidle chips 22 yarder down middle over net.
58 min...OBD sub...MacLellan replaces Lawes.
59 min...FCL Mihalopulos passes upfield to FCL Kovacevic who gets around defender on run back from end line
and cuts 8 yard shot to short side wide of net.
61 min...OBD Twidle cornerkick from right is knocked out left side of box by OBD MacLellan in middle.
63 min...OBD Ali run from left cuts to middle and 30 yard shot well high and wide right.
64 min...OBD Ali on 1v5 rolls ball to OBD Twidle running into box on right but goalie is out to smother.
65 min...OBD Twidle 35 yard shot down middle is well wide left. Two OBD players are down with leg injuries.
66 min...OBD Twidle is tapped centering pass from right and 28 yard shot is wide left.
67 min...OBD Twidle rolls 28 yarder up middle is wide left.
68 min...FCL McQueen gets to ball deflected off OBD Talia Marino-Sierra and 18 yard shot from right is caught
by goalie.
69 min...FCL McQueen recovers partial clearance and blasts 18 yarder well over net down middle.
69 min...OBD Twidle cross from right end line has defender head away.
70 min...OBD Vis 35 yard shot down middle is wide.
70 min...FCL Oliveira rescues ball on left end line and 20 yards cross has goalie dive forward to smother.
72 min...OBD Twidle is injured at FCL 40 yard line.
76 min...FCL Benati 33 yard low shot up middle is wide left.
78 min...FCL Nielsen 25 yard shot from left is well high and wide right.
79 min...FCL McQueen receives pass on right and shoots over net from 18 yards.
81 min...FCL YELLOW card...Strano earns it for knock down.
82 min...OBD Ali freekick from top right corner of box has goalie palm over bar.
83 min...FC London Jade Kovacevic GOAL...OBD waste a cornerkick in the left corner with a pass around
that's intercepted and cleared. FCL Marisa Oliveira receives short pass at 65 yards on right
and runs across center line while cutting towards middle. At 45 yards she rolls pass forward
to Kovacevic who is just on the left side of the last defender OBD Rana Hamdi at 25 yards. Kovacevic
continues forward and to left and at 15 yard line rolls shot into right corner of net beyond reach
goalie Elisa Lapdula diving at 7 yard line in alignment with left post.
85 min...OBD Forker suffers leg injury at center line and needs trainer. She is eventually carried
off the field by about four teammates and the trainer. Maybe there was no stretcher available?
85 min...FCL sub...Michienzi replaces Nielsen before play resumes.
89 min...OBD sub...Miller replaces injured Forker.
92 min...FCL sub...Hicks replaces McQueen.
94 min...OBD Hamdy clears ball off FCL Kovacevic and ball deflects back to goalie.
96 min...game ends 8:55pm.

Final Score:.....Oakville Blue Devils......0.......FC London.......1........

Attendance was not announced but gradually built to what may have been 800 as the game went on. 
This venue was chosen for easy programming for OneSoccer in an evening slot giving great publicity 
for the league.  The Ontario Soccer Centre venue has already hosted a Canadian Championship game 
back in the Spring featuring L1O Vaughan Azzurri (not their usual venue) hosting CPL HFX Wanderers 
and that went off well.  It just would be an inconvenience for both team's fans.  London is 193 km 
away from Vaughan (thanks Google Maps!) and it was a two hour drive today (answered the bus driver 
waiting in the half-sized coach for the players after the game).  Probably spared because of the 
holiday weekend leaving the roads cleared today.  Actually Oakville finishing first would have had 
first choice to host (62 km) but Sheridan College has no stadium lights.  School is starting back 
up but I was able to ask assistant coach Duncan Wilde before the game and the stands at Sheridan 
are being repaired with a new roof to stop the leaks over the stands and refitting of the seats 
so that facility is currently off limits even for an afternoon game.  Two food trucks were allowed 
to drive through the gates and sell food to the fans.  
  
Referee Kim Lee led an all female crew for today's game.  She gave out three Yellow cards 
(two to OBD in the first half) in a pretty clean checking game.  

I was expecting a much higher scoring game than what happened.  Oakville led the regular season 
with 47 goals scored in 13 league games.  FCL's Jade Kovacevic led the league with 21 goals 
in 12 games and 7 goals in 5 playoff games until tonight and OBD Mahira Ali was runner up with 18 goals.  

There were a few reasons I figured out why the low scoring besides the usual 'tighter defences 
win playoff games' arguments.  I looked back at linescores before the game and realized 
North Mississauga Panthers SC had allowed 112 goals against in their 13 games...that averages out 
to over 8.5 goals per match and helps pad all the other teams' goals for average.  (Wow how NMP 
have fallen since the L1O women's inaugural season in 2015 when I was here to watch them win 
the League Cup).  Also I read  info earlier in the week that Oakville had six of their older players 
leave to go back to school.  That may be why they struggled through the playoffs from the semi-finals 
on by beating Vaughan Azzurri in Penalty kicks after the each game ended 1-0 for the home team.  
That wasn't quite as bad as Sigma FC on the men's side losing 13 players before their playoffs 
and now are threatened with elimination next week in the second game of the quarterfinal round.   

FCL started in the L1O Women's second season of 2016 and won the league title that year and in 2017.  
They were undefeated in 2018 but lost in the first round of the playoffs (ie semi-finals) so tonight 
must have been extra special.  This year FCL finished third of fourteen teams with a record of 7 wins, 
3 losses, 3 ties for 24 points.  Oakville finished first with 11 wins, 2 losses, 0 ties for 33 points.  
Their regular season meeting ended with OBD winning 4-0 in London on June 16.  

FCL Emily Gillet earned the shutout with a few good saves.  

OK a lot of midfield play but many chances ended up as 2v5 rushes as there was a commitment 
to defence—playoff soccer tactics!  

Best non-scoring chances were at 16 minutes when FCL Jade Kovacevic charged in from 35 yards after 
receiving a pass and the goalie slid to stop her on a point blank save at 12 yards with Kovacevic 
cartwheeling over her but winning a cornerkick.  20 minutes had Kovacevic take a low 20 yard shot 
around a defender and the goalie dove left to stop it then smother.  Quickly back upfield 
and OBD Laura Twidle shot from 28 yards from the right that hit the left post.  23 minutes had 
OBD Maria Poveda elude a defender who had missed a bounce of a cross from the left and took 
an 8 yard shot that was batted away by the goalie near the right post.  33 minutes had FCL Julia Benati 
send in a high cornerkick from the right that the goalie punched away in a crowd of players on the left 
side of the 6 yard box.  FCL Angelika Mihalopulis charged forward and took a low shot up the middle 
from 22 yards as she crashed with a defender and sent the shot wide right.  54 minutes had Kovacevic 
given a through ball pass and she rounded the goalie at 15 yards but found herself when she recovered 
the ball at 8 yards on the left on a 1v4 with the goalie still down.  She retreated and passed off 
just outside the 18 yard box but the play was broken up.  57 minutes had OBD Rachel Melehado take 
a low shot that the goalie caught low in from of the right post then she dropped it and almost pushed 
it into her own net between her legs and off the post before she picked it up.  Next minute had 
OBD Twidle cross from 30 yards on the right that OBD Mahira Ali lifted her leg up with her back 
to the net but can't quite deflect at 7 yards.  The defenders partially clear it but Twidle now 
in the middle chipped a 22 yarder over the net.  59 minutes had FCL Mihalopulis pass upfield 
to Kovacevic who got around a defender on her run back from the end line and cut an 8 yard shot 
to the short side but wide of the post.  68 minutes had FCL Kayla McQueen get to a deflected ball 
off OBD Talia Marino-Sierra and her 18 yard shot from the right was caught by the goalie. 
70 minutes had FCL Melissa Oliviera rescue a ball on the OBD left end line and her low 20 yard 
cross had the goalie dive forward to smother.  82 minutes had OBD Mahira Ali freekick from the 
top right corner of the box that the goalie palmed over the bar.  FCL's Daniela Strano earned 
a Yellow card on the play setting up that freekick.  The subsequent cornerkick after that play 
immediately led to the lone goal.  No real chances after that goal with OBD Leane Forker suffering 
a serious leg injury at 85 minutes requiring a trainer with her eventually needed to be carried off 
by about four teammates as there was no stretcher and led to 5 minutes of added time.  

FCL head coach Michael Marcoccia will be back in Vaughan next Sunday further north in Maple 
as he also coaches the men's team in their quarterfinal against Vaughan Azzurri with FCL holding 
a 2-1 first game advantage.   

This is the first women's game I've attended this year.  My L1O score so far: Men 31, Women 1.  
Also York 9 FC and Toronto FC II games keep me busy.  Last year I also only saw one L1O women's 
game but that was the League Cup Final tourney which wasn't held this year.  Two years ago I was 
at this venue to watch FC London win their League Cup Final...there was no league playoff that year.  
Kim Lee was the referee at that game too (OK I had to look that up in my archives).        

OneSoccer broadcast the game live but cut away at halftime to stock CPL Open Trials footage 
and cut off immediately at the final whistle not showing any of the post game celebrations 
including awarding of silver and gold medals and the trophy presentation.  The game was posted 
on their site within 24 hours (faster than CPL games!).  The League 1 Ontario site who has YouTube 
postings of the entire game of all games this season is currently restricted to just a snippet 
of the goal.  I don't know if that will change or not.  L1O officials and Mediapro tech guys were 
unsure last night.    

Jade Kovacevic was named the MVP of the game and with the FCL goalie not having to make more than 
a few saves she was the obvious choice.  After the medals and trophy was given out, fans were 
allowed on the field to pose for pictures with the players.  

Before the goal was scored it was announced that if the game remained tied after regulation, 
the match would proceed with two 15 minutes extra time periods and if that didn't provide a result, 
it would go to Penalty kicks.  I didn't expect any extra time because of OneSoccer---I expected 
that they'd want to cut off and go to a Mexican League game or something—that they'd insist 
on immediate Penalty kicks.  It was getting colder as the night wore on so it was good for the 
fans and the distance they'd drove that this game ended just before 9:00pm.    

Lucky me?  I seemed to be the only person at the game who so far has heard of the Allstate Soccer 
Show coming back to the GTA.  This week is the anniversary of their first ever exhibition.  
The e-mail with a link to a YouTube video of last year's event announces that the show will 
be on Saturday February 1st, 2020 at the International Centre in Mississauga.  Depending on 
which Hall they rent out could mean a bigger show than last year's at The Hangar in Downsview.  

Rocket Robin
robing@eol.ca
twitter @RocketRobin01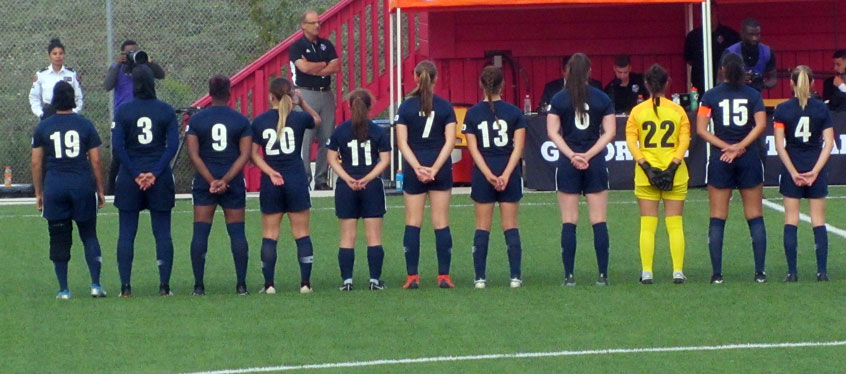 Oakville Blue Devils starters


FC London starters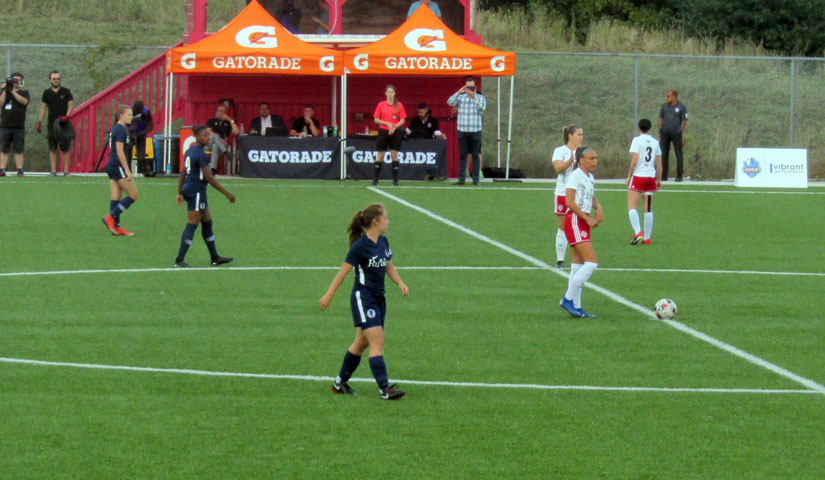 FC London Jade Kovacevic (9) takes opening kickoff.


FCL Marisa Oliveira (10) takes low freekick around wall.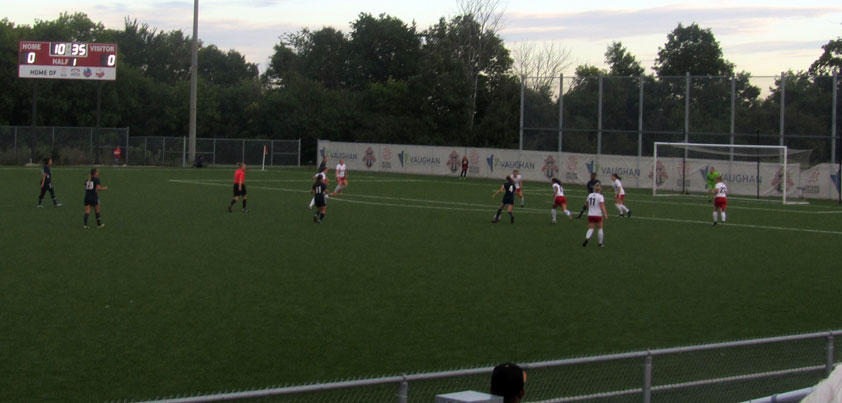 OBD Laura Twidle (4) gets ready to take shot.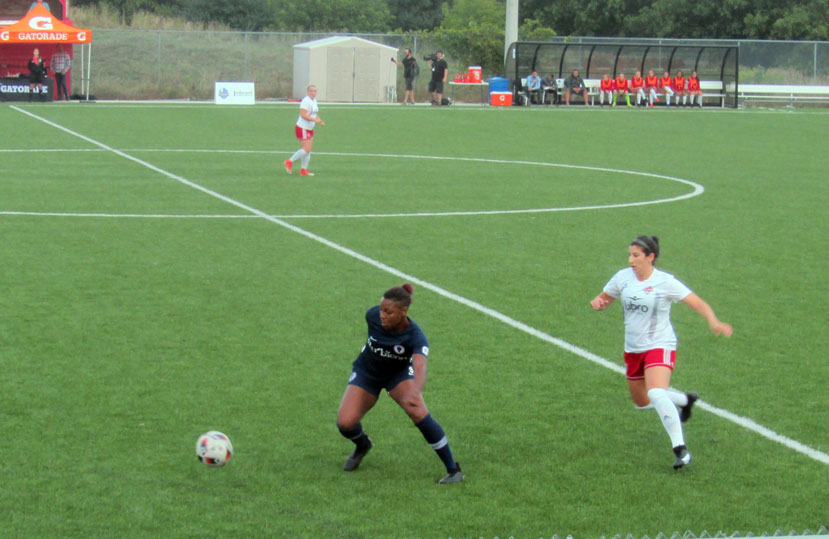 OBD Oshay Lawes (9) turns back to receive pass.


FCL Julia Benati (4) will play short cornerkick.


FCL Nicole Nielsen (11) cuts in shot from outside box.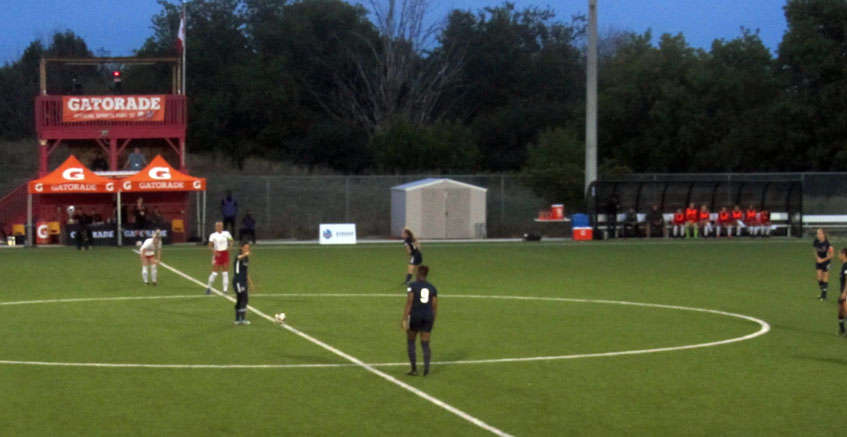 OBD Mahira Ali (19) lines up freekick.


OBD Mahira Ali (19) takes second half kickoff.

OBD Leanne Forker (6) is treated for leg injury.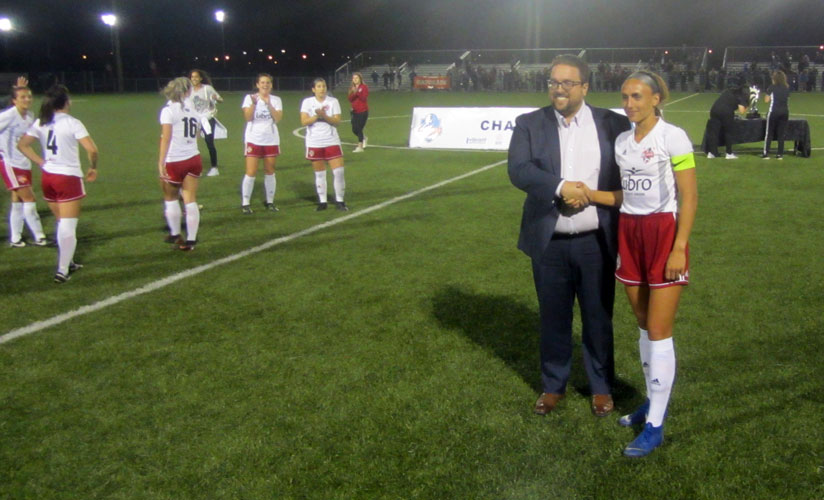 FC London Jade Kovacevic (9) is named game MVP by L1O commissioner Dino Rossi.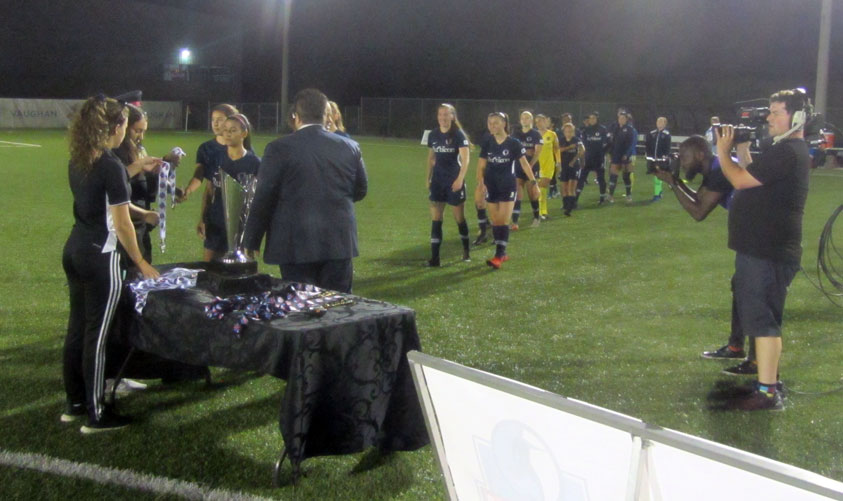 Oakville Blue Devils players receive their silver medals.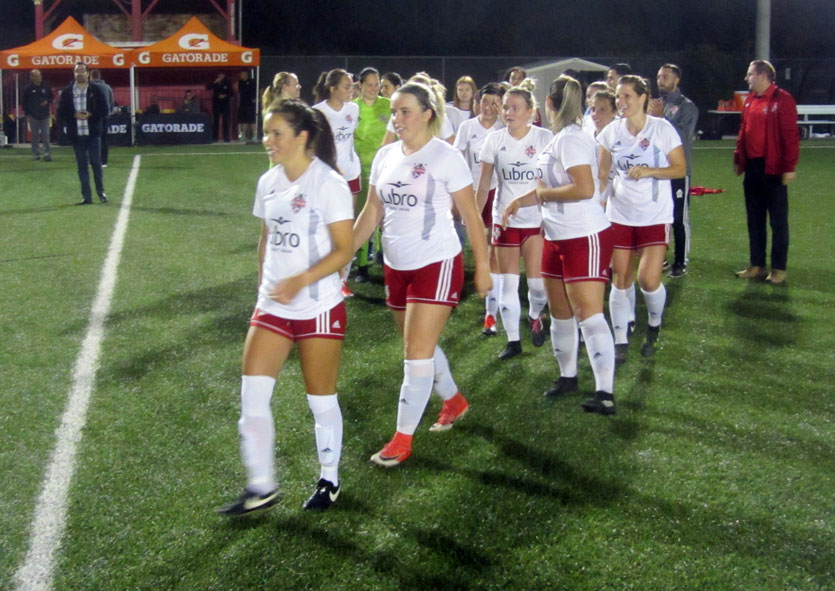 FC London players march up for their gold medals.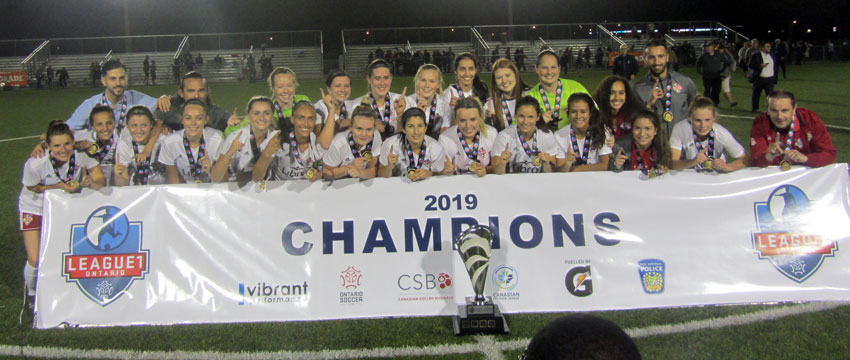 FC London players pose as champions.


FC London players, fans, and families.

August 31, 2019 League 1 Ontario--Post game on field interview after Oakville Blue Devils vs FC London 
Women's Championship Final game held at Ontario Soccer Centre in Vaughan (by Rocket Robin)

..............................................................................

League 1 Ontario Cormac Rea with FC London captain/goalscorer Jade Kovacevic

Cormac Rea Senior Coordinator Communications L1O with FC London Jade Kovacevic...2 min 16 sec
Rea asks her to talk her way through the goal.  What does it mean (all the championships) 
for FC London? What it mean for all the young players?  

The sound quality of my recording isn't good because of the crowd noise.  I actually couldn't hear the
questions but have a long enough arm that I could reach in without blocking the Mediapro camera
and listen to it later.  A reporter from the London Free Press had a long interview with her soon
after that.  While it is nice that OneSoccer has posted for replay the full game already (less than
24 hours later--better than their CPL games!), they cut off right at the final whistle, that includes
last night's live broadcast too, so I can't direct you to a 'better' quality recording. 

After many of the players and crowd had left I was able to ask Jade when she was alone with some 
female relatives (mother and aunt?) about whether she'd be returning to Europe where she played 
for CD Roma in Serie B* until May 2019 and didn't return to L1O until the second game this season.  
She answered me 'No', she has not had her contract renewed.  It appears to be a combination of reasons 
including foreign restrictions of roster spots, her curiosity of giving European play a try, and her 
wish to come back to Canada.  She is originally from Georgetown (well at least I remembered that!) 
and now has moved to London where she will continue to play for FC London next season, will continue 
to coach at the FC London Academy, and will begin her career in marketing (I said dentistry but 
it must have been because she was smiling!).  

She is a graduate of Fanshawe College where she was a player on that team and coached 
by Michael Marcoccia, who's also coach of FC London's L1O women's and men's team.
I first remember watching her when she played for Toronto Lady Lynx.  

*This team appears to be a farm team of the Roma women's team playing Serie A.  

back to League 1 Ontario index

.
.