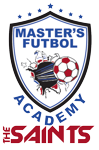 ...............................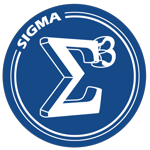 September 8, 2019 League 1 Ontario--Master's FA vs Sigma FC (game report by Rocket Robin)
Result and details of the Sunday September 8, 2019 League 1 Ontario game between Master's FA and Sigma FC
played at L'Amoreaux Park in Scarborough at 1:00pm.
Masters FA Saints (red socks, white shorts and numbers, graduated pink shirts)
..................1 Spiridon Koskinas
70 Yasin Shawan...4 Anthony Wright...3 Adam Czerkawski...2 Atif Muhammad Ali
20 Francis Ameyaw...9 Shaquille Agard...19 Randy-Durand Misse Miyenga...12 Maleik Defreitas...14 Triston Frankson (cpt)
......................8 Samer Hamade
Subs:...0 Daniel Gosciniak (gk)...5 Marc Jankovic...7 Anwar Al-Sawi...11 Shawn Brown
...13 Antoine Paul...16 Akeem Priestley...30 Daunte Walkes
team officials:...team head coach Rick Titus...assistant coach Devon Porter...manager Hubert Groves
Sigma FC (blue socks and shirts, black shorts, white numbers)
...................1 Jack Cristini
.......4 Francis Kwashie...15 Samuel Gardner...5 Massimilliano Sellitto
8 Christian Samaniego...6 Johnny Son...2 Shane Ricketts...10 Justin Stoddart (cpt)...7 Tyriq Armstrong
..............9 Leaford Allen...11 Elijah Larin
Subs:...31 Calum Morrison (gk)...16 Kai Garvey...17 Markell Saddler...19 Cameron Da Silva
...20 Gurjas Singh...21 Nino Nikolovski...22 Greg Moulopoulos
suspended Cody Green
team officials:...team head coach John Zervos...assistant coach David Igreja and Philip Opassinis
...manager Perry Chadjiloannou...therapist Victoria Carlucci
Game officials:...referee Hassane Rifai...referee's assistants Kevin McEleney and Kuizan Weekes
...fourth officials Brian Butler...(yellow shirts, black shorts and socks)
First Half:...game starts 1:04pm...MFA defends south end on this overcast windy afternoon. Storm clouds are approaching
and the sideline tents are collapsed before the game starts. The winds are from the north.
1 min...MFA Frankson spins around two defenders on left side of box and rolls centering pass. MFA Hamade player blast
is blocked. MFA Misse-Miyenga follows up with 22 yard blast down middle is well over net.
3 min...Sigma Stoddart 25 yard freekick from far left hits two man wall and causes fast MFA breakout.
5 min...Sigma goalie comes forward to bat away bouncer ahead of MFA Hamade.
7 min...MFA Hamade is injured away from play and is limping then collapses.
8 min...MFA sub...Walkes replaces injured Hamade.
8 min...Sigma player's cornerkick from right has Sigma Armstrong cross back from left. MFA goalie beats Sigma Gardner
to dive on ball.
10 min...MFA Muhammad Ali 40 yard low freekick from left sideline has MFA Walkes in crowd of players on left side of box
tip it and goalie catches.
11 min...MFA Agard can't cut around defender and 22 yard shot from right is well over net.
12 min...MFA Agard 30 yard chip from right bounces to goalie.
13 min...MFA Walkes 15 yard shot from left hits goalie and deflects off near post.
14 min...MFA player's cornerkick from left has MFA Ameyaw jab ball in crowd of players off right post and goalie makes save.
14 min...MFA goalie beats Sigma Stoddart to grab bouncer on left side of box.
16 min...Sigma Allen is injured at center line.
19 min...MFA Shawan rush to rescue ball on Sigma end line and crosses into 6 yard box has defender head away.
22 min...Sigma Ricketts is injured on edge of MFA box and needs trainer.
27 min...MFA Agard cross from 35 yards on right has charging MFA Frankson one-touch 15 yard blast from left over bar.
29 min...MFA Ameyaw holds off defender grabbing him on run up middle but pushes 20 yarder too far forward for himself
and goalie grabs.
30 min...Sigma Ricketts draws freekick when forearmed in the chest at MFA 30 yard line.
30 min...Sigma Larin 33 yard freekick up right is just wide right of post.
31 min...MFA Defreitas is injured on run up middle atg 45 yards.
33 min...MFA Agard cross from 35 yards on right has goalie punch ball away at 8 yards as MFA Wright barrels into
and injures him.
36 min...MFA Dante Walkes wins Penalty kick call from referee Hassane Rifai as Sigma Francis Kwashie
pulls him down. Rifai first looks over at assistant Kuzan Weekes to make sure it wasn't
an offside call.
.........Sigma YELLOW card...Kwashie earns a Yellow card on the play.
37 min...MFA Dante Walkes GOAL...Walkes blasts Penalty kick low to slight right as goalie Jack Cristini
dives left.
38 min...MFA YELLOW card...Misse Miyenga earrns it for pulling down of Sigma player at MFA 20 yard line in middle.
39 min...Sigma Gardner blasts low 20 yard freekick under leaping player wall and goalie smothers ball on slight right
side of net.
43 min...Sigma Stoddart low 33 yard freekick on right sideline has MFA player whiff clearance but a second player clears.
45 min...Sigma Larin 33 yard freekick down middle taps ball to Sigma Gardner who blasts shot well over net.
48 min...half ends 1:52pm.
Second Half:...starts 2:07pm...The sun is breaking through.
45 min...MFA Frankson runs down left and low 10 yard shot deflects off sliding goalie on short side off post over him
and bounces back for him to grab.
46 min...Sigma Allen 15 yard shot from left is blocked by defender.
51 min...MFA Frances Ameyaw GOAL...Sigma goalie is out to 25 yards to clear a step ahead
of charging Ameyaw down the middle. The goalie shanks the kick with a pop up and it spins backwards
but Ameyaw is behind him to get 7 yard tap-in into empty net.
52 min...MFA Ameyaw is injured at center line.
55 min...Sigma Sellitto cross from 35 yards on left has goalie punch away on near post as Sigma player
plows into him. MFA goalie is injured and needs trainer.
57 min...MFA sub...Priestley replaces Misse Miyenga before play resumes.
58 min...MFA Agard 33 yard freekick from left has goalie palm ball over bar. The wind hung up the ball.
59 min...MFA Priestley cornerkick from left ends up winning a cornerkick on right.
59 min...MFA player's cornerkick from right has Sigma Allen head ball away.
59 min...MFA Anthony Wright GOAL...MFA Triston Frankson crosses from 18 yards along left end line
and Wright in alignment with the right post heads 8 yarder into top left corner of net.
60 min...MFA Ameyaw skies 18 yarder well over bar as he falls over.
61 min...Sigma sub...Nikolovski replaces Sellitto.
63 min...Sigma sub...Moulopoulos replaces Son.
64 min...Sigma Moulopoulos 30 yard through ball pass is too far forward for Sigma Ricketts and is over right end line.
64 min...MFA sub...Paul replaces Ameyaw.
65 min...MFA Frankson first touch from 22 yards rolls to goalie.
65 min...Sigma Larin 20 yard shot from left is well wide left.
66 min...Sigma sub...Saddler replaces Larin.
67 min...MFA sub...Jankovic replaces Shawan.
68 min...Sigma Ricketts cross from right near end line deflects off defender and then off outside of right post.
69 min...Sigma Markell Saddler GOAL...Sigma Greg Moulopoulos cornerkick from right has Saddler
head 6 yarder into right side of net beyond goalie Spiridon Koskinas.
69 min...Sigma sub...Garvey replaces Armstrong.
70 min...Sigma YELLOW card...Gardner earns it for tackle at Sigma 16 yard line on left.
72 min...MFA Priestley 25 yards freekick from left has leaping MFA Paul head 10 yarder and wins cornerkick on deflection.
73 min...MFA Priestley cornerkick from right has Sigma Ricketts on fast breakout and blasts 25 yarder from right high
and well wide left of net.
74 min...MFA Czerkawski threads through ball pass to MFA Priestley who rolls 15 yarder wide left and Priestley can't win
Penalty kick.
74 min...MFA goalie dives left to smother 20 yard shot on left post.
75 min...MFA goalie runs to left to smother ball ahead of Sigma Saddler.
76 min...MFA Walkes away on break on left and 22 yard low shot has goalie have go between his legs at 8 yards but deflects
wide left for cornerkick.
76 min...MFA Priestley cornerkick from left has MFA Czerkawski head 8 yarder from right that defender on left stops.
77 min...Sigma Ricketts rush on right low 18 yard shot has diving goalie save and Sigma Allen had overrun ball so no tap-in.
78 min...Sigma Saddler hits bar when tapped ball on left on 10 yard shot.
79 min...MFA Paul run down left and 18 yard shot is well over net.
80 min...Sigma Saddler low 25 yard shot from left deflects of sliding defender and Sigma Allen is called offside.
81 min...Sigma Moulopoulos is centered short pass and 25 yard blast is well over net.
83 min...MFA Marc Jankovic GOAL...MFA Akeem Priestley jukes on rop right corner of box, passes
right to MFA Daunte Walkes who heads across to open Jankovic on left. Jankovic takes
midair 8 yard shot from left over flying goalie into short side of goal.
84 min...Sigma player's 23 yard shot from crowd of players on left is over bar.
85 min...Sigma sub...Singh replaces Kwashie.
86 min...Sigma RED card...Samuel Gardner earns his second Yellow card for kicking a ball after
the whistle was blown. His ball hit a fallen MFA player in the back as he was sitting
on the ground. His first card was at 70 minutes for a tackle deep in the Sigma end.
87 min...MFA Walkes while off balance heads cross from right from 12 yards in middle is well wide left.
89 min...Sigma YELLOW card...Samaniego earns it for pushing over MFA Walkes on sideline at Sigma 30 yard line.
90 min...MFA wins a Penalty kick as a player is pulled down just inside the Sigma box.
92 min...MFA Akeem Priestley GOAL...Priestley takes low Penalty kick that goalie dive left
for stop and gets piece of but pushes it into left corner of net.
93 min...game ends at 2:55pm before restart.
Final Score:...Master's FA......5.......Sigma FC......1........
(Master's wins two game quarterfinal on 7-2 aggregate)

Attendance started off low but grew to about 70 as the game went on.  This game 
was rescheduled from the same time on Saturday.  I hope it was because of the Canadian 
national team game in downtown Toronto on Saturday night.  The decision made it easy 
for me that I could be here with enough time to get crosstown for the 7:00pm game in Maple.  
The weather was rather cool with storm clouds overhead (which never ended up bothering us) 
and a gusty wind that spooked the grounds crew to erect then collapse the tents usually 
put up to shelter the official's table and player benches before the game started.   

This was a tough day for Sigma.  They were already behind 2-1 on aggregate with a late 
freekick two weeks ago giving Master's the win and the important away goals.  Before 
the playoffs started, Sigma sent out a tweet congratulating 13 of their players for 
returning to school—various NCAA and Canadian Universities.  This happens every year which 
is why Sigma fizzles at the end of the season and makes an early exit from the playoffs 
(exception last year when the team was stacked with more overage players looking 
to break in to the Forge FC CPL team).  This year the 13 were most of their starters.  
Earlier this week the goalie of the playoff game, Luke Iacobellis, was called up for 
Forge FC to sit on the bench as the backup as goalie Quillan Roberts left to play for 
Guyana in the CONCACAF Nations League.  That left Sigma down to a choice of Jack Cristini 
and Calum Morrison both born in 2003.  Both looked small physically against the brawnier 
MFA team.  Sigma defender Cody Green was also serving a Red card suspension for a late 
tackle near the end of their last game.  

This game was rough from the start.  MFA Samar Hamade who had scored in the first game 
of the series was injured and had to be subbed out at the 8 minute mark.  I figured 
he was injured at the 1 minute mark taking a shot that was blocked then finally collapsing 
at 7 minutes after limping far away from the play.  Daunte Walkes (a 2002) entered and fit 
right in and was trusted with taking the Penalty kick.  

I make notes about the exciting plays but also those delays because of injury and today 
had about as many for each event which never usually happens.  Let's say it was a close 
checking game but Master's dominated in game play leading in shots actually on net 
as 14 to 5 (from a L1O tweet).  I was expecting goalie Cristini would be bashed in the box 
leaping for crosses playing against players a foot taller than him and outweighing him 
by more than 50 lbs.  He avoided a few hits by punching the ball away.  Almost as many hits 
were taken by MFA goalie Spiridon Koskinas with Sigma players plowing into him.    

Master's scoring their first goal before halftime really put the game away by increasing 
the aggregate and meant Sigma then had to score two goals just to force extra time.  
Master's never let off the pressure and put it away early in the second and poured it on.  
MFA only drew one Yellow card despite it being so rough and that was Randy-Durand Misse Miyenga 
for pulling down a Sigma player just outside the MFA box only one minute after the first 
MFA goal.  Sigma players drew three Yellow cards and the Red and gave up two Penalty kicks. 

A nightmare for me was tracking the MFA players as they wore graduated pink shirts with 
white numbers but the only good thing was it was daylight so it wasn't as bad as their 
night games.  

Marc Jankovic came into the game for MFA at 67 minutes in his usual spot as defender.  
I hadn't realized this was only his third game of the season.  Revenge for him as his first 
game was the regular season game against Sigma where they were beaten 2-1.  I've been watching 
him since the beginning of this century with such teams as Metro Lions and Serbian White Eagles 
as he's born in 1980.  He said after the game if I give him good write ups maybe he'll get 
into more games! He didn't get near the small Sigma goalie but he's listed as 6'7" 
on Canadasoccer.com as he played beach soccer for the national team.    

Best non-scoring chances were at 10 minutes when MFA Atif Muhammad Ali took a low 40 yard 
freekick from the left sideline and MFA Daunte Walkes in a crowd of players tipped the ball 
but the goalie caught it.  13 minutes had Walkes take a 15 yard shot from the left that hit 
the sliding goalie and bounced off the near post for a cornerkick.  MFA Francis Ameyaw got 
to flick an 8 yard header on the subsequent cornerkick that deflected off the right post 
and out of the box.  27 minutes had MFA Shaquille Agard cross from 35 yards on the right 
and the charging MFA Triston Frankson one-touched a 15 yard blast from the left over the bar.  
At 39 minutes Sigma Samuel Gardner blasted a low 20 yard freekick up the middle under 
the leaping player wall and the goalie smothered the ball on the right side of goal.  
Second half started and within the first minute MFA Frankson ran down the left and his 
low 10 yard shot deflected off the sliding goalie and over him on the short side and off 
the post but the bounce back enabled him to grab it.  58 minutes had MFA Agard take 
a 33 yard freekick from the left that the goalie palmed over the bar after the wind hung 
up the ball.  76 minutes had MFA Priestley take a cornerkick from the left that MFA Czerkawski 
headed from 8 yards from the right and a defender on the left cleared it.  78 minutes had 
Sigma Markell Saddler tapped a pass on the left and he hit the bar on a 10 yard shot.  

I got easily distracted by the whistle being blown at the field beside this one further 
to the west.  I suppose if you're playing it's not a problem but I kept expecting play to stop.  
I could see one of the youth team's playing was ANB.  I saw an ANB team two weeks ago when 
these two teams played at the field beside it at the Paramount Fine Foods Centre.

One annoying thing was the announcer continuing to mispronounce the visiting team's name 
when announcing the starters, subs, and Yellow cards.  She had a West Indian monotone 
airport-flight-announcers type voice but may have been reading from a typo in the script.  
It was always 'Stigma FC'*.  I thought I heard it wrong the first time but a young woman 
also turned around to say "It's SIGMA!".  I had to ask her about her concern after the game.  
She is Elijah Larin's girlfriend and she was down at BMO Field last night watching his 
brother Cyle Larin play on the Canadian team.  

*A stigma is a mark of disgrace like a shame or dishonour.  Like "That guy will be 
an ex-convict for the rest of his life".  Hmm just the opposite of the pride and prestige 
if you say you've played in the Sigma FC system.  However for me, 'Stigma FC' would make 
a great fantasy football team name if I ever had the time to spare to join one. 

I asked Master's head coach Rick Titus before the game if he'd had a chance to speak 
to CPL York 9 FC's Ryan Telfer who yesterday played for Trinidad & Tobago in the CONCACAF 
Nations League against Martinique.  I knew they must have crossed paths at Toronto FC 
as Titus was a coach in their system until a few years ago.  Titus didn't get his 
international career going until he was 33 and finally played for T&T after wasting 
a decade waiting for Canada to call.  Nope they didn't talk before Telfer made his decision.  
Telfer sounded undecided when asked at the York 9 press conference after the last home game.   

At the time of my notes made later on Sunday and knowing the other winners were Oakville 
and London, I still didn't know the semi-final opponent draw.  I was told by some superfans 
later in the day but they got the pairings wrong. 

Rocket Robin
robing@eol.ca
twitter @RocketRobin01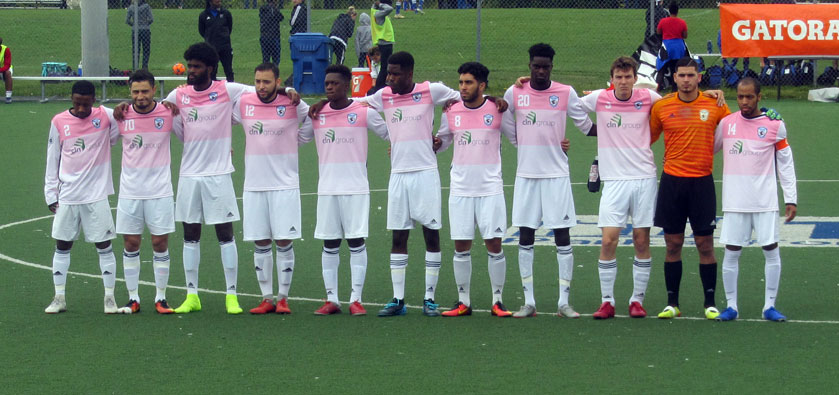 Masters FA Saints starters

Sigma FC starters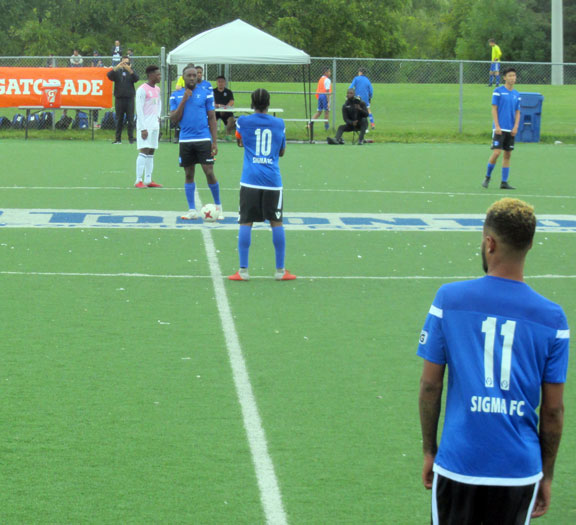 Sigma FC Leaford Allen (9) takes opening kickoff.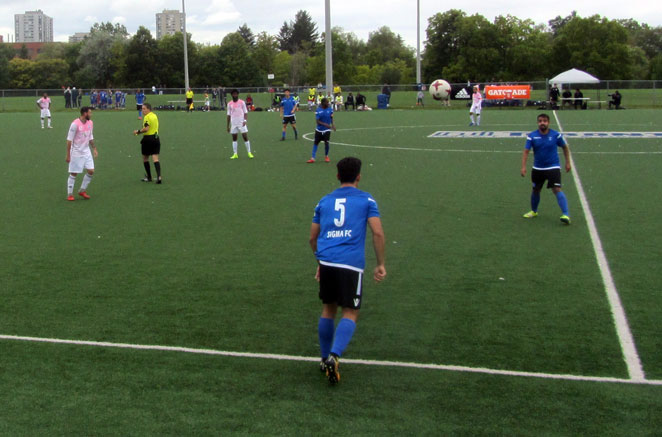 Sigma FC Massimiliano Sellitto (5) takes throw-in.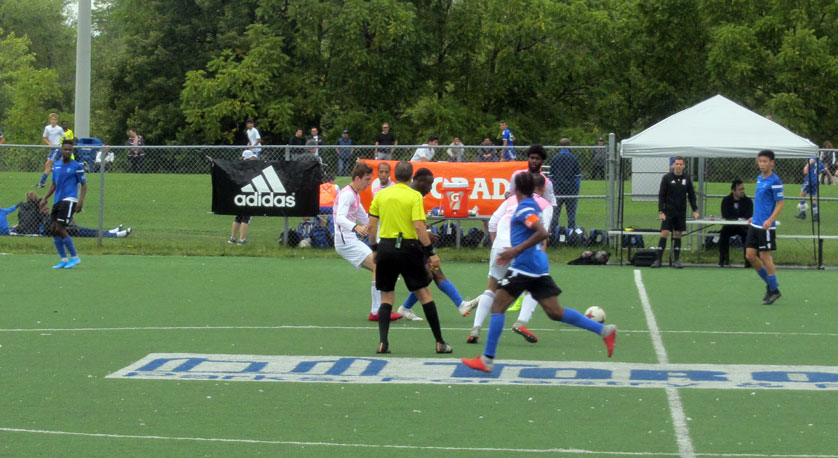 Action in center circle.


Sigma FC Elijah Larin (11) takes freekick.


Masters FA Daunte Walkes (30) scores on Penalty kick.


Sigma FC Samuel Gardner (15) charges forward for freekick.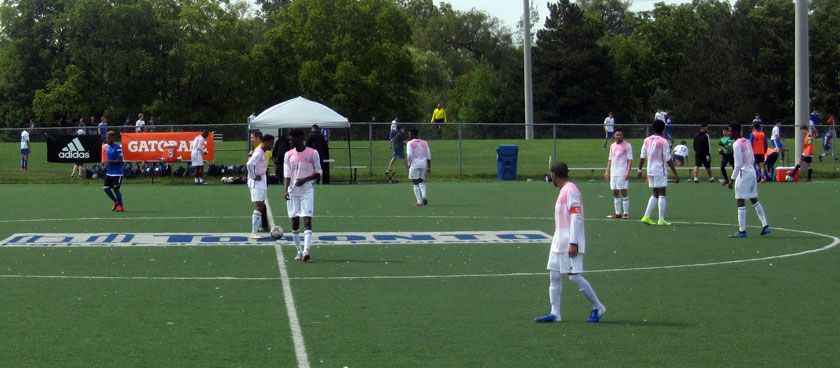 Masters FA Daunte Walkes (30) takes second half kickoff.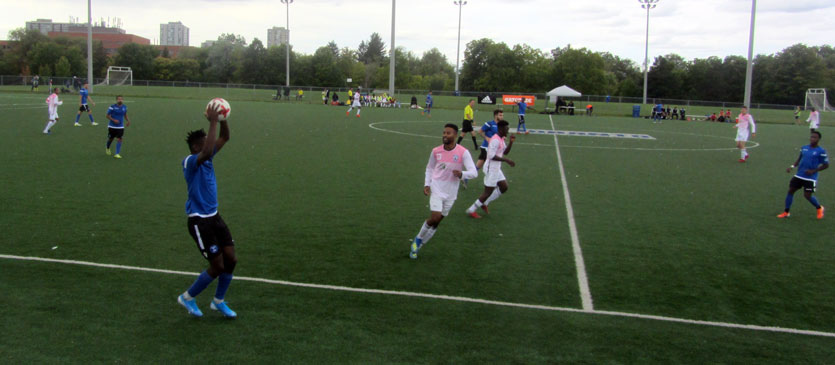 Sigma FC Shane Ricketts (2) takes quick throw-in.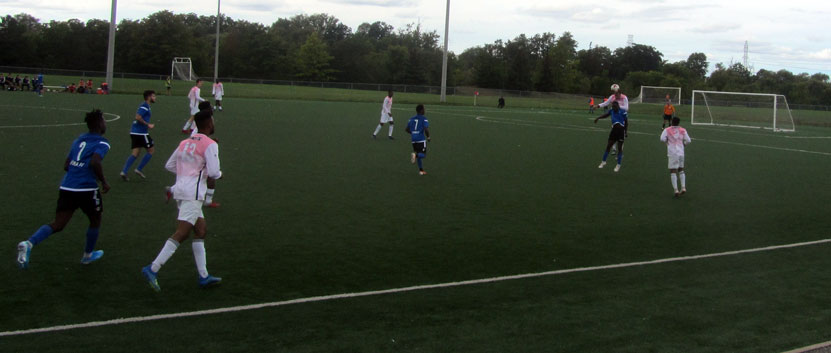 Masters FA Marc Jankovic (5) jumps highest to head ball away.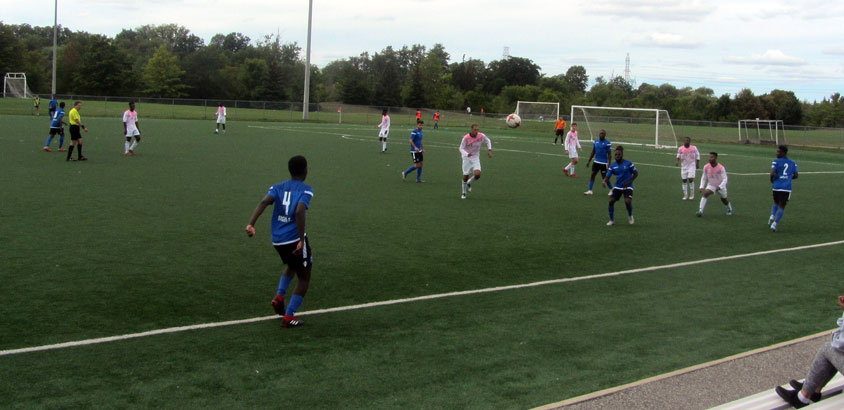 Sigma FC Francis Kwashi (4) throw-in downfield.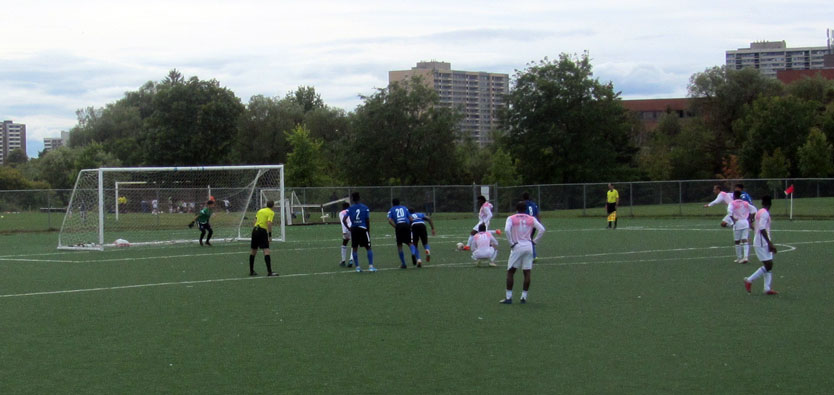 Masters FA Akeem Priestley (16) scores on this Penalty kick.
back to League 1 Ontario index

.
.