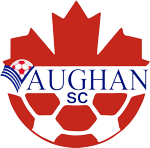 ................................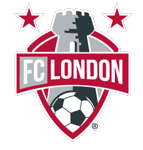 September 8, 2019 League 1 Ontario--Vaughan Azzurri vs FC London (game report by Rocket Robin)
Result and details of the Sunday September 8, 2019 League 1 Ontario game between Vaughan Azzurri
and FC London played at the North Maple Regional Park in Maple at 7:00pm.
Vaughan Azzurri (all navy, white numbers)
.....................12 Matt George
13 Andrew Gray...17 Julian Roubos...4 Shiquan Lowe...3 Joseph Amato (cpt)
7 Jahsua Mills...6 Julian De Sousa...10 Jason Mills...14 Jarek Whiteman
.............18 Kai Olguin...9 Maksym Kowal
Subs:...1 Shyon Gaeeni (gk)...2 Jarred Phillips...5 Raheem Rose...8 Federico Leal
...11 Alexander Zis...15 David Velastegui...16 Tristan Gayle
team officials:...team head coach Patrice Gheisar...assistant coaches Anthony Vadon, Francesco Vescio,
and Kasy Kiarash...therapist Estaban Clavijo
FC London (white socks and shirts, red shorts, blank numbers)
....................1 Anthony Sokalski
3 Sean Fawsitt...4 Bradley Heath...12 Belai Halbouni...15 Randy Ribeiro (cpt)
10 Connor Wilson...2 Patrick Melo...8 Mohammad Reza Nafar...7 Ethan Gopaul
...............11 Tomas Alvarez...17 Chad Gopaul
Subs:...31 Kaiser Bishop (gk)...9 Mike Sneddon...16 Carsen Wood...18 Dominic Szyszka
19 Ben Vyfschaft...20 Logan Rieck...23 Connor Millar
team officials:...team head coach Michael Marcoccia...therapist Mike Robinson
Game officials:...referee Filip Dujic...referee's assistants Andrew Beney and Twayne Anderson
fourth official...Armando Pereira (watermelon shirts, black shorts and socks)
First Half:...game starts 7:02pm...VA defends south end on this cool, overcast evening with a wind from the north.
1 min...FCL Ribeiro 22 yard freekick from right is into player wall and then his rebound shot is well over bar.
3 min...FCL Ribeiro has low cross along left end line deflect for cornerkick.
4 min...FCL Wilson cornerkick from left has defender clear.
4 min...FCL Ethan Gopaul chips shot from 8 yards on right over bar after receiving cross from left.
7 min...VA Jahsua Mills has pass at 15 yards up middle blocked.
8 min...FCL Nafar taps pass to FCL Wilson whose low 15 yard shot from left has goalie tip ball wide right.
9 min...FCL Chad Gopaul low 25 yarder from left has sprawling goalie savve on right post and goalie clears rebound.
10 min...VA Kowal can't win Penalty kick on run up middle.
11 min...VA Gray pass from right cornerflag has VA De Sousa at 18 yards in middle fired high and wide left.
14 min...FCL Fawsitt blasts 30 yarder from right that goalie bats down on right post.
17 min...FCL Nafar low 30 yarder up middle has goalie dive left to smother.
18 min...FCL Ethan Gopaul 25 yard shot from right has goalie bat away. The rebound is tipped for a cornerkick.
20 min...FCL player's cornerkick from right has FCL Heath head 10 yarder that VA Kowal heads over own net.
20 min...FCL Nafar cornerkick from left wins another cornerkick on right.
22 min...FCL Tomaz Alvarez GOAL...FCL Sean Fawsitt at VA 35 yard right sideline sends low cross
between players to FCL Mohammad Reza Nafar at 22 yards near middle of field. Nafar tips ball
forward and to right for charging Alvarez who shoots low 15 yarder from tough angle on right
under defender guarding him and sprawling goalie Matt George at 5 yards.
26 min...VA De Sousa cornerkick from left is cleared in box.
30 min...VA YELLOW card...De Sousa earns it on delayed call for sliding tackle on FCL Ethan Gopaul long upfield run.
30 min...FCL Melo 33 yard freekick from right is off head in player wall and deflects for cornerkick on right.
31 min...FCL Ribeiro cornerkick from right has goalie make overhead catch in front of leaping FCL Heath on left post.
32 min...Another VA offside is called which must be about the fourth by now.
35 min...FCL Wilson is injured on push at VA 35 yard line.
36 min...FCL Ribeiro 40 yard freekick deflects off player wall for throw-in.
40 min...VA goalie is out to left of box to clear ball before FCL Nafar can get to it.
42 min...VA Whiteman 35 yard cross from left has defenders clear in two popped headers in box. Whiteman heads for VA Kowal
but FCL Halbouni heads away.
47 min...half ends 7:49pm.
Second Half:...starts 8:05pm. It's getting even colder (I'm glad I stopped off at home on my way over from the afternoon
playoff game of Masters and Sigma to dress warmer).
48 min...FCL Nafar is injured at FCL 30 yard line and wins freekick.
52 min...A VA play that works itself into the FCL box is flagged offside.
52 min...FCL Nafar dribbles on left side of VA box 1 v 3 then shoots 10 yarder over net.
54 min...VA Amato threads pass from 55 yards on left through but too far for VA player and ball rolls to goalie.
55 min...FCL Alvarez runs for pass at 15 yards on right but overruns ball.
57 min...VA Amato concedes cornerkick when FCL Ethan Gopaul dribbles on edge of box.
57 min...FCL Wilson cornerkick from right is over box. FCL Ribeiro eventually gets shot from 25 yards from left well high left
and over back fence!
59 min...FCL Wison on right passes forward to FCL Alvarez who passes into 6 yard box and defender clears for cornerkick.
60 min...FCL Nafar cornerkick from left is cleared and FCL Ribeiro shoots 30 yarder high and wide left.
61 min...VA sub...Velastegui replaces Jahsua Mills.
62 min...VA Kowal clips 40 yarder down middle just steps ahead of charging forward.
62 min...FCL Ethan Gopaul blasts 12 yarder well over net after FCL Alvarez dribbles up right to end line.
62 min...VA Kowal heads 8 yarder on leap wide left down middle on cross from right.
63 min...VA sub...Zis replaces Olguin.
.........VA sub...Leal replaces De Sousa.
65 min...VA sub...Phillips replaces Amato.
66 min...FCL defender concedes cornerkick on cross from left.
67 min...VA Lowe cornerkick from left has defender head away on short post.
68 min...FCL goalie out to edge of boxx to smother theough ball ahead of VA Kowal.
69 min...FCL defender heads ball back to goalie to prevent VA rush.
69 min...VA Velastegui cross from left has defender raise leg to clear.
70 min...VA Velastegui cross from left through 6 yard box is unplayed and bounces out right.
71 min...VA Phillips chips 25 yarder from left that bounces wide right for goalkick.
72 min...VA sub...Rose replaces Jason Mills.
73 min...VA Maksym Kowal GOAL...VA Federico Leal jumps at 30 yards to head ball up middle knocking
defender over as he does. VA Jahsua Mills gets to ball at 22 yards and jumps to chip it forward.
Retreating FCL Belai Halbouni tries to clear it at 8 yards but deflects it off VA player.
Kowal pounds it low into goal from 4 yards with goalie on his knees reaching for ball.
FCL Sean Fawsitt is injured inside net in the scramble.
77 min...FCL Wilson dribbles on right of box but rolls ball wide right from 6 yards as he falls.
78 min...FCL Alvarez low 15 yard shot from right is stopped by sprawling goalie.
80 min...VA Velastegui cornerkick from left is cleared from box.
81 min...VA Leal connects on scissor kick at 12 yards and wins cornerkick on deflection.
82 min...FCL sub...Vyfschaft replaces Alvarez.
82 min...VA Jarek Whiteman GOAL...VA player's cornerkick from left has two players in box get head
to ball but charging Whiteman as third player to connect to ball heads from 3 yards on right side
of goal into top left corner of net beyond goalie Anthony Sokalski.
84 min...FCL Wilson has shot at 8 yards blocked.
84 min...FCL Mohammad Reza Nafar GOAL...FCL Ben Vyfschaft receives long pass up left on edge
of box and has shot stopped by sliding goalie at 15 yard line. Another FCL player at 20 yards
taps centering pass to Nafar. Nafar holds back shot as defender was in his way but steps to left
and dribbles forward and takes low 8 yard shot from top left of 6 yard boxx under sprawling
goalie covering near post.
85 min...VA Velastegui shoots 15 yarder from left is wide left.
87 min...VA Phillips chips 30 yarder from left that goalie catches on bounce wide right of post.
89 min...VA Zis 50 yard chip ahead of VA Kowal and ball bounces to goalie.
90 min...VA Rose 25 yard shot is wide left.
94 min...FCL sub...Sneddon replaces Nafar.
95 min...FCL sub...Rieck replaces Wilson.
96 min...game ends 8:56pm.
Final Score:....Vaughan Azzurri.....2.......FC London.......2........
(FC London wins two game series aggregate 4-3)

Attendance was actually an overflow crowd because the 300 seat aluminum stands were almost filled 
and fans ended up further down the sidelines including some maybe too close to the sideline.  
The weather was cooling fast as the sun set.  A lot of fans had brought blankets from their car.  
I had stopped off at home after the Masters v Sigma game and put on a sweatshirt under 
my windbreaker.  I didn't need mosquito spray tonight but I was glad I found my York 9 tuque 
in my car to keep my head warm.  The cold may have accounted for some of the fans not sitting 
in the aluminum stands but hopping around on the concrete surrounding the stands.  

FCL started off quickly with many shots until their first goal while Vaughan was caught offside 
something like four times in the first 32 minutes.  

Because of the away goal rules, when London was able to score at 84 minutes, the game was effectively 
over because Vaughan would have to score two goals so even with the five added minutes of time, 
FCL could just kill off the clock with running to the corners.  Without that goal the game would 
have gone straight to Penalty kicks.  

I was talking to some FCL fans after the game.  It shouldn't be too difficult to get to the GTA 
on a weekend but the final has already been scheduled for a Friday night so it can be broadcast 
on OneSoccer...it can't be Saturday as they've got the day tied up with a CPL league triple-header.  
It may only be a two hour drive from London on a weekend 200km away but try doing that in rush hour 
traffic on a Friday night!  

FCL defender/captain Randy Ribeiro was here just last weekend for his role as assistant coach 
to the FCL Women's team who won the L1O Women's Championship.  I remember him from the PDL era 
Toronto Lynx.  Men's head coach Michael Marcoccia is also the head coach of the women's team.  

Referee Filip Dujic gave out only one Yellow card this game—to Julian De Sousa of Vaughan at 30 minutes 
which may have been a reason he was subbed off at 63 minutes.  

Vaughan head coach Patrice Gheiser made all five of his subs between 61 and 72 minutes in an effect 
to shake things up.  The fresh legs appeared to work with two goals in the ten minutes after that.  
FCL only made three and two were during added time as a time eating exercise.  

Best non scoring chances were at 1 minute when FCL Randy Ribero sent a 22 yard freekick from the 
right into the player wall and then shot the rebound well over the bar.  8 minutes had FCL Mohammad 
Reza Nafar tap a pass to FCL Connor Wilson whose low 15 yarder from the left has tipped wide right 
by the goalie.  Next minute had FCL Chad Gopaul take a low 25 yarder from the left that the sprawling 
goalie saved on the right post and a defender cleared.  31 minutes had Ribero's cornerkick from the 
right has the leaping goalie make an overhead catch in front of FCL Bradley Heath on the left post.  
52 minutes had Nafar dribble on the left side of the box on a 1 v 3 then shot a 10 yarder over the net.  
62 minutes had FCL Ethan Gopaul blast a 12 yarder over the net after FCL Tomas Alvarez dribbled up the 
right to the end line.  77 minutes had Wilson dribble on the right side of the box but rolled the ball 
wide right from 6 yards as he fell over.  Next minute had Alvarez take a low 15 yard shot from 
the right that was stopped by the sprawling goalie.  

Vaughan not advancing means that the Canadian Championship will have a different L1O representative 
for the 2020 tournament.  Oakville has represented the league before but that was a playoff against 
the Quebec league rep to advance and play USL Ottawa Fury when the tourney had only five teams.  
Toronto FC are only playing their third game of the 2019 competition next week.  It may be the only 
time we get them to use Canadian starters because of the minimum three in the rules.  This year in MLS 
games we're lucky to get one or two and sometimes none like their visit to play Montreal a few weeks ago.  

So now we know the final four.  Oakville Blue Devils, FC London, Masters FA, and Alliance United.  
The semi-finals will also be two game series held the next two weekends.  

This weekend I was able to get to three of the four games! I also attended the Canada vs Cuba game 
and the Toronto FC II USL League One game.  Five games and four days is a bit much but every game 
is 'the big game'.  

Rocket Robin
robing@eol.c
twitter @RocketRobin01  



Vaughan Azzurri starters


FC London starters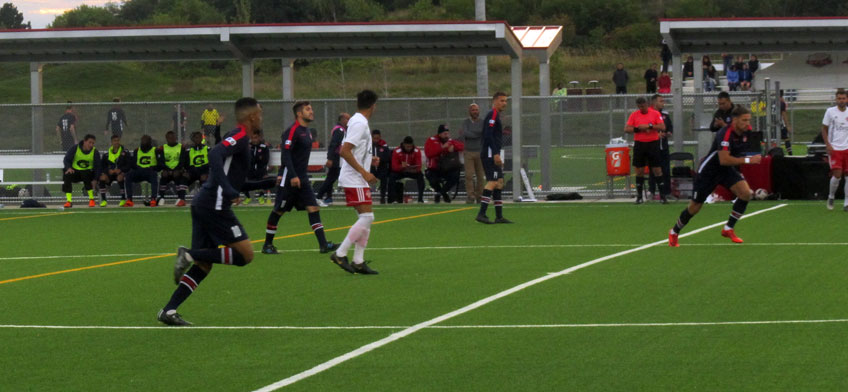 FCL Tomas Alvarez (11) has taken opening kickoff.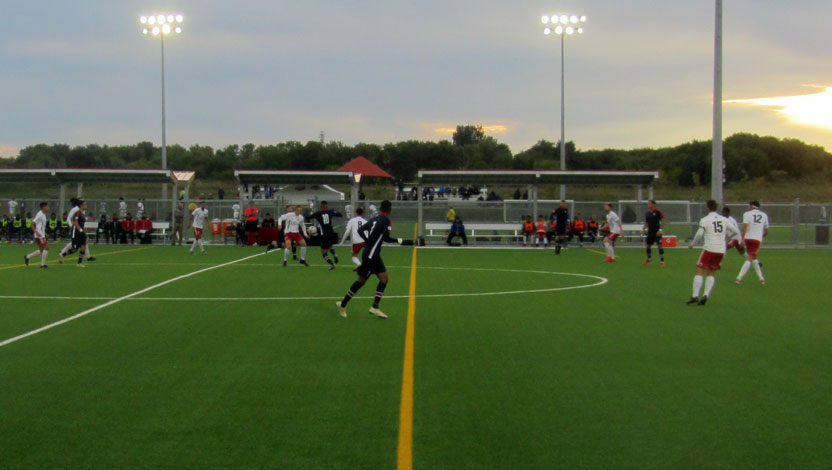 Action in center circle.


FCL Belai Halbouni (12) brings ball out of own end.


Vaughan freekick has been cleared from FC London box.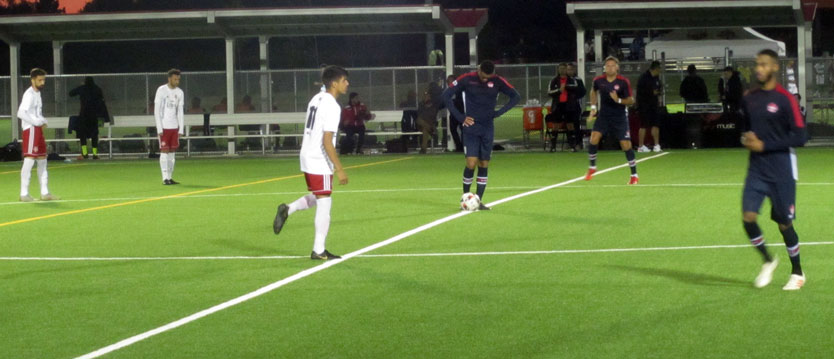 VA Jason Mills (10) takes second half kickoff.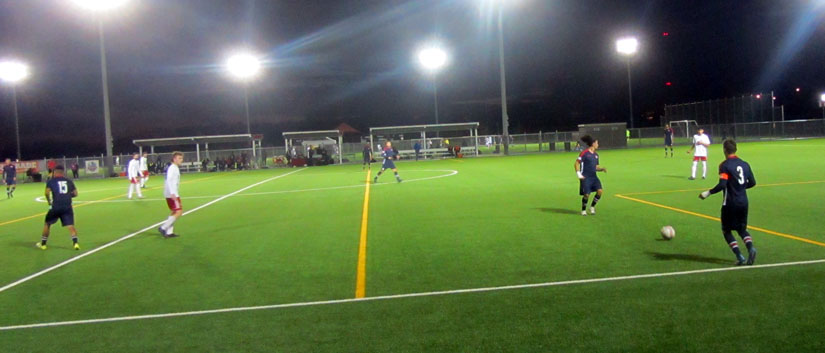 VA Joseph Amato (3) centers pass.


Players wait for Vaughan Azzurri cornerkick.
back to League 1 Ontario index

.
.