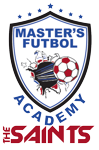 .....................................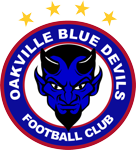 September 14, 2019 League 1 Ontario--Masters FA vs Oakville Blue Devils (game report by Rocket Robin)
Result and details of the League 1 Ontario game of Saturday September 14, 2019 game between Masters FA
and Oakville Blue Devils played at L'Amoreaux Park in Scarborough at 8:00pm.
Masters FA Saints (white socks, shorts, and numbers, graduated pink shirts)
...................1 Spiridon Koskinas
13 Antoine Paul...3 Adam Czerkawski...4 Anthony Wright...2 Atif Muhammad Ali
.......70 Yasin Shawan...19 Randy-Durand Misse Miyenga...20 Francis Ameyaw
.......14 Triston Frankson(cpt)...9 Shaquille Agard...16 Akeem Priestley
Subs:... 55 Daniel Gosciniak (gk)...5 Marc Jankovic...6 Eddy Dabire...7 Anwar Al-Sawi
...11 Shawn Brown...12 Maleik Defreitas...30 Daunte Walkes
team officials:...team head coach Rick Titus...manager Hubert Groves...assistant coach Devon Porter
Oakville Blue Devils (all navy, white numbers)
....................1 Lucas Birnstingl
15 Carlo Difeo...6 Victor Gallo (cpt)...23 Jesse Bibby...2 Zachary Drake
20 Hitesh Joshi...11 Braeden Culver...18 Marnvir Gill...22 Rajvir Kahlon
............19 Evan James...16 Khody Ellis
Subs:...4 Logan Podrebarac...5 Mohamad Shamkhi...9 Reshon Phillip...10 Judah Hernandez
...12 Spencer Barber...13 Adrian Gallo...26 Deryn Armstrong
team officials:...team head coach Duncan Wilde...assistant coaches Billy Steele, Brett Mosen, and Glenn McNamara
...therapist Mark Heathcote
Game officials:...referee Brian Butler...referee's assistants Joshua Heuving and Roain Satarzadeh
fourth official Kim Lee...(yellow shirts, black shorts and socks)
First Half:...game starts 8:01pm...MFA defends south end on this cool night with the sun already below the horizon.
1 min...MFA Paul receives corcnerkick from right upfield and 30 yard chip is wide right.
4 min...MFA goalie is out to top corner of box to smother long through ball pass up right.
5 min...MFA Shawan cornerkick from left has MFA player at 10 yards in middle pop up header and goalie catches.
6 min...OBD Kahlon low 30 yard shot up middle is caught by goalie on left side of net.
9 min...OBD Difeo 35 yard freekick from left is forward to OBD Ellis who crosses from 22 yards near end line and ball
tips off defender and goalie catches.
12 min...MFA Agard low 28 yard freekick from slight right has defender duck at 8 yards in middle and head ball away.
15 min...MFA Muhammad Ali cross from 45 yards on left has MFA player at 10 yards aligned with right post head ball
wide right. 18 min...OBD Difeo 40 yard freekick from right is headed away on edge of box.
19 min...OBD Victor Gallo 35 yard freekick blasted down middle rolls wide left of net.
21 min...MFA Priestley heads ball from middle at 35 yards over to MFA Ameyaw who rushes down left but goalie dives on ball.
22 min...MFA YELLOW card...Agard earns it for late sliding tackle on OBD Ellis. MFA are awarded a freekick on right sideline.
MFA Paul was injured on play and needs trainer.
23 min...MFA Shawan freekick from right sideline has defender head away just inside box.
24 min...some MFA fan in the crowd yells out "We've got ten men, drop back" and MFA Frankson yells back "We know" which
makes many of us in the crowd laugh.
26 min...MFA defender makes big clearance on low cross from right.
27 min...OBD James can't completely redirect header on leap at 12 yards in middle on cross from right and ball bounces wide
left of net.
28 min...OBD James pushes ball over left end line while trying to deke defender.
28 min...OBD Drake 55 yard chip bounces between players wide left.
29 min...OBD YELLOW card...Drake earns it for eye poke as MFA Frankson runs by him on right sideline.
30 min...MFA Muhammad Ali bends 40 yard freekick from right that goalie catches between crowd of players.
32 min...OBD Drake crosses ball from left along 12 yard line unplayed through box.
33 min...OBD YELLOW card...Bibby earns it for injurying MFA Ameyaw on check at OBD 33 yard line. It was his second offence
in about 20 seconds.
34 min...MFA Muhammad Ali chips 33 yarder down middle just over bar.
39 min...MFA Wright heads cross from right over own net.
40 min...OBD Difeo cornerkick from left has defender head away.
40 min...OBD YELLOW card...Kahlon earns it for tripping up MFA Priestley breaking out of own end.
42 min...OBD Ellis is injured at MFA 25 yard line away from play and needs trainer.
44 min...OBD sub...Barber replaces injured Ellis.
47 min...half ends 8:48pm.
Halftime Entertainment: Was it Yasin Shawan's birthday? A chorus of Happy Birthday plays and cries of "Ivor" are also
shouted out. There's also a game between U11s and U12s girls and boys going on right between MFA substitutes warming up.

Second Half:...starts 9:05pm as the weather is getting colder.
Halftime subs:...OBD Phillip replaces Culver.
.................OBD Hernandez replaces Joshi and takes over as captain.
45 min...OBD Difeo chips 45 yarder from right that goalie dives to smother at 6 yards after OBD Phillip first touch.
47 min...OBD YELLOW card...Hernandez earns it for sliding tackle on MFA Frankson injurying him on sideline.
51 min...OBD Difeo bends 35 yarder from right but over end line on left ahead of OBD player.
52 min...OBD goalie catches high 28 yard cross from right.
53 min...Two players start dust up of edge of MFA box while play continues that's then joined by multiple players.
.......MFA YELLOW card...Frankson earns it for his part in dust up.
.......OBD YELLOW card...Phillip earns it for his part in dust up.
55 min...MFA Wright 50 yard freekick down middle has MFA player not able to keep ball in on left end line.
58 min...MFA Priestley receives tapped pass from right end line and 12 yard shot from right is well over bar.
60 min...MFA Misse Miyanga 40 yard cross from left has goalie come out to catch at 15 yards well wide right of goal.
61 min...MFA Agard makes good solo run down right and low 20 yard cross is smothered by goalie diving forward.
62 min...MFA sub...Walkes replaces Priestley.
64 min...MFA Muhammad Ali high 45 yard freekick from left has ball popped up in crowd of players and MFA Ameyaw steps
behind defender to flick header but goalie catches on left side of net.
65 min...OBD Difeo cornerkick from right is headed away by defender on edge of 6 yard box.
67 min...OBD sub...Podrebarac replaces Kahlon.
71 min...MFA Agard 40 yard freekick from right sideline is cleared before getting into box.
72 min...OBD Difeo cross from left end line has defender head away for cornerkick on left side of box.
73 min...OBD Difeo cornerkick from left has defender head away on near post and OBD player can't get away shot.
74 min...MFA Shawan 40 yard freekick on right sideline has defender head away on edge of box starting fast breakout.
75 min...OBD Victor Gallo 25 yard freekick from left is over top left corner of bar with OBD players open on right
side of box.
76 min...MFA sub...Defreitas replaces Shawan.
77 min...OBD Podrebarac chips ball and OBD James shot wins cornerkick.
78 min...OBD sub...Armstrong replaces James.
79 min...OBD Difeo cornerkick from left has OBD player outjump goalie and head ball to right where defenders on goalline
clear away.
79 min...OBD Phillip gets by MFA Wright on run down left but defender and sliding goalie clear ball on left side of box.
80 min...OBD goalie is out to 22 yards on left to clear through ball.
82 min...MFA sub...Dabire replaces Ameyaw.
84 min...OBD Difeo centers pass along 18 yard line to OBD Hernandez who shoots low shot that deflects off defender slowing
it down and ball rolls to goalie.
85 min...MFA Walkes dekes two sliding tackles but can't win Penalty kick on third slide at 5 yards on left and is injured.
OBD goalie throws ball out of bounds so Walkes can be treated.
88 min...A player dust up occurs just outside the center circle.
MFA RED card...Anthony Wright earns it for pushing over Deryn Armstrong at MFA 50 yard line
so he could quickly take a freekick.
...............Oakville RED card...Deryn Armstrong earns it while he's on ground for throwing the ball
in the face of Wright.
MFA Triston Frankson was beside them the whole time on the ground injured and needed the trainer.
91 min...play finally resumes. MFA Misse Miyenga 65 yard freekick from slight right has goalie catch in crowd of players
at 8 yards and hangs on as he's bumped over.
94 min...OBD Barber centers roller from right along 8 yard line and defender clears at 8 yards before OBD player can shoot.
94 min...game ends 9:54pm.
Final Score:....Masters FA.......0.....Oakville Blue Devils.......0........

This was certainly the more exciting game of the evening.  Both the GTA teams drew the home date 
for this weekend.  When playoff game field availability has to be arranged on short notice, you take 
what you can get.  This game and the Alliance United vs FC London were originally scheduled to have 
the same 7:00pm starting times but this game was bumped until 8:00pm.  I originally drove to the 
other field as I thought I'd see FC London this week as they're out of my driving area for the return 
match but was advised after I got there to come to this game!  (more details at the bottom of this post).  

This game ended 0-0 and was a pretty rough game with at least two multi player dust-ups.  At the end 
of the night both teams had a player Red carded and OBD earned five Yellows and Masters had two.  
Referee Brian Butler knew what he was doing and didn't fall for any in-the-box diving.  OBD drew 
more cards because they took professional ones to stop break-ins.  The double Red card incident was 
at least the second multi player dust up in the game.  The first one was at 53 minutes when a tussle 
started on the edge of the MFA box and was solved with a Yellow card to one member of each team.  
I actually didn't notice the sendings off.  The referee probably kept them low key and delayed them 
to avoid inciting the fans.  

Trainers had to be called out a few times for injuries to both teams.    

I thought there may have been about 100 people on this cool night with the temperature dropping 
as the sun had set just before the game started.  The fans were really into this one.  There weren't 
too many travelling fans but one who came later and introduced himself to me was Konner McNamara who 
used to play for Oakville with his brother Taylor all the way back to Toronto Lynx PDL days.  
Their father is still an assistant coach for Oakville.  Best call though was at 25 minutes after 
an MFA player had left the field for treatment of an injury and a fan called out "We're at ten men, 
drop back!" and MFA Triston Frankson yelled back "We know!" which drew a lot of laughs.   

Good defences on both sides starting with goalies Spiridon Koskinas for Masters and Lukas Birnstingl 
for Oakville.  Birnstingl has a shutout stretching through the playoffs back to the regular season.  
(now actually nine games in a row).  Defensive lines should be mentioned on both teams for blocking 
shots.  OBD had Carlo Difeo, captain Victor Gallo, Jesse Bibby, and Zachary Drake.  MFA lined 
up Antoine Paul, Adam Czerkawski, Antony Wright, and Atif Muhammad Ali (although Paul was subbed 
at only 26 minutes for Shawn Brown who added an offensive threat to run up the wings).     

OBD shook up their lineup at halftime (five subs maximum in this league).  They made three offensive 
changes at halftime (officially their first was at 44 minutes when best scoring threat Khody Ellis 
had to be replaced because of injury by teenager Spencer Barber.  Reshon Phillip and Judah Hernandez 
were the other halftime subs.  

Last sub in for OBD was Deryn Armstrong at 78 minutes so only 10 minutes until he was Red carded.  
Anthony Wright was the MFA player sent off.  He had played the whole game as a defender but came 
forward to try for headers on cornerkick and freekick plays.  Wright could be a big loss for 
the MFA defence in next week's rematch.  

MFA defender Marc Jankovic (1980) was at least recalled for this game but was not subbed in.  He led 
the pre game warmups though.      

Master's wore their graduated pink shirts with white numbers again this week.  I found that if I sit 
in the stands (no staring into the sun at this time of night) rather then standing on the sidelines 
on the other side, I can have my binoculars handy and I can tell the numbers of the MFA players 
(if I can't pick them out by shoe colour or haircut) by zeroing in at the small number just under 
their left shoulder.  

Best non-scoring chances this game were at 5 minutes when MFA Yahin Shawan sent in a cornerkick from 
the left that an MFA player popped up a header at 10 yards down the middle and the goalie caught.  
9 minutes had OBD Carlo Difeo take a 35 yard freekick from the left forward to OBD Khody Ellis who 
crossed along the end line from 22 yards and the ball tipped off a defender and the goalie caught.  
30 minutes had MFA Atif Muhammad Ali bend in a 40 yard freekick from the right that the goalie 
caught between a crowd of players.  First minute of the second half and Difeo chips a 45 yarder 
from the right that the goalie dives to smother at 6 yards after OBD Reshon Phillip's first touch 
was too heavy. 58 minutes had Akeem Preistly receive a tapped pass from the right end line 
and his 12 yard shot was well over the bar.  64 minutes had Ali take a high 45 yard freekick from 
the left had the ball popped up in a crowd of players and MFA Francis Ameyaw stepped behind a defender 
flick header but the goalie caught on the left side of the net.  77 minutes had OBD Logan Podrebarac 
chip a 30 yarder down the middle and OBD Evan James received it in the box at 8 yards but pushed 
it to elude defenders but goalie dove on it to smother.  79 minutes had Difeo send in a cornerkick 
from the left and an OBD player outjumped the goalie and headed to the right side where defenders 
on the goal line cleared away.  The same minute had Phillip get by MFA Anthony Wright on a run down 
the left but another defender and the sliding goalie clear on the left side of the box.  84 minutes 
had Difeo centers pass along the 18 yard line to OBD Judah Hernandez who took a low shot that 
deflected off a defender slowing it down enough that it rolled to the goalie for an easy save.  
Next minute had MFA Daunte Walkes deke two sliding tackles but couldn't win a Penalty kick on the 
third slide at 5 yards on the left and was injured.  The goalie did throw the ball out of bounds 
for sportsmanship.  Extra time had MFA Randy-Durand Misse Miyenga send in a long 65 yard freekick 
from the slight right that the goalie caught in a crowd of players at 8 yards and hung on as he 
was bumped over.  

Today was the first game of the semi-finals with the second leg happening next weekend.  
Much like the last round, Oakville were held to a 0-0 tie by Woodbridge Strikers until winning 
the return match 2-0 back in Oakville.  We'll see if that happens next Sunday.  

xxxxxxxxxxxxxxxxxxxxxxxxxxxxxxxxxxxxxxxxxxxxxxxxxxxxxxxxxxxxxxxxxx
I had started the evening at Mt Joy for the Alliance United vs FC London game as I expected 
I could be in Oakville next weekend and therefore would have seen the 'final four' before 
the championship game.  

It was suggested that I leave well before the game started because Alliance had only eleven 
players and none of their University of Toronto guys were here (two games this weekend?) 
and the team had no substitutions.  They were trying to call in some guys just to sit on the bench 
and avoid the fine imposed by the league.  "The game (score) could get ugly" and "It'll be 
a massacre" was what I heard.  Quite a shock as the team only lost 1 game all season!  I took 
his advice and drove to L'Amoreaux (it was actually on my way home anyway).  

Now the two who suggested this were Alliance head coach Ilya Orlov and assistant Julian Green! 
I'd like to thank them now for their warning as the game ended 5-0 for London.  While at the 
Master's game the L1O tweet stopped early so I though the game was still 1-0.  Well the chances 
of going to the return leg in London next Friday night were remote anyway but now that's saved 
me the drive for sure.  Now AU won't bother to play U of T players even if they have no games 
next week with a scoreline like that.  

Rocket Robin
robing@eol.ca
twitter @RocketRobin01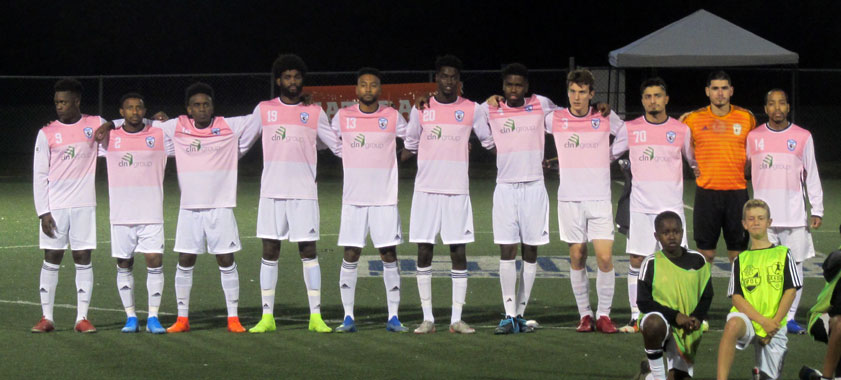 Masters FA Saints starters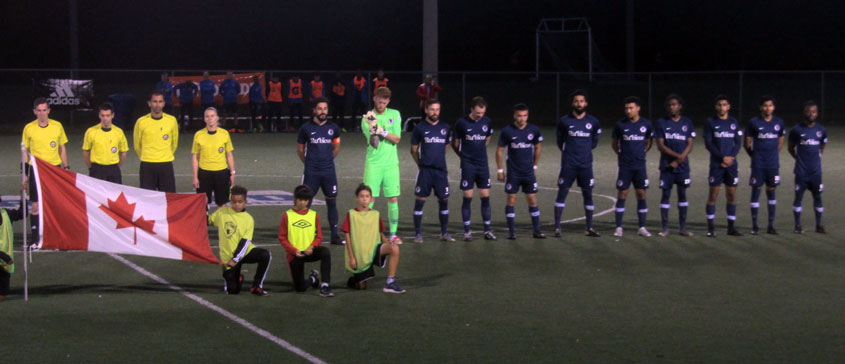 Oakville Blue Devils starters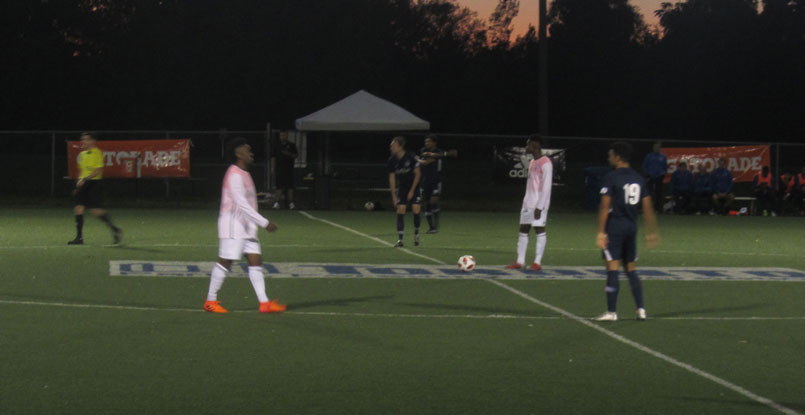 MFA Shaquille Agard (9) takes opening kickoff.


MFA goalie Spiridon Koskinas makes save.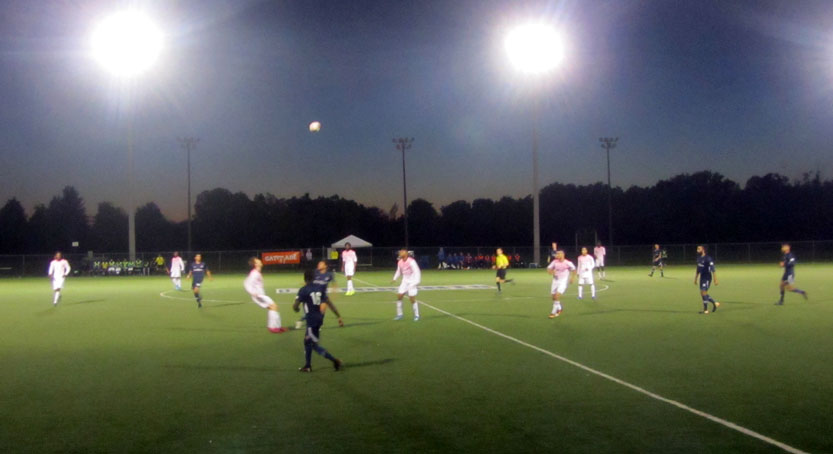 The ball is popped up in midfield.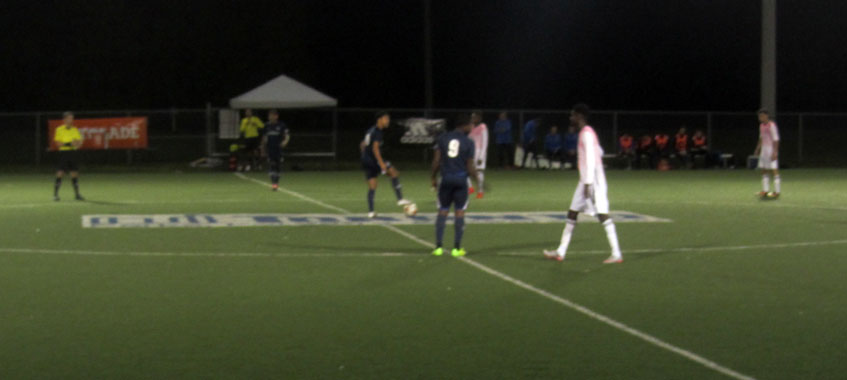 OBD Evan James (19) takes second half kickoff.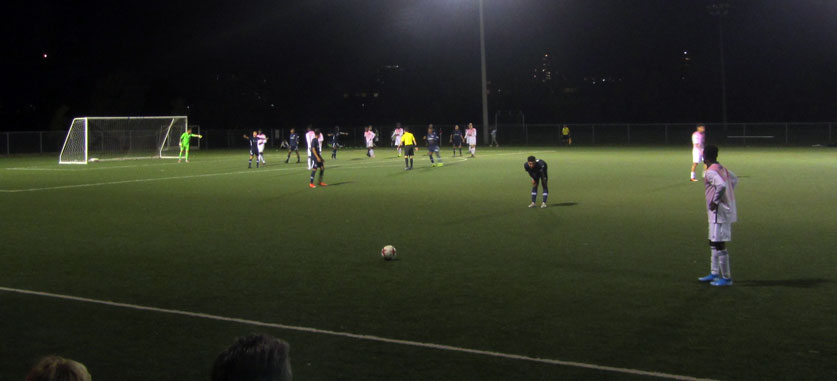 Masters FA players line up freekick.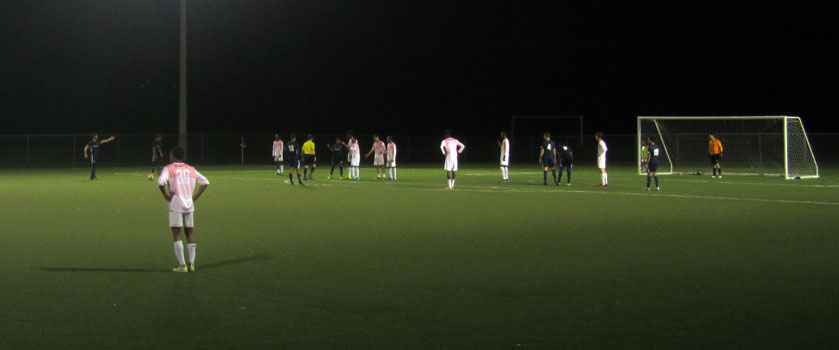 Oakville Blue Devils line up freekick.
back to League 1 Ontario index

.
.