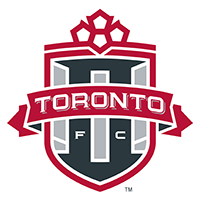 ...........................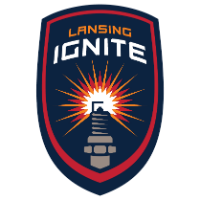 Result and details of the Saturday June 8, 2019 USL League One game between Toronto FC II and Lansing Ignite
played at BMO Training Ground in Downsview at 4:00pm.
Toronto FC II (all red, white names and numbers)
....................90 Kevin Silva
........36 Frando Ramos Mingo...42 Patrick Bunk-Andersen
....48 Dante Campbell...............43 Adolfo Ovalle (cpt)
19 Griffin Dorsey...31 Tsubasa Endoh...57 Terique Mohammed...50 Matthew Srbely...84 Jacob Shaffelburg
................64 Shaan Hundal
Subs:...80 Spencer King (gk)...35 Mehdi Essoussi (mid)...37 Gideon Waja (mid)...39 Luca Petrasso (mid)
...58 Jordan Faria (mid)...72 Jelani Peters (def)...77 Jofdan Perruzza (fwd)
team officials:...head coach Michael Rabasca
Lansing Ignite (dark blue socks, shorts and shirts, white names and numbers, orange trim)
...................30 Stefan Cleveland
2 Rhys Williamms...4 Grant Stoneman...5 Brandon Fricke (cpt)...15 Grant Lillard
10 Xavier Gomez...21 Ivo Cerda...12 Christian Silva...25 Marshall Hollingsworth
................20 Alex Bruce...14 Nick Moon
Subs:...1 Michael Kirk (gk)...6 Ricardo Perez (mid)...7 Rafael Metrzingen (mid)...8 Kyle Carr (def)
...16 Lewis Jones (mid)...17 Kevin Coiffic (def)...19 Pato Bottello Faz (fwd)
team officials:...head coach Nate Miller
Game officials:...referee Myriam Marcotte...referee's assistants Brad Doubrough and Philippe Benevitis
...fourth official Yusri Rudolf...(teal shirts, black shorts and socks)
First Half:...game starts 4:07pm...TFC defends south end on this mild late afternoon with a bright sun
in the west and a breeze from the east.
4 min...The ball is rolled through the LI box from the left unplayed because a player on each team has slipped.
6 min...TFC Campbell on left side of box heads away cross in from right.
8 min...TFC Srbely run to left end line and cross into 6 yard box has LI Lillard whiff but goalie catches.
8 min...TFC Shaffelburg wins cornerkick on cross attempt near left end line.
9 min...TFC Shaffelburg cornerkick from left has defender outjump TFC Hundal to head away on right.
11 min...LI Nick Moon is called offside for second time so far on long passes down left wing.
16 min...Another LI forward pushes ball too far forward or out of bounds.
17 min...LI Williams cuts to middle but shoots 22 yard roller that goalie picks up.
20 min...TFC Hundal taps to TFC Srbely at 30 yards who rolls ball to TFC Endoh. Endoh shoots 25 yarder
down middle just wide left of top corner.
22 min...TFC Campbell clears low cross from right out of box on left.
25 min...LI Williams 15 yard shot after run to right endline has ball deflect for cornerkick.
26 min...LI Gomez bends cornerkick from right is behind the net.
28 min...TFC Dorsey runs along 25 yard line from right to middle and rolls 25 yard shot for goalie to pick up.
29 min...TFC Shaan Hundal GOAL...A TFC player's high cornerkick from the left bends away from the box.
TFC Dante Campbell recovers a partial clearance at 40 yard line in the middle and passes to right
to TFC Patrick Bunk-Anderson who starts run and crosses from 35 yards into box. Charging TFC Matt Srbely
is wide left rescues the ball from just inside the 6 yard box end line with header across face of box
and Hundal on center edge of 6 yard box shoots low between goalie and three defenders into left corner
of net.
30 min...LI Moon rush to left end line and is pushed over end line by TFC Mingo.
30 min...LI defendcer chests short cross along end line for cornerkick.
31 min...TFC Shaffelburg high cornerkick from left is whistled down in box.
34 min...LI Fricke slides to stop rolled cross. TFC Shaffelburg cross from left endline and goalie dives
forward to catch preventing TFC Hundal from getting to it. Shaffelburg had intercepted slow clearance that
was rolled across box to start this play.
35 min...LI Moon rush on left and low cross into box has goalie catch on dive and survive LI Bruce falling over him.
37 min...TFC Dorsey rolls pass to TFC Hundal just inside box and goalie makes point blank save. TFC players can't
win request for hand ball on goalie's save that deflects back out to hit LI player just inside box.
40 min...TFC Srbely blasts 30 yarder up middle between crowd of players wide right of net.
42 min...TFC Shaffelburg rolls ball from left is into box as first defender slips but second defender clears.
44 min...LI Gomez in crowd of players gets away 12 yard shot fromm right into side webbing of net.
44 min...LI Hollingsworth cross from 35 yards on left is easy catch for goalie charging forward to catch at 12 yards
in middle.
45 min...half ends 4:52pm.
Second Half:...starts 5:07pm.
halftime sub:...LI N'For replaces Silva.
45 min...LI Williams 40 yard cross from right has LI Bruce on left pop header from 8 yards wide left of net.
48 min...TFC YELLOW card...Ovalle earns if for pulling down LI N'For on rush breaking out down middle
at TFC 35 yard line.
49 min...LI players waste freekick with pass around not even into TFC box.
51 min...TFC Shaffelburg pokes ball of defender at 22 yards rolls ahead to TFC Hundal who whiffs on 15 yard shot
and ball rolls to goalie.
52 min...TFC Terique Mohammed rushes into left side of box and and cross from 15 yards on sharp angle
hits arm of LI Grant Stoneman at 10 yards. Referee Myriam Marcotte awards TFC a Penalty kick.
53 min...TFC Shaan Hundal stagger steps and rolls low Penalty kick to slight left and goalie
Stefan Cleveland was diving that way and ball hits him and then he crawls to smother it.
55 min...TFC sub...Petrasso replaces Endoh.
55 min...TFC Mohammed bend 30 yard freekick is caught in wind and lands behind players. TFC Shaffelburg ends
with 25 yard blast from right wide left of top corner.
56 min...TFC Shaffelburg low cross from 10 yard line is through LI box unplayed.
58 min...TFC Shaffelburg cross from 25 yards on left caught by goalie in front of TFC Hundal on post.
59 min...LI Gomez 35 yard freekick from right is caught by goalie in crowd of players.
59 min...TFC Shaffelburg run down left and rolls ball through box that TFC Hundal misses.
61 min...LI Williams cross from right is over bar from 20 yards on sharp angle.
61 min...TFC Ovalle 40 yard blasts between players down middle and goalie catches under bar.
62 min...TFC sub...Perruzza replaces Hundal.
64 min...LI N'For low cross from 22 yards along box. LI Moon shoots 22 yarder high wide right. LI Gomez
could not draw Penalty kick on dive.
65 min...LI Gomez 30 yard freekick from left is bounced wide right with goalie letting it bounce out of play.
66 min...TFC YELLOW card...Dorsey earns it for tripping LI Moon at LI 35 yard line on rush down sideline on breakout.
67 min...LI sub...Carr replaces Cerda.
68 min...TFC Ovalle gets hairband passed from the stands between play by a female friend/fan for his ponytail.
69 min...LI Williams cross from 25 yards on right has defender chest down and clear.
70 min...TFC Dorsey cornerkick from left is high and over to TFC Petrasso on right who shoots high wide left.
71 min...LI Williams recovers TFC Mohammed backheel to save cornerkick and cross is caught by goalie.
73 min...TFC Srbely rolls 25 yard cross from left that goalie dives to smother.
74 min...TFC Petrasso cornerkick from right has nearest defender head ball away. TFC player and defender both connect
to ball at same time at 30 yards and ball deflects to open LI N'For at 40 yards but TFC goalie charges up across
center line to clear!
75 min...LI Williams bends 25 yard shot from right well over net instead of passing.
76 min...LI N'For on rush on right has 1 on 2 and is checked off ball in box and can't win Penalty kick.
79 min...LI Carr high chip from 35 yards has goalie leap to catch at 7 yards before LI players can make play.
80 min...LI sub...Botello Faz replaces Fricke.
81 min...TFC Patrick Bunk-Anderson GOAL...TFC Matt Srbely is tapped a freekick at 35 yards and blasts
shot up the middle. The goalie drifts to right to bat it down just inside the right post. The ball
bounces down to middle of 6 yard box and goalie dives to smother it but Bunk-Anderson charges
in a split second sooner to roll 4 yarder into left side of open net.
82 min...TFC sub...Waja replaces Srbely.
84 min...TFC Mohammed rush down middle and TFC Perruzza receives pass and 25 yarder is caught by goalie.
85 min...LI N'For is injured near center line sideline.
86 min...TFC Shaffelburg rush down left behind sent by TFC Waja pass and his cross from 30 yards has no TFC players
able to get away shot.
88 min...LI Bruce rush down left and 25 yard shot is caught by leaping goalie at 8 yards.
89 min...TFC Dorsey is injured.
91 min...TFC Jordan Perruzza GOAL...Perruzza is leading a 4 on 2 rush up left from LI 35 yard line
and rushes into left side of box dribbling around sliding LI Grant Stoneman who was trying to prevent
cross and Perruzza shoots 12 yarder over top of sprawling goalie at 5 yards into center of net
just under bar.
93 min...LI Williams in middle at 40 yards passes forward and right for LI Bruce and his 20 yard shot is stopped.
93 min...LI players have three chances blocked from just inside TFC box.
94 min...game ends 5:56pm.
Final Score:...Toronto FC II........3.......Lansing Ignite.........0......

Attendance was about 300 on this warm and sunny day.  (The USL site lists the crowd at only 113...I'd disagree 
as I there were definitely more people here than their last game—177).  These fans were an older crowd 
with a lot of relatives of players I'd assume.  I was sitting behind a dozen or so Jacob Shaffelburg 
relatives who may have come all the way from Nova Scotia.  

Man of the Match (who is always a TFC player) was named as Terique Mohammed.  What goes around comes 
around I guess as there was a home game he scored in but both times the award went to goalie Kevin Silva.  
This may have been the one time when Silva deserved the award as he earned the shutout but had some key 
stops to make to prevent trouble.  His sure hands prevented any rebounds although Lansing didn't really 
get close to threaten him until they were pressing at the end leaving themselves open to counterattacks 
like the last goal.      

Shaan Hundal was a surprise to see as his loan spell to USL Championship League team Ottawa Fury must 
have ended.  He scored TFC's first goal but had TFC Jacob Shaffelburg at 51 minutes poke him a through 
ball from 22 yards and he whiffed a 15 yard shot and the ball rolled to the goalie.  He then missed 
the Penalty kick two minutes later.  He was subbed off at 62 minutes for Jordan Perruzza who finished 
the scoring.   

Another surprise was the return to the lineup of midfielder Tsubasa Endoh.  Rumours I read were that 
he would be dropped from the team after a sexting scandal but he must have been just suspended.  
He played an uneventful 55 minutes before being replaced by Luca Petrasso.  I didn't notice him taking 
any freekicks or cornerkicks which was his specialty last season.  I counted him with one good shot 
at 20 minutes when he shot a 25 yarder down the middle that was just wide left of the top corner.  

Endoh and Griffin Dorsey were unused subs in Toronto FC's MLS game against Sporting Kansas City
last night. 

Patrick Bunk-Andersen scored the much needed insurance goal mopping up a freekick from short range.  
Last home game he also scored on a play that started off as a cornerkick that was knocked around.  
He is normally a defender who only comes forward for these set piece plays.  

Referee Myriam Marcotte from Montreal gave out two Yellow cards both to TFC players but the game was 
pretty open with a few injuries in collisions.  

Jacob Shaffelburg was named the USL Division One Player of the Week—I'm sure it didn't hurt that TFC 
played twice during that time.  

Best non-scoring chances were at 34 minutes when LI Brandon Fricke slid to stop a rolled cross that 
TFC Jacob Shaffelburg made from the left end line and the goalie dove forward to catch preventing 
TFC Shaan Hundal from getting to it.  Shaffelburg had started the play by intercepting a slow 
clearance that was rolled across the box.  35 minutes had LI Nick Moon rush on the left and his 
low cross into the box had the goalie catch on a dive and he survived LI Alex Bruce falling over him.  
37 minutes had TFC Griffin Dorsey roll a pass to Hundal just inside the box and the goalie made 
a point blank save.  TFC players couldn't win a request for a hand ball as the goalie's save caused 
the ball to deflect back out to hit an LI player just inside the box. 59 minutes had Shaffelburg 
run down the left wing and roll a ball through the box that Hundal missed.  74 minutes had 
TFC Luca Petrasso take cornerkick from the right that the nearest defender headed away.  A TFC 
and LI player approached for opposite directions and kicked the ball at the same time at the 
LI 30 yard line.  The ball deflected to 50 yards to an open LI Elma N'For but the TFC goalie had 
charged up across the center line to clear the ball.  

Lansing players grew increasingly frustrated even though only behind by one goal until the near 
the end.  LI Rhys Williams after a long downfield run at 75 minutes bent a 25 yard shot from the 
right well over the net instead of passing that drew a few shouts and choice words from teammates.  
93 minutes had them have three chances blocked by defenders just inside the TFC box.  

TFC II were doing without midfielder Noble Okello who is proudly away representing Canada at the 
soon to start Gold Cup.  TFC have sent three Canadians and three Americans to the Gold Cup.  
The MLS team are short of players and recalled midfielder Ryan Telfer who is currently on loan 
to the CPL York 9 FC who had just played on Wednesday.  He was a late sub on Friday night for 
the MLS team and assisted on Jordan Hamilton's tying goal.  That was a one game loan so we've 
been told.  Let's hope so as we York fans have not too many scorers without a win in league 
play after five games but are advancing along in the Voyageurs Cup competition.  
   
Hey this is the only the third home game for TFC after starting the season on the road.  
They have three straight wins at home.  Their record improves to 5 wins, 3 losses, 2 ties 
for 17 points and third place of the ten teams.  They've used up their games in hand but have 
played seven games on the road so I expect they will fight for one of the four playoff spots.  

Lansing remain as the fourth place team with a record of 3 wins, 4 losses, 4 ties for 13 points.  

Lansing are a somewhat new team to all the USL although I read they were assembled from a PDL 
and independent team.  These were the good old days of USL play with this team busing in from 
Michigan.  Now that Toronto is in the ten team USL League One, the teams are in Arizona and 
the southern states so I'd say there is more flying and less busing.  Two Wednesday's from now 
it will be TFC II repaying the visit.  The team is associated with the MLS Chicago Fire but 
that was only announced in March so can't be very developed. Chicago's higher farm team 
is Tulsa Roughnecks of the USL Championship Division which would be the equivalent of what 
TFC dropped down to at the end of last season (all USL divisions were renamed).  

TFC II's next game is Wednesday June 12 against North Texas SC who are currently the first 
place team and TFC beat them two Wednesday's ago 3-2.  This game will start at 11:00am though 
so I expect the team will bus in school kids to fill the seats.  All the games at the training 
center are played during the day as there are no stadium lights for this field.

Rocket Robin
robing@eol.ca
twitter @RocketRobin01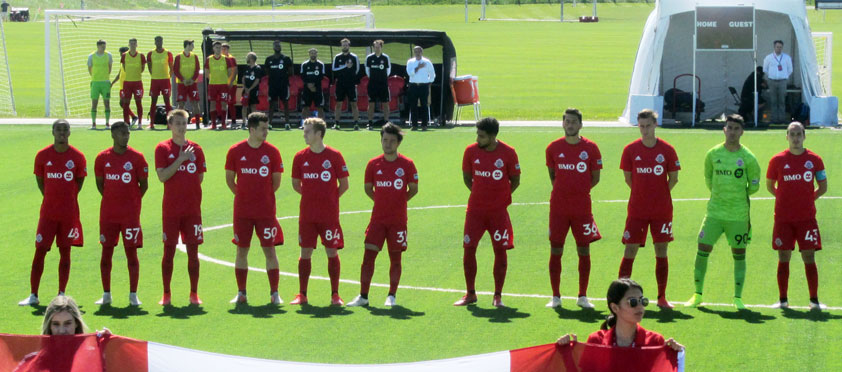 Toronto FC II starters


Lansing Ignite starters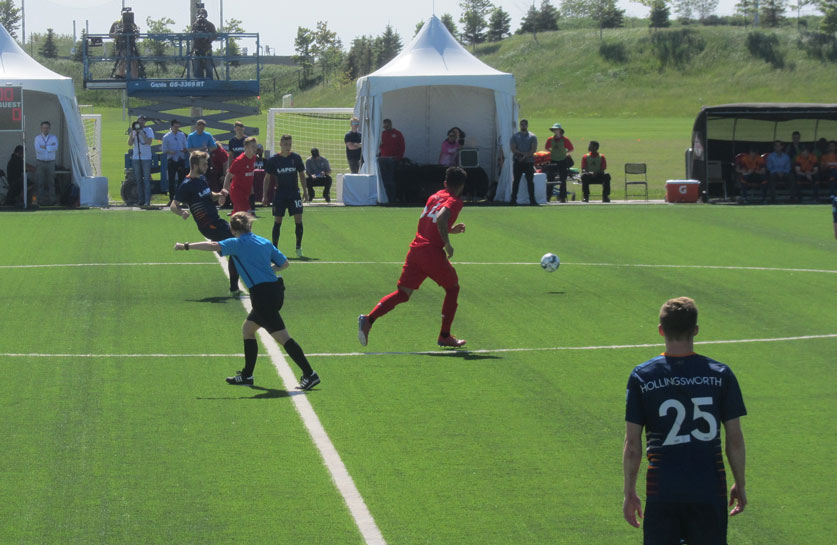 Lansing Alex Bruce (20) has just taken opening kickoff.


TFC Dante Campbell (48) has thrown to TFC Shaan Hundal (64).


Lansing Brandon Fricke (5) starts rush.


A Lansing cornerkick sails into TFC box.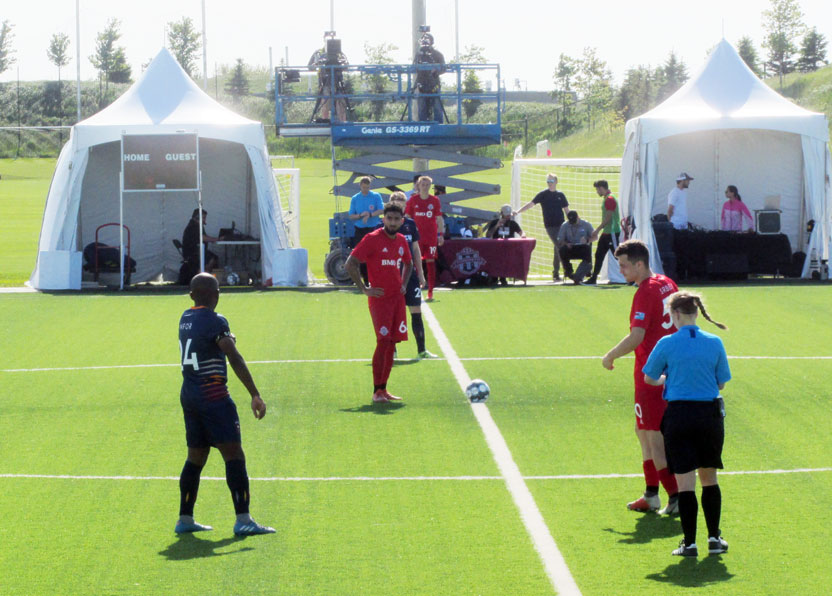 TFC Shaan Hundal (64) takes second half kickoff.


TFC Shaan Hundal (64) has rolled a Penalty kick to Lansing goalie Stefan Cleveland.


Lansing Xavier Gomez (10) sends freekick into TFC box.


midfield action
.
.