June 28, 2019 USL League One--Toronto FC II vs Forward Madison FC game recap (by Rocket Robin)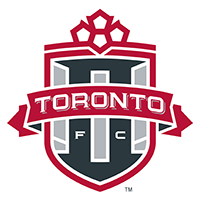 ...........................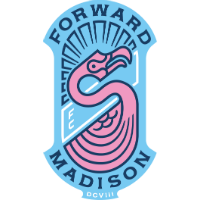 Result of the Friday June 28, 2019 USL League One game between Toronto FC II and Forward Madison FC
played at BMO Training Ground in Downsview at 4:00pm.

Toronto FC II (all red, white names and numbers)
.........................90 Kevin Silva
48 Dante Campbell...36 Franco Ramos Mingo...42 Patrick Bunk-Andersen...88 Jesus West
39 Luca Petrasso...37 Gideon Waja...43 Adolfo Ovalle (cpt)...58 Jordan Faria
................77 Jordan Perruzza...50 Matthew Srbely
Subs:...30 Yann-Alexandre Fillion (gk)...57 Terique Mohammed (def)...81 Themi Antonoglou (fwd)...35 Mehdi Essoussi (mid)
...97 Ralph Priso-Mbongue (mid)...64 Shaan Hundal (fwd)...98 Jahkeele Marshall-Rutty (fwd)
team officials:...head coach Michael Rabasca Forward Madison (all white, navy names and numbers)
.......................92 Brian Syvestre
2 Carter Manley...22 Wyatt Omsberg...13 Connor Tobin (cpt)...27 Christian Diaz
........6 Brandon Eaton...70 Josiel Nunez...3 Eric Leonard
........7 Don Smart...29 J.C. Banks...11 Paulo Jr
Subs:...1 Ryan Coulter (gk)...10 Danny Tenorio (mid)...12 Ally Nganzi (mid)...15 Shaun Russell (def)
...17 Zaire Bartley (mid)...23 Carl Schneider (def)...77 Jiro Barriga Toyama (def)
team officials:...head coach Daryl Shore
Game Officials:...referee Carly Shaw-McLaren...referee's assistants Melissa Sneddon and Mari Han Gagnon
...fourth official Dave Barrie...(teal shirts, black shorts and socks)
First Half:...game starts 4:06pm. TFC defends south end. A pregame rain started from about 2:10pm for about
an hour. It meant wet seats for all us fans even under the canopy. The rain started right after they hosed
the field. The rain cooled the temperature that otherwise was overcast and humid.
7 min...TFC Petrasso runs on right then cuts in towards center and low 22 yard shot is blocked by defender.
8 min...FM Banks 25 yard cross from far right is caught by goalie on near post.
10 min...TFC Petrasso rolls centering pass that FM Tobin tips out for cornerkick.
11 min...TFC Petrasso cornerkick from right has TFC Ovalle head 6 yarder from far left that bounces to goalie.
12 min...TFC Campbell makes key header on edge of TFC box to prevent a 2 on 1 break-in.
12 min...MF Banks on run up left and low cross to middle but FM Nunez tips it too far forward.
13 min...TFC Mingo is injured at own 10 yard line.
15 min...TFC Petrasso cross from 25 yards on right has TFC Srbely head ball down at 12 yards and ball bounces wide right.
15 min...TFC Petrasso low centering cross from right has TFC Ovalle tee up and blast 25 yarder well over net.
16 min...TFC West sliding tackle on FM Smart injurying him at TFC 40 yard sideline.
17 min...FM Nunez 45 yard freekick from right has ball slip through goalie's upstretched hands overhead and off head
of FM Omsberg at 7 yards wide left.
18 min...FM Manley high cornerkick from left is caught by goalie overhead in crowd of players on left.
22 min...TFC Petrasso and Waja multi-pass play until 10 yards and ball rolls to goalie.
23 min...TFC West feeds ball up left and TFC player can't win Penalty kick on slight push by defender.
27 min...TFC Petrasso bends 20 yard cross from right over to left but no oneis there so it bounces for goalkick on left.
29 min...TFC Campbell and Petrasso combo pass play down right has defender break it up in FM box.
32 min...FM Nunez chips ball from 65 yards on right that finds FC Diaz on one bounce at 25 yards on left.
He jumps and turns ball around TFC Campbell that gets him clear 15 yard shot from left. Goalie at 7 yards
on jump blasts it down but rebound bounces to FM Banks who blasts 8 yarder that goalie who has somehow
been quickly able to stand back up and step to middle and blocks at 5 yards and deflects ball wide left.
32 min...FM players work out short cornerkick from left and cross over box drifts behind net.
33 min...TFC Srbely blasts 25 yarder up middle well over net.
34 min...TFC Faria run down left and as he slides he shoots 20 yarder well over net.
35 min...TFC Faria run to left end line in battle with defender but pushes ball over end line.
38 min...FM Nunez on run up right has shot blocked at 20 yards and rebound too.
41 min...TFC Petrasso long cross from right is whistled down on left side of box for a TFC push on defender.
42 min...TFC Campbell makes big sliding tackle to beat three man rush with centering pass preventing 12 yard
shot up middle.
44 min...TFC Jordan Perruzza GOAL...TFC Jesus West at 45 yard line on left sends low centering
pass forward to Perruzza who flicks ball over to TFC Gideon Waja in middle. Perruzza runs forward
to take Waja's flick up middle on first bounce and 15 yard shot is a split second before
FM Connor Tobin can close and resulting low screen shot is into right corner of net just inside
the post past diving goalie Brian Sylvestre.
45 min...half ends 4:51pm.
Second Half:...starts 5:08pm. There is no more rain for the rest of the game.
46 min...TFC Waja make key interception on left edge of box to prevent close in shot.
47 min...FM Tobin pass back to goalie who can't get to it and ball rolls for cornerkick.
48 min...TFC Petrasso cornerkick has TFC Srbely charge forward at 10 yards but is not able to turn header.
49 min...FM Nunez 30 yard low blast from left is smothered by goalie.
50 min...FM Eaton low cross from 22 yards tips off TFC Bunk-Andersen and into webbing of net.
51 min...FM Smart cornerkick from right has defenders head away in box.
52 min...FM Smart cross from left has TFC West clear from box.
54 min...TFC goalie charge to beat FM forward to chipped pass at 12 yards on left.
59 min...FM YELLOW card...Diaz earns it for tripping TFC Campbell at centerline on right.
61 min...FM Manley cross from 28 yards on far right has TFC Campbell make key headed clearance at 5 yards
on left post.
63 min...FM sub...Toyama replaces Eaton.
............TFC sub...Mohammed replaces Waja.
63 min...TFC Faria 35 yard freekick from left is caught overhead by goalie.
64 min...TFC Mohammed long run up left eluding defender and rolls centering pass but intercepted.
64 min...TFC Perruzza taps pass to TFC Srbely whose weak 22 yard roller up middle is picked up by goalie.
65 min...FM Paulo Jr on right side of box chip in cross. Paulo Jr gets ball back for one-touch 18 yard shot
that goalie dives to save on left post.
66 min...FM Leonard cross from right has FM Paulo Jr miss on midair 10 yard kick up middle.
67 min...FM Manley 25 yard rolled cross is smothered by goalie.
68 min...FM Manley rush to end line and low cross has goalie grab in front of waiting forward at 3 yards.
69 min...TFC Hundal replaces Perruzza.
70 min...TFC Mingo big header and clearance from left in middle of TFC box.
71 min...FM Manley cross from right near end line is caught by goalie.
73 min...TFC Faria cornerkick from right is overhead caught by goalie.
74 min...FM Nunez cornerkick from right has two forwards head ball down but cleared on left.
74 min...FM sub...Tenorio replaces Paulo Jr.
75 min...TFC YELLOW card...Mingo earns it for grabbing FM Nunez from behind at TFC 35 yard line.
76 min...FM Nunez chips cross from left that TFC Bunk-Andersen heads away in crowd of players.
77 min...FM Omsberg heads 10 yarder on FM Manley corxnerkick from right and ball is blocked.
78 min...FM Smart reeives long high through ball up right wing and he crosses from 22 yards on extreme right
along 6 yard box eluding TFC Bunk-Andersen at 15 yards and goalie even with right post. FM Tenoria at 6 yards
with whole open net taps ball roward right corner and flying goalie smakes stop and a retreating defender clears.
80 min...FM Danny Tenoria GOAL...FM Don Smart races down right to get to a long through ball
and crosses into box. Leaping goalie Kevin Silva at 3 yards wide of right post palms ball
upwards as he falls backwards. Tenorio ducks and get to ball beating retreating TFC Dante Campbell
on first bounce and heads 3 yarder into right side of empty net.
82 min...TFC YELLOW card...Mohammed earns it for bashing defender after he cleared ball at FM 35 yard line.
84 min...FM Leonard slips making poor clearance that hits TFC Srbely at 30 yards. TFC Hundal picks up deflected ball
at 25 yards and is checked off ball at 20 yards. Charging Srbely recovers on left, goes around another defender
and takes low 10 yard shot from left that sliding goalie pops up at 7 yards and ball flies wide left of net.
84 min...TFC Faria cornerkick from left is well over players in box.
85 min...TFC sub...Marshall-Rutty replaces Faria.
86 min...FM Tenorio dribbles on left for clear shot but weak 15 yarder rolls to goalie.
87 min...TFC Hundal wins cornerkick on run to right end line.
87 min...TFC Petrasso high cornerkick from right is well over players in box but wins another cornerkick.
87 min...FM sub...Russell replaces Nunez.
88 min...TFC Campbell cornerkick from left is headed away by defender.
89 min...TFC West bends in cross from 30 yards on left and ball is past TFC Hundal for goalie to catch.
90 min...TFC Marshall-Rutty can't rescue ball on right end line before centering cross.
93 min...game ends 5:56pm.
Final Score:...Toronto FC II.......1.......Forward Madison FC.......1......

Attendance was not announced but I thought it grew to about 120.  It started to rain from about 2pm 
for an hour then stopped.  Wet aluminum seats even under the canopy was the order of the day.  
Less than two minutes into the game it started to rain again.  It then stopped and restarted 
about three times the rest of the half.  The rain brought some relief from the hot a humid day.   
The groundscrew were watering down the field turf before the first rain started I expect to help 
cool off the surface temperature.  All that rain made the field slippery so sliding tackles 
weren't all on purpose.  

There were some changes to the lineup from the last home game back on June 12.  Suddenly 19 year 
old Jacob Shaffelburg has played two games for the MLS team and was named Man of the Match 
in their Wednesday game against Atlanta.  Tsubasa Endoh also stepped back up to the MLS team 
and scored at the 31 second mark in the Atlanta game.  Also in that game were unused subs 
Julian Dunn-Johnson and Griffin Dorsey.  A lot of those step ups can be explained by TFC having 
six players off at the Gold Cup—three for the Canadian nationals and three for the American team.  
When they return I could see most of those players being back on the USL team.  Midfielder 
Noble Okello is actually assigned to the USL team and is the only Canadian outfield player 
not used in the tourney so far.  

The one player NOT expected to return to TFC II is winger Jacob Shaffelburg.  An interview 
with TFC head coach Greg Vanney revealed that the big club wanted him earlier in the season 
but they waited until he built up enough days in the Academy so he'd qualify as a 'homegrown' 
player and be exempt from MLS expansion drafts.  Wednesday was only his second MLS game 
and his first start.  

Replacing them for this game were some real 'high number' players.  #98 Jahkeele Marshall-Ruddy 
(2004) the youngest TFC Academy signing when he was age 14 got in as TFC's last sub at 85 minutes.  
At the time the 42nd ever TFCA player ever being given a pro contract.  He didn't have enough 
time to show his talents except he almost rescued a ball for a cross on the right end line 
at 90 minutes but the ball was ruled out before the cross.  

Hmm no wonder I saw about 25 under 16s watching the game and Danny Dichio (the U18/19 coach) 
arriving early while I was hiding from the rain.  If not for him it may have been for unused 
subs #97 midfielder Ralph Priso-Mbongue (2002), and forward #81 Themi Antonoglou (2001).  
I asked the boys in the stands if they were the U-15s who won the USSDA title by beating 
LAFA's Academy team in the final scoring the last three goals to come from behind and win 
3-2 within the last week.  

Man of the Match (who is always a TFC player) was announced as defender Patrick Bunk-Anderson.  
Certainly there were times in the game where TFC were hanging on so nothing wrong in my opinion 
with this choice.    

Star of Forward Madison was 6'5" goalie Brian Sylvestre.  His bio reads that he played in the 
Vancouver Whitecaps residency from 2009 and 2011 and was signed to Los Angeles Galaxy for 
the 2018 but didn't make any appearances.  Forward 'Paulo Jr' was with the Whitecaps in 2013 
and Ottawa Fury in 2015 and 2016, Fort Lauderdale 2016, Indy Eleven 2017, and Penn FC in 2018.  
Of course he couldn't stay with Penn FC as they've gone on hiatus for this season.  

Certainly the tying goal must have been sweet for Danny Tenorio.  Just two minutes earlier 
there was an almost identical play where Smart received a long high through ball up the right 
wing and he crossed from 22 yards on the extreme right along the 6 yard box eluding Bunk-Anderson 
at 15 yards and the goalie even with the right post.  Tenorio at 6 yards with the whole open 
net tapped a ball towards the right corner and the flying goalie made the stop and a retreating 
defender cleared.  

While I was waiting for the gate to open before the game and sheltering under the roof of the 
main building, team staff were loading up an coach for the airport.  I asked  and was told 
it was luggage for the flight to Washington as TFC's next game is against D.C. United.  

The result (OK this was the first game of the weekend) moves TFC II into a tie for third with 
Lansing Ignite (who beat them 1-0 last Wednesday in Michigan) with both teams now at 5 wins, 
4 losses, 4 ties for 19 points.  Madison (ie. Wisconsin) moves to 4 wins, 6 losses, 3 ties 
for 15 points.  That's tied for seventh place with an identical record as FC Tucson in the 
ten team league.  Top four teams make the playoffs.  Tucson happens to be the next scheduled 
game for TFC II so the players will be flying soon enough to Arizona.  

Next home game for TFC II is Friday July 12 at 4:00pm against South Georgia.  

Rocket Robin
robing@eol.ca
twitter @RocketRobin01  



Toronto FC II starters


Forward Madison FC starters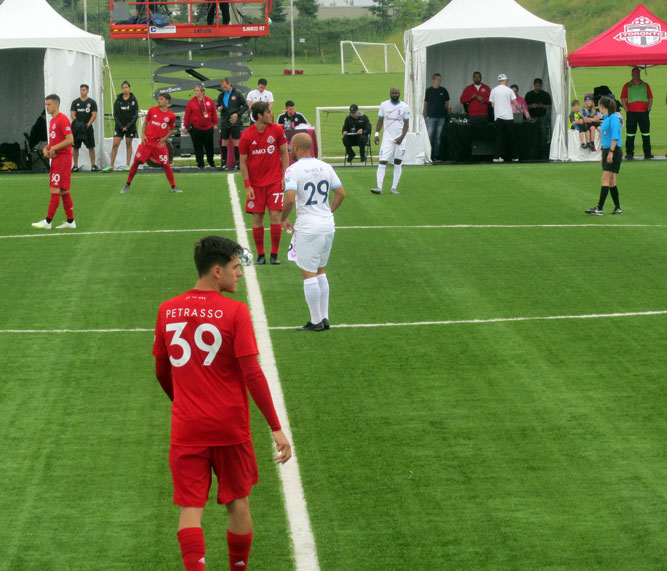 TFC Jordan Perruzza (77) takes opening kickoff.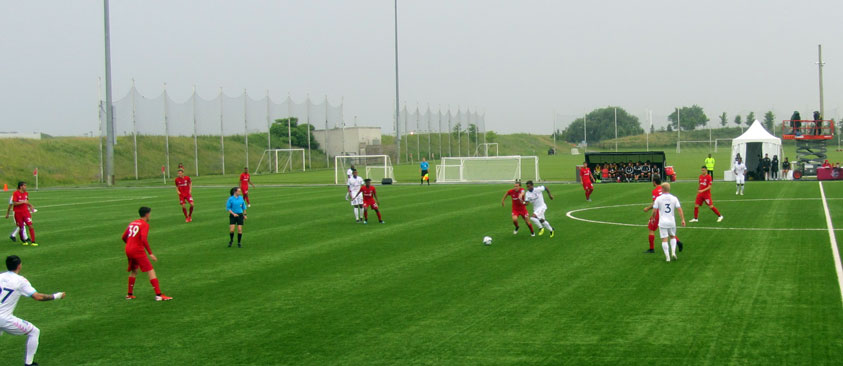 TFC Adolfo Ovalle (43) and Forward Madison Brandon Eaton (6) battle for ball.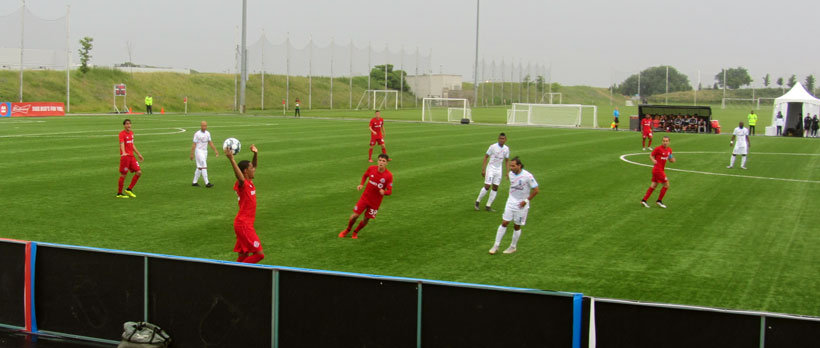 TFC Dante Campbell (48) takes throw-in.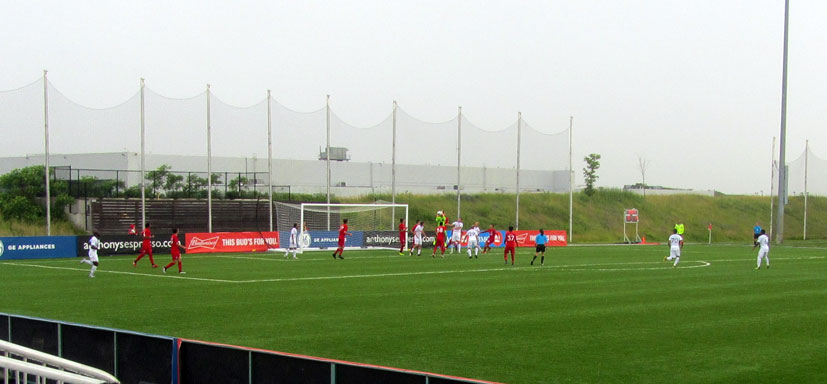 TFC goalie Kevin Silva jumps to catch this on in crowd of players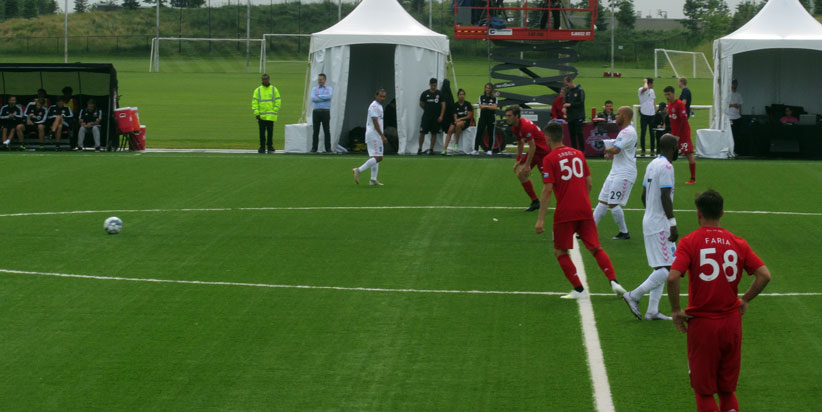 Forward Madison J.C. Banks (29) has just taken second half kickoff.


midfield play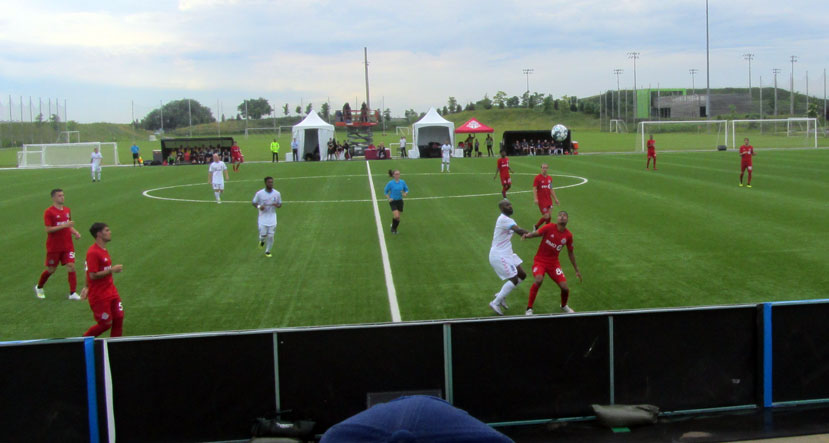 Forward Madison Don Smart (7) and TFC Jesus West (88) wait for ball to drop.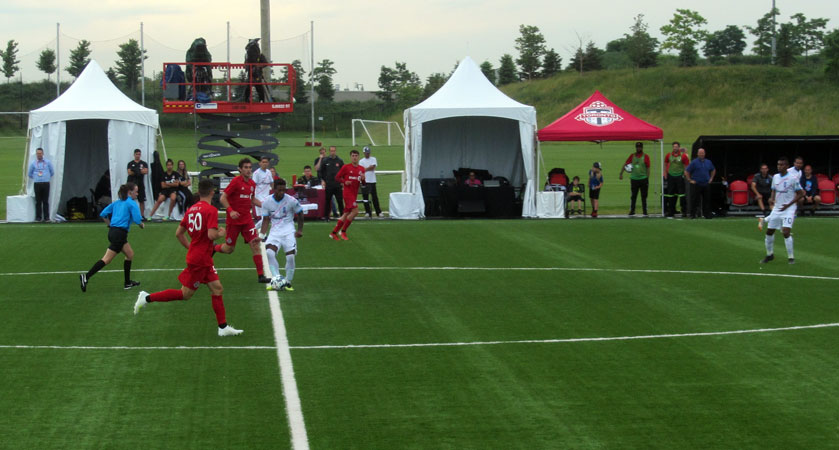 Forward Madison Brandon Eaton (6) taps ball at center line.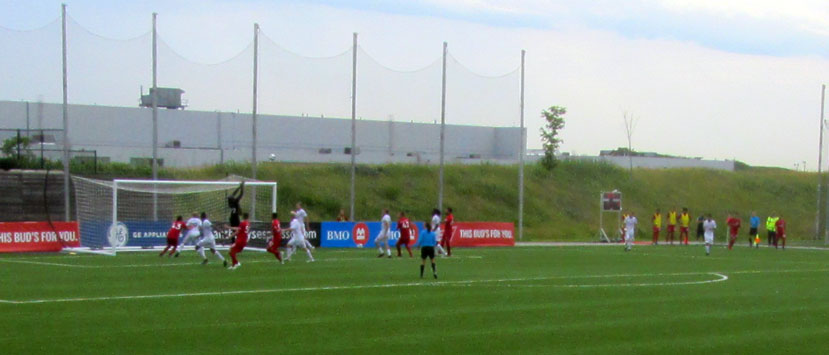 Forward Madison goalie Brian Sylvestre leaps to catch cross.
.
.