July 12, 2019 USL League One--Toronto FC II vs South Georgia Tormenta FC game recap (by Rocket Robin)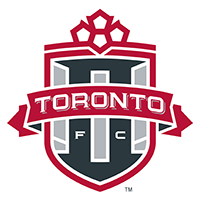 ...........................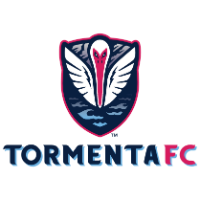 Result and details of the Friday July 12, 2019 USL League One game between Toronto FC II
and South Georgia Tormenta FC played at BMO Training Ground in Downsview at 4:00pm.
Toronto FC II (all red, white names and numbers)
.......................30 Yann-Alexandre Fillion
19 Griffin Dorsey...61 Rocco Romeo...42 Patrick Bunk-Anderson...57 Terique Mohammed
39 Luca Petrasso...59 Noble Okello...50 Matt Srbely...43 Adolfo Ovalle (cpt)...53 Jayden Nelson
.......................77 Jordan Perruzza
Subs:...90 Kevin Silva (gk)...35 Mehdi Essoussi (mid)...36 Franco Ramos Mingo (def)...58 Jordan Faria (mid)
...64 Shaan Hundal (fwd)...81 Themi Antonoglou (fwd)...98 Jahkeele Marshall-Rutty (fwd)
team officials:...head coach Michael Rabasco
South Georgia Tormenta FC (all white, black names and numbers)
.......................1 Pablo Jara (cpt)
6 Ricardo Gomez...5 Joshua Phelps...13 Dalton Knutson...3 William Conner Antley
21 Jad Arslan...11 Charlie Dennis...10 Marco Micaletto...8 Nil Vinyals...14 Alex Morrell
.......................9 Mikie Rowe
Subs:...29 Matias Reynares (gk)...7 Dalton Pando (mid)...16 Kaleb Jackson (fwd)...18 Michael O'Sullivan (def)
...20 Jerry Saint-Vil (def)...27 Tristan De Loach (mid)
tearm officials:...head coach John Miglarese
Game oficials:...referee Brad Doubrough...referee's assistants Marie Han Gagnon-Chretien & Jason Vaillancourt
fourth official Fabrizio Stasolla (teal shirts, black shorts and socks)
First Half:...game starts 4:08pm...TFC defends north end on this warm afternoon with the sun in the west.
50 sec...SGT Morrell rolls ball from left into box but defender clears.
2 min...SGT Morrell cross from left end line has goalie dive forward to push ball away. SGT Vinyals blasts 22 yarder low
and down the middle and wide right off deflection.
3 min...SGT Dennis cornerkick from right is headed away on near side. Pressure ends with goalie grabbing ball in front
of SGT Knutson at 8 yards.
4 min...TFC goalie is out to 15 yards to grab loose ball.
5 min...TFC goalie is out to top left of box to beat SGT Morrell to ball.
6 min...SGT Morrell rush to left end line and cross is over players in box.
8 min...TFC Mohammed and Nelson work up short freekick up left and Mohammed low cross from left is cleared by defender.
10 min...TFC goalie comes forward to pick up loose ball.
10 min...TFC Nelson is given pass at GST 50 yard line on left and runs up sideline and cuts toward goal near left end line
as defenders close in and 15 yard shot has goalie sprawl on near post and bat ball away.
12 min...TFC Mohammed makes sliding scissor check tghat clears ball off SGT Dennis at 20 yards on right.
12 min...TFC Nelson low cross from left 20 yards has SGT Phelps stop and clear.
13 min...TFC goalie out to 30 yards on left to clear header over SGT Morrell on dangerous and risky play.
14 min...SGT Micaletto pressure ended with 25 yard shot thgrough crowd of players and wide right.
18 min...TFC Petrasso chips 40 yard freekick from right that SGT Phelps clears away at 15 yards between crowd of players.
20 min...SGT Micaletto cornerkick from left has TFC Bunk-Andersen make backwards header on right out for cornerkick.
21 min...SGT Arslan cornerkick has defender head away in crowd of players.
22 min...TFC Petrasso wins cornerkick from right on long run including arm tug.
23 min...TFC Nelson cornerkick from right is headed down in box and TFC Romeo shoots 18 yarder over net.
25 min...TFC Perruzza chips over defenders but TFC Nelson is easily bumped over and can't win Penalty kick.
26 min...SGT Morrell runs to left end line and rolls cross into box and SGT Arslan shoots 12 yarder well high
and wide left of net.
27 min...TFC Matthew Srbely GOAL...TFC Griffin Dorsey runs down right wing from 75 yards and at 40 yard
line chips high cross over to open Srbely who charges to get ball at 25 yard line on left.
SGT Joshua Phelps rushes over from middle to block his dribble on edge of box but overruns ball
giving him 15 yard clear shot from slight left which he sends over sliding SGT Dalton Knutson towards
near side of goal but goalie Pablo Jara who was leaning forward at 3 yards on near post raises arms
and tips ball over himself into left side of net.
33 min...TFC Dorsey chips goalie near right end line but ball is out left side of box on bounce.
36 min...TFC Nelson blasts loose ball from 35 yards up middle but wide left.
37 min...TFC Jordan Perruzza GOAL...TFC Noble Okello at SGT 40 yard line on left touches ball back
to TFC Jayden Nelson who sends chip forward and center to charging Perruzza who beats offside trap
on SGT Dalton Knutson and gets ball in alone at top left of box and shoots 10 yarder from slight left
to left side of net beyond sprawling goalie on 6 yard box.
39 min...SGT Micaletto low shot from 22 yards from slight left has goalie dive right to save.
40 min...SGT Vinyals shot from 20 yards on slight right is saved by sprawling goalie.
42 min...TFC YELLOW card...Mohammed earns it for tackle from behind on GST Arslan after he's passed away ball
at SGT 30 yard line.
43 min...TFC defender makes key clearance of SGT Rowe rush into box.
43 min...SGT goalie beats TFC Faria to long through ball pass to top left of box.
44 min...SGT Dennis wins cornerkick off deflected cross off TFC Mohammed.
45 min...GST Dennis cornerkick from right has defenders clear on near post.
45 min...GST Arslan can't win Penalty kick on knock over. GST Dennis was injured earlier in play.
46 min...half ends 4:54pm.
Second Half:...starts 5:09pm...the sun is now even brighter and reflects off the empty seats in front of us.
46 min...SGT Micaletto on left 28 yard shot through crowd of players and goalie punches away.
48 min...TFC Nelson 25 yard shot from left has goalie fly right to make catch.
49 min...SGT Dennis is given pass from center on left and shoots 28 yarder high and wide left.
50 min...SGT sub...Jackson replaces Rowe.
51 min...SGT player 40 yard freekick has SGT Antley on left side of box head centering ball and SGT Vinyals shot
deflected wide right but no cornerkick is given on 12 yard shot.
52 min...SGT Antley pass forward on left forward to SGT Jackson who beats goalie on run and rolls cross along edge
of 6 yard box but defender clears.
53 min...TFC Petrasso cornerkick from left is high and cleared. TFC Mohammed skies partial clearance at 25 yards
well over net.
55 min...SGT Antley intercepts clearance at 35 yard line on left and runs to center and rolls 25 yarder well wide left.
56 min...SGT Gomez rolls through ball for SGT Jackson but goalie is out to smother ball at 15 yards as Jackson tumbles
over him.
58 min...SGT Vinyals shoots low 30 yarder up middle wide left.
60 min...SGT Dennis rush up right from 75 yards and cuts to middle and from 60 yards sends low pass forward finding
GST Micaletto behind three defenders at 40 yards and runs to 20 yards in middle and shoots past goalie at 15 yards but
shot is wide right of net.
60 min...TFC Mohammed low 35 yard shot up middle wins cornerkick on deflection.
61 min...TFC Petrasso cornerkick from right has TFC Petrasso at 18 yards pass forward and TFC Srbely bicycle kick
is wide left.
62 min...TFC YELLOW card...Ovalle earns it for tackle on GST Arslan at TFC 50 yard line.
63 min...SGT Jackson heads 12 yard cross from right wide right of net.
64 min...TFC Perruzza can't win Penalty kick on tackle push down by SGT Arslan.
65 min...A water break is called.
66 min...SGT sub...Saint-Vil replaces Arslan.
69 min...TFC Perruzza shoots loose ball from 30 yards wide right of post.
69 min...SGT Vinyals cornerkick from left has goalie in crowd of players windmill swat ball through box at 3 yards.
71 min...GST Micaletto 25 yard shot winds TFC Ovalle but deflects to goalie.
72 min...TFC Petrasso freekick from 25 yards on right has defender head ball away and starts fast break out. A TFC defender
clears shot at 6 yards after goalie is beaten on left.
73 min...TFC YELLOW card...Romeo earns it on delayed call.
74 min...TFC sub...Faria replaces Nelson.
75 min...SGT Morrell run to left end line and rolled through 6 yard box but no on is there to clear.
76 min...TFC Perruzza backheel to TFC Faria whose 22 yard shot deflects away.
77 min...TFC Patrick Bunk-Andersen GOAL...TFC Luca Petrasso cornerkick from right is chipped upfield
for TFC Griffin Dorsey at 35 yards on right. He chips into box and Bunk-Andersen steps behind
defenders and in front of sprawling goalie to redirect on first bounce at 8 yards into right corner
of net from 6 yards.
79 min...SGT Saint-Vil cross from 33 yards on far left is over defender in center and bounces out right side of box.
82 min...TFC Mohammed at center line on left sideline chikps ball upfield for TFC Srbely to charge behind defenders
and receive on second bounce on edge of box and holds off bump of retreating GST Knutson and cuts 8 yard shot from even
with right post wide right of net. (now that would have been a freekick as GST Knutson fell on hard shove).
85 min...TFC sub...Marshall-Rutty replaces Petrasso.
87 min...TFC sub...Hundal replaces Perruzza.
89 min...SGT Morrell on rush on right but two retreating defender catches him.
90 min...TFC Hundal run to left end line but is clecked off ball on left without gettting shot.
90 min...TFC Okello gets to loose ball and 22 yard shot is wide right.
93 min...SGT Saint-Vil rolls pass to SGT Morrell who runs to right and shoots 22 yarder that's saved by goalie.
93 min...game ends 5:57pm.
Final Score:...Toronto FC II........3........South Georgia Tormenta FC.......0.......

Attendance was not announced but I estimated it at 120.  It started slow but as more people arrived 
from work to join the Academy kids and parents in attendance.  The USL website listed it as 113 
so I must be getting better at my crowd estimates.  The last three rows of the stands were 
at a premium to keep out of the sun but seeing the field was made difficult by the reflection off 
the unused metal benches in the rows in front of us.  The stadium now has a permanent mounted 
scoreboard that was at an angle that would be seen just as easily from the real grass field that 
the MLS team uses and we on the field turf field.  It certainly beats their portable scoreboard 
on a pull cart or at the beginning of the season, a table top one that was hard to see across 
the field.  

The weather was warm but not as hot as the last few days and the field turf was hosed down before 
the game to keep it cool.  

Referee Brad Doubrough gave out three Yellow cards (all to TFC II players) and most important didn't 
fall for the weak Penalty shouts by both teams.  82 minutes had one sure call when the retreating 
Dalton Knutson as the last man back pushed from behind Matthew Srbely and fell over.  Srbely kept 
on his feet to cut an 8 yard shot wide right.  If he'd fallen that would have been a Red card and 
a Penalty even though it was so late in the game.  He called a water break in the second half but 
not the first but it was 'sunnier' in the second half.  

The team leaders for goal scoring increase their tallies!  Jordan Perruzza has six for the year.  
Srbely has three.  Surprise that Bunk-Andersen has four but even as a defender he gets into set 
piece plays with headers on those close-to-the-goal plays and redirects.    

Yann-Alexandre Fillion earned the shutout for TFC II with some key saves and 'making himself big' 
so SGT players would shoot wide.  This is only his second game for the team.  He was on the losing 
end of their last game...a 3-1 loss away to FC Tucson when they were down by three goals 
at the 26 minute mark.  It was good that he was given a second chance.  Kevin Silva was the 
backup today.  TFC manager Michael Rabasca didn't make any subs until 75 minutes.  Jordan Faria 
was the first to come on then 15 year old Jahkeele Marshall-Rutty at 85 minutes and Shaan Hundal 
at 87.  

I felt that SGT started to hold back when they were called for some early offsides.  It turned out 
they were only offside six times to TFC's twice.  It took me back to the first game that 
North Texas were here and were called off sixteen times.  

I'd never heard of South Georgia Tormenta until this season.  They played in PDL the last three 
seasons before this one.  It could be said they've been 'promoted' to this new level of the USL 
(whereas TFC II moved 'down' to play here) but it's more complicated as they've kept their PDL 
team (now known as USL League Two and that team is known as Tormenta 2 to feed their roster).  
They play in  Statesboro Georgia which is near the Atlantic coast side of the state.  

The only player I recognize is American defender Lars Eckenrode (not on today's roster) who played 
with TFC II in 2017 and 2018 after being an MLS Superdraft fourth round choice of TFC. 

Some 'tall' players were back in the TFC II lineup today.  Noble Okello 6'5" was a midfield starter 
returning from the Gold Cup as the only outfield player not used for the Canadian National team.  
Okello will be travelling soon to play in the MLS Homegrown Game on July 30th with them playing 
Chivas de Guadalajara's U-20 team a day before the All Star game.  Rocco Romeo 6'2" was back 
in defence.  I'd seen him in the stands as a fan like me in a previous game.  I asked him after 
the game and he answered that he is back for at least the rest of this season with TFC II.  
His loan spell to a team in Denmark was only for six months.  (It was HB Koge--I had to look 
that up).  Bunk-Andersen is also listed as 6'2".  He is actually from Denmark whereas the other 
first two are Canadians.  

TFC II started a four week Friday afternoon home stand today.  While I had worries about them 
after Jacob Shaffelburg moved up to the main team (the team's plan all along as he was down here 
to gather enough time at the Academy to qualify as a 'home-grown' and be exempt from such things 
as needing to be protected in any expansion draft).  I'm now looking ahead to them moving up the 
standings and being safely in the top four to make the playoffs in the ten team league.  

They are still undefeated at home.  

TFC's record improves to 6 wins, 5 losses, 4 ties for 22 points and fifth place although this was 
the first game of the weekend so they may be further out than one point by the time it's over.  
South Georgia's record falls to 7 wins, 3 losses, 4 ties for 25 points and stay in second place 
for now.  

Next game is next Friday July 19th at 4:00pm at BMO Training Ground against third place (for now) 
Lansing Ignite.  

Rocket Robin
robing@eol.ca
twitter @RocketRobin01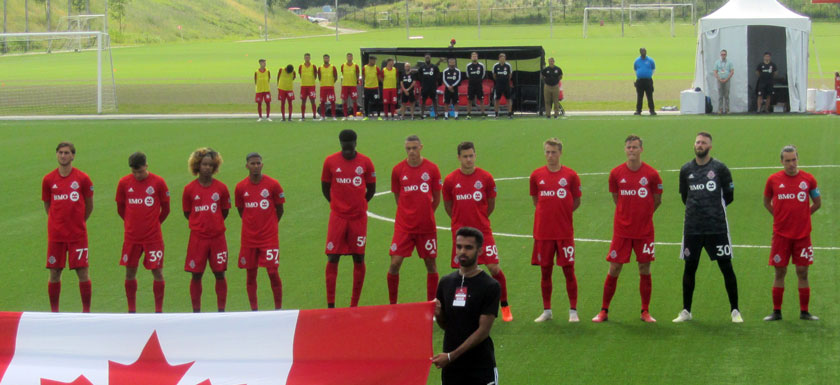 Toronto FC II starters


South Georgia Tormenta FC starters

SGT Mikie Rowe (9) takes opening kickoff.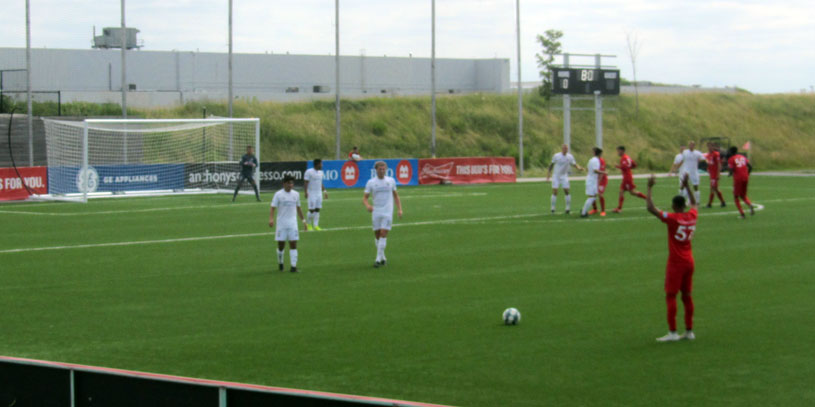 TFC Terique Mohammed (57) lines up freekick (note the new scoreboard).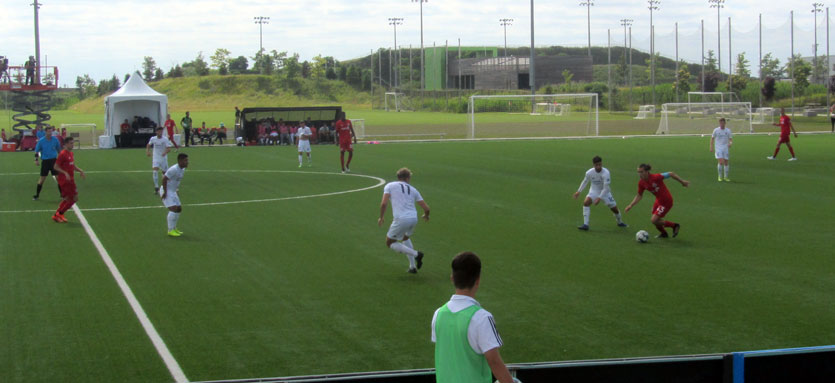 TFC Adolfo Ovalle (43) rushes upfield.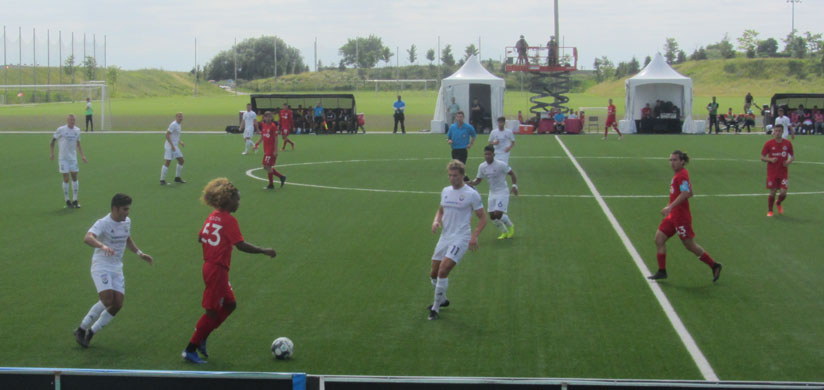 TFC Jayden Nelson (53) looks to tap back pass.


SGT Marco Micaletto (10) lines up cornerkick.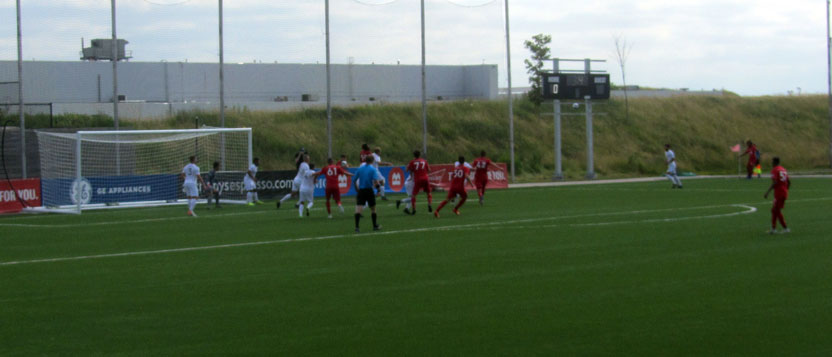 TFC Jayden Nelson (53) sends in cornerkick.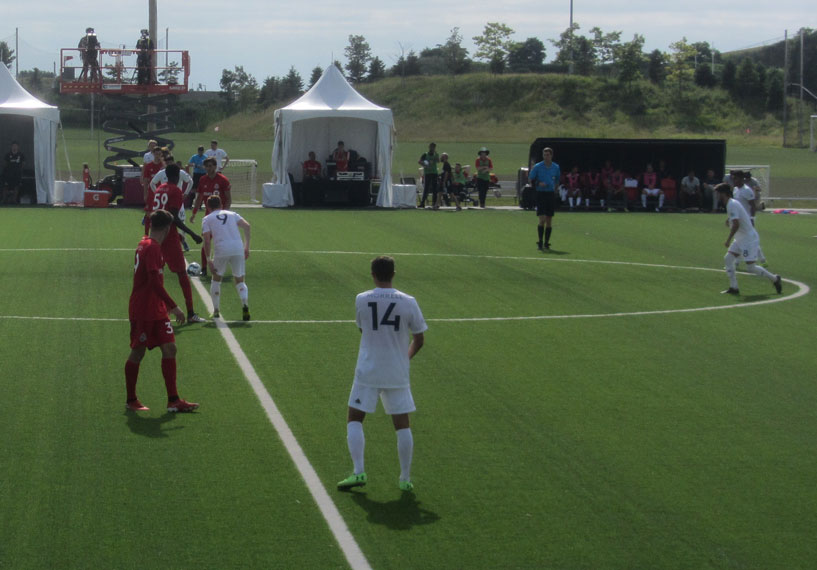 TFC Jordan Perruzza (77) takes second half kickoff.


SGT William Conner Antley (3) rushes down left.


SGT Nil Vinyals (8) looks to take shot.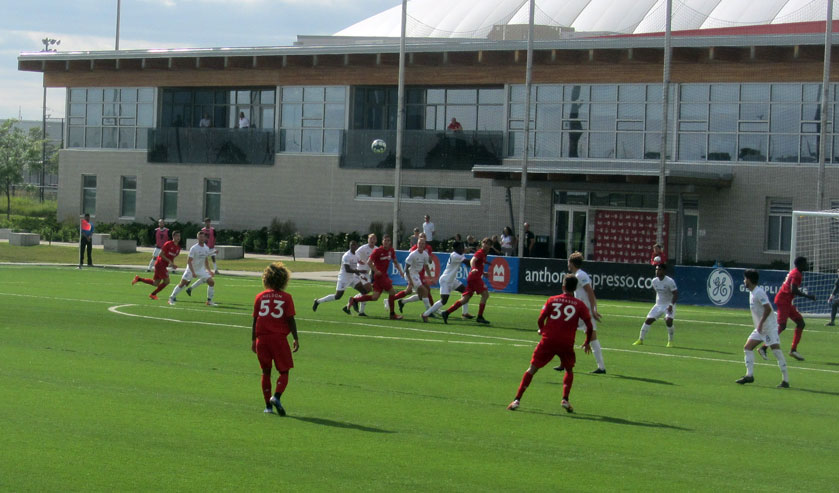 TFC Luca Petrasso (39) bends in freekick.
.
.