July 19, 2019 USL League One--Toronto FC II vs Lansing Ignite FC game recap (by Rocket Robin)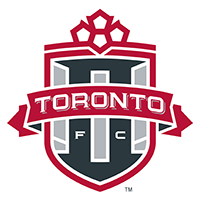 .............................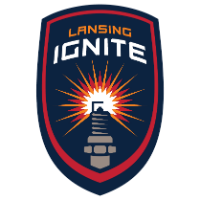 Result and details of the Friday July 19, 2019 USL League One game between Toronto FC II
and Lansing Ignite FC played at BMO Training Grounds in Downsview at 4:00pm.

Toronto FC II (all red, white names and numbers)
..............30 Yann-Alexandre Fillion
19 Griffin Dorsey...61 Rocco Romeo...42 Patrick Bunk-Andersen...37 Gideon Waja
53 Jayden Nelson...59 Noble Okello...43 Adolfo Ovalle (cpt)...50 Matthew Srbely...39 Luca Petrasso
..................77 Jordan Perruzza
Subs:...40 Eric Klenofsky (gk)...35 Mehdi Essoussi (mid)...58 Jordan Faria (mid)...64 Shaan Hundal
...81 Themi Antonoglou (fwd)...97 Ralph Priso-Mbongue (mid)...98 Jahkeele Marshall-Rutty (fwd)
team officials:...head coach Michael Rabasca
Lansing Ignite FC (all navy, white names and numbers)
.....................30 Stefan Cleveland
2 Rhys Williams...17 Kevin Coiffic...5 Brandon Fricke (cpt)...4 Grant Stoneman
24 Elma N'For...8 Kyle Carr...10 Xavier Gomez...21 Ivo Cerda...14 Nick Moon
....................19 Pato Botello Faz
Subs:...1 Michael Kirk (gk)...6 Ricardo Perez (mid)...12 Christian Silva (mid)...16 Lewis Jones (mid)
...20 Alex Bruce (fwd)...25 Marshall Hollingsworth (def)
team officials:...assistant coach Joel DeLass (head coach Nate Miller was suspended three games
for post game criticizing of officials)
Game officials:...referee Giancarlo Pavone...referee's assistants Peter Pendli and Jason Vaillancourt
...fourth official Brad Doubrough...(teal shirts, black shorts and socks)
First Half:...game starts 4:07pm...TFC defends south end on this hot and humid day with a bright sun in the west.
2 min...TFC Nelson runs up right into box and cross from 12 yards has defender head ball away.
3 min...LI goalie beats TFC Okello to ball he pushed too far forward into right side of box.
5 min...TFC Petrasso long run up left sideline, cuts along end line and low cross through 6 yard box eludes goalie but unplayed.
6 min...LI Stoneman cross from near left cornerflag is over box.
7 min...LI Faz is given pass up middle and 30 yard blast is well over net.
8 min...TFC Perruzza runs up middle but shot on edge of box is blocked.
8 min...LI Moon run up left but shot off defender deflects off him for goalkick.
9 min...TFC Petrasso quick cornerkick from left has TFC Nelson dribble in from left and low 15 yard shot is stopped
by sprawling goalie who smother at 65 yards in front of TFC Perruzza.
13 min...LI Carr 45 yard freekick from right has defender head ball away on edge of box.
13 min...LI Stoneman 40 yard skyball cross from left has goalie catch at 5 yards on right post and survive crash with defender.
14 min...LI Moon backheels pass on left side of box is intercepted and cleared.
19 min...TFC Dorsey chips 40 yard cross from right has goalie catch on left post in front of TFC Srbely.
20 min...LI Faz pokes ball after TFC goalie is saved LI Moon 12 yard shot from left. No goal was given.
Was it ruled offside?
21 min...LI Gomez rolls 28 yard shot from right is smothered by goalie.
25 min...LI Moon low 25 yard shot on left is caught by goalie on bounce on right side of net at 5 yards preventing tap-in.
27 min...TFC Petrasso rolls pass from lefft along 15 yard line and TFC Dorsey shoots 15 yarder down middle over net.
29 min...water break is called.
31 min...LI Moon wins pass up left and TFC Dorsey slides to knock ball away but goal kick is called.
33 min...LI Carr 30 yard freekick from left is sent upfield to LI Stoneman at 45 yards and chipped back to him.
Carr then crosses into box and TFC Dorsey heads ball down at 8 yards on left side of box and clears away on end line.
34 min...LI Faz low cross from 15 yards along end line has LI N'For decoy and LI Moon shoots low 15 yarder
that goalie smothers on dive to right.
34 min...TFC Jordan Perruzza GOAL...TFC Patrick Bunk-Andersen at TFC 40 yard line in middle passes
low and forward to TFC Gideon Waja at LI 40 yard line on left who dribbles about 15 yards upfield
and touches pass further left to TFC Luca Petrasso. Petrasso starts running forward while cutting
towards middle and at 22 yard line rolls ball to middle for TFC Matt Srbely who starts right but
turns and rolls ball forward and left to charging Petrasso who rolls cross from edge of 18 yard box
along 6 yard line that eludes goalie Stefan Cleveland and charging Perruzza pokes ball from 3 yards
into right side of net and he falls over goalie as he puts his hands up to celebrate. Cleveland
was slow to move away from guarding the left post.
37 min...TFC YELLOW card...Dorsey earns it for pull down tackle on LI N'For at center line.
39 min...LI Kevin Coiffic at LI 45 yard line on right chips high ball upfield and LI Elma N'For
gets behind defenders for bounce at TFC 28 yard line. From 25 yards he turns towards goalie
and tries deke on TFC Rocco Romeo at 15 yards on slight right. Romeo slides to poke ball away
and trips up N'For at 10 yards. Referee Giancarlo Pavone calls Penalty kick.
40 min...LI Pato Botello Faz GOAL...Faz rolls Penalty kick into right side of net as goalie
Yann-Alexandre Fillion dives left.
41 min...TFC Perruzza has pass/shot from 15 yards blocked.
44 min...LI Williams' big slide prevents TFC Perruzza from getting to ball on left side of box.
47 min...LI N'For cross from near left cornerflag has goalie catch.
48 min...half ends 4:55pm.
Second Half:...starts 5:11pm...the weather is still hot and sunny with a bright sun in the west.
47 min...TFC Petrasso cornerkick from left is low and defender on near post clears.
47 min...TFC Nelson jabs at ball midair at 12 yards and bounces to goalie.
48 min...LI N'For pops 15 yard header from right and LI Faz pops header from 8 yards on left to top right corner
of net.
49 min...LI Brandon Fricke GOAL...LI Kyle Carr 30 yard freekick from right is over to center
and TFC Noble Okello at 7 yards in middle heads ball across to right. LI Elma N'For at 10 yards
heads ball back to center and ball drops behind defenders for three LI players on edge
of 6 yard box. LI Xavier Gomez slides and gets 6 yarder that diving goalie blocks at 4 yards.
Fricke recovers rebound and roofs 7 yard shot down middle into top of net between three defenders.
51 min...TFC Petrasso cross from left has TFC Okello leap and head ball down at 10 yards in middle but
LI player clears.
53 min...LI Xavier Gomez GOAL...LI Nick Moon runs down left and cuts towards center
and at 6 yard line sends low centering cross to charging Gomez who shoots low and up middle
from 10 yards into left side of net between defenders.
55 min...LI Carr 40 yard freekick from right has TFC Ovalle head away in crowd of players on edge of box.
56 min...LI Williams receives crossfield pass on right and runs along 25 yard line to middle and low 25 yard
shot rolls to goalie.
58 min...TFC Perruzza run on left to end line and dekes two guys and 12 yard shot over goalie has TFC Srbely
shoot 12 yarder wide right but wins cornerkick. LI N'For was hurt well upfield.
59 min...TFC Petrasso cornerkick from right has TFC Romeo hook 12 yard shot from left that goalie catches.
60 min...TFC Hundal replaces Nelson.
64 min...TFC Hundal run to end line and defender makes sliding check to knock away ball and start fast break out.
64 min...LI Faz is given back pass and beats TFC Bunk-Andersen but TFC Ovalle intercepts pass to LI Gomez out
left side of box from 12 yards.
66 min...TFC Srbely cross from 22 yards on left has leaping LI Stoneman head away on right side of box preventing
two open TFC guys getting play.
69 min...LI N'For is pushed over at TFC 40 yard line and needs trainer.
69 min...LI sub...Bruce replaces Faz.
71 min...LI N'For bends in 30 yard shot on right while eluding TFC Waja is caught by goalie on short side.
71 min...TFC Dorsey rush up right on 4 on 4 rush shoots 25 yarder from far right well high and left of net.
72 min...a water break is called.
74 min...TFC Perruzza rolls pass attempted on top left of box but defender knocks away ball.
77 min...TFC Patrick Bunk-Andersen GOAL...TFC Luca Petrasso 28 yard freekick from left hangs
in wind but is over players in box and lands near right end line. TFC Matt Srbely chases it,
turns and crosses 20 yarder along end line. Bunk-Andersen at 8 yards in-line with left post
nods header into right corner of net beyond flying goalie.
79 min...TFC sub...Faria replaces Perruzza.
79 min...TFC Faria is given pass on left and run to end line and cross from 10 yards has goalie guarding near post
bats wide.
80 min...TFC Rocco Romeo GOAL...TFC Jordan Faria cornerkick from left has TFC Noble Okello
leap and head ball near left side of 6 yard box downward and towards goal. Goalie on ground
to push ball forward on near post has Romeo shoot rebound from 3 yards into right side
of open net.
81 min...TFC Hundal and TFC Okello get in each other's way for TFC Faria high cross from lefft at 8 yards.
82 min...LI N'For wins cornerkick on 8 yard shot on right end line off goalie on near post after deking defender.
82 min...LI Carr high cornerkick from right is over players in box.
83 min...TFC YELLOW card...Romeo earns it for grabbing arm of LI Gomez at TFC 50 yard line.
84 min...TFC Faria run up left and low cross from 20 yards on far left is just a step ahead of TFC Okello
at 3 yards on right post.
86 min...TFC Faria dekes between three players on left and bends 20 yarder wide right of post. LI N'For is injured
on play and needs trainer.
87 min...TFC sub...Marshall-Rutty replaces Petrasso.
88 min...LI sub...Jones replaces N'For.
90 min...TFC Marshall-Rutty rush on right rolls right to TFC Dorsey who crosses from 18 yards along end line
over goalie's hands but unplayed on left post.
91 min...LI Carr 55 yard chip from left to edge of box on right. An LI player heads ball forward and to center
and LI Fricke slides to shoot 7 yarder as goalie comes forward an trips on him. The ball deflects off goalie
and away for TFC Okello to head away and start fast break out. Fricke and the goalie are hurt on the play
on what looked like a collision of heads.
94 min...LI sub...Silva replaces Gomez.
95 min...TFC Faria bends cross from 25 yards on left tha goalie makes overhead catch in front of TFC Hundal
on right post.
96 min...TFC Srbely cross from lefft has TFC Okello turn back and backheel at 8 yards across box but defender clears.
97 min...TFC Hundal has shot blocked by defender in box and then is checked off ball at 8 yards on right.
97 min...TFC Faria cross from left has LI Coiffic block and clear.
98 min...game ends 6:04pm.
Final Score:...Toronto FC II........3.........Lansing Ignite FC.......3.........

Attendance was not announced nor listed on the USL site.  It started off small but it grew 
by the end of the first half that I say maybe 150—not padded out by Academy kids today.  

Referee Giancarlo Pavone gave out two Yellow cards today (both the TFC players) plus calling 
the Penalty kick.  He called a water break in each half because of the heat and humidity.  
The referee was from Alberta.   

Lansing down to their assistant coach Joel DeLass because their head coach Nate Miller was 
serving a three game suspension for criticizing the officials at the press conference after 
their last game.  

The game was pretty tame except for maybe LI's smallest forward Elma N'For who was constantly 
being bumped around by the large TFC defenders, some almost a foot taller than him.   
Actually the USL site lists TFC leading for fouls in this game 21-4.  Penalty scorer Faz 
shook hands after that play with his teammates and then shook hands with goalie Fillion who 
offered his hand!  I haven't seen sportsmanship like that before.  

There was a bright cross-field sun from the west that although we fans in the last three rows 
were shaded from it by the canopy, the sun reflected off the empty aluminum seats in front 
of us making us squint.  

Man of the Match (who is always a TFC player) was named as goalie Yann-Alexandre Fillion.  
It is tough to give out an espresso machine to a goalie who let in three goals especially 
after he earned a shutout last week and didn't win (I don't think so although I don't 
remember hearing an announcement).  More important to him is it's his third start in a row 
of the three games he's played not sitting on the bench.  Big Eric Klenofsky was his back up.  
Other goalies are Kevin Silva (main goalie before Fillion's hot streak), Caleb Patterson-Sewell 
(main goalie for 2018 but more on the bench for the MLS team), and Spencer King.  Wow—didn't 
notice until now that Fillion and King are both from Ottawa.  That's also the hometown 
of Brogan Engbers, now playing for Windsor TFC rather than on TFC II because of his NCAA 
scholarship regulations.   

It won't be a Goal of the Week candidate but Jordan Perruzza scored his seventh 
of the season which puts him in a tie for second with Ricardo Pepi from North Texas 
and Steven Beattie of Chattanooga.  League leader Ronaldo Damus of North Texas has nine goals.  

Both teams playmaking was well timed as their were only three offside calls today (one to TFC).  
Their first home meeting against North Texas, the visitors were called sixteen times.  

TFC rallied from a 3-1 deficit and looked like if the game went on longer they would have 
got the winner.  They are undefeated at home this season and came back from a 3-0 deficit 
to tie first place North Texas so we didn't give up hope.  

Best non-scoring chances were at 9 minutes when TFC Luca Petrasso took a quick cornerkick 
from the left and TFC Jayden Nelson dribbled in from the left and took a low 15 yard shot 
that the sprawling goalie stopped then smothered the rebound at 5 yards before 
Jordan Perruzza could get to it.  20 minutes had LI Pato Botello Faz poke at the ball 
after the goalie saved a LI Nick Moon 12 yard shot.  The ball popped up but wasn't 
in the net but fooled some travelling parents in front of me.  34 minutes had Faz make 
a low cross from 15 yards along the end line with LI Elma N'For dummying in the middle 
and Moon shot a low 15 yarder that the goalie smothered on a dive to the right.  TFC then 
broke upfield for their first goal.  48 minutes had N'For pop a 15 yard header from 
the right over to Faz who popped an 8 yarder on the left to the top right corner but 
the ball landed on the top of the net.  64 minutes had TFC Shaan Hundal run to the end line 
and a defender slide checked the ball away from him.  66 minutes had LI Grant Stoneman 
leap and head away on the right side of the box TFC Matt Srbely's cross preventing two 
open TFC players from getting into the play for a tap-in.  82 minutes had N'For shoot 
along the end line from 8 yards that the goalie was able to push wide.  91 minutes had 
LI Kyle Carr take a 55 yard chip from the left to the edge of the box and an LI player 
header forward and LI Brandon Fricke slide to shoot a 7 yarder as the goalie come forward 
to block and tripped on him.  The goalie made the save but both players needed their 
trainers as the injuries were bad.  95 minutes had TFC Shawn Faria bend in a cross 
from 25 yards on the left that the goalie made an overhead catch in from of Hundal 
waiting of the right post. 97 minutes had Hundal have a shot blocked at 12 yards then 
he was checked off the ball at 8 yards before he could shoot again.    

This was a chance for TFC to cross into the playoffs.  They were fifth and a win 
would have tied them with second place Lansing with three games in hand on the Ignite.  
(Top four in ten team league make the playoffs).  

The result improves TFC's record to 6 wins, 5 losses, 5 ties for 23 points and they 
stay in fifth place.  I expected they'd win today as they'd beaten Lansing with 
two shutouts earlier this season.  

Lansing's record improves to 6 wins, 5 losses, 8 ties for 26 points but they could 
be passed by South Georgia later this weekend.  Fortunately for them Chatanooga 
can't pass them as they have the weekend off.  Lansing's problem is they have more 
ties than any other team and they've played more games than everyone.  

TFC are in the middle of their home stand and play their third Friday in a row next 
week against last place Richmond Kickers.  Richmond and TFC II dueled over the last 
few years for the worst team in what was then called the USL First Division 
(now USL Championship Division).  Both clubs took the self relegation route to the new 
League One this season.  Richmond has fallen a long way from the Dwayne De Rosario 
(his pre-MLS) days when they would beat Toronto Lynx when both teams were in the 
A-League around the turn of the century.  

Some folks may notice I've really got into the CPL their inaugural season.  True!  
However I've been waiting for a personalized jersey for months and after yet another 
reorder it was supposed to be delivered today but I e-mailed FedEx two days before 
to hold back until Monday so I wouldn't have to stay home and possibly be late or miss 
this game.  (I'm still dreading that they may Irbahimovic/Ibramhimovic my name 
on the back and the story will continue).   Loyalty!  Just today I was tweeting a reply 
to Neil Davidson's Canadian Press story on Ashtone Morgan as I had been at the first game 
of the Toronto FC Academy (their name at the time) for his and their first game in 2008.    

Rocket Robin
robing@eol.ca
twitter @RocketRobin01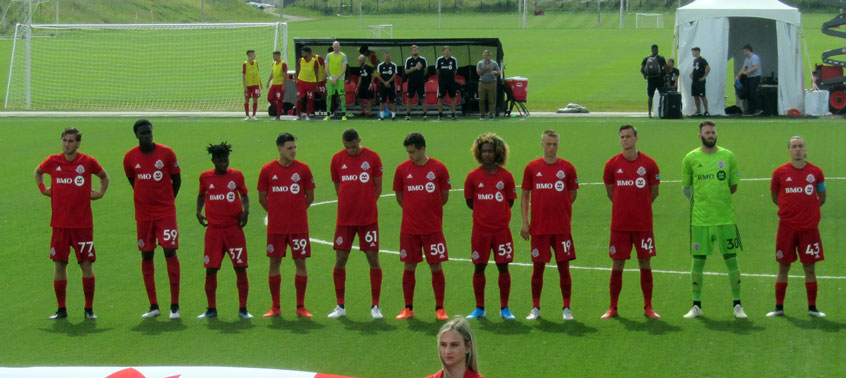 Toronto FC II starters


Lansing Ignite FC starters

Ignite Pato Botello Faz (19) takes opening kickoff.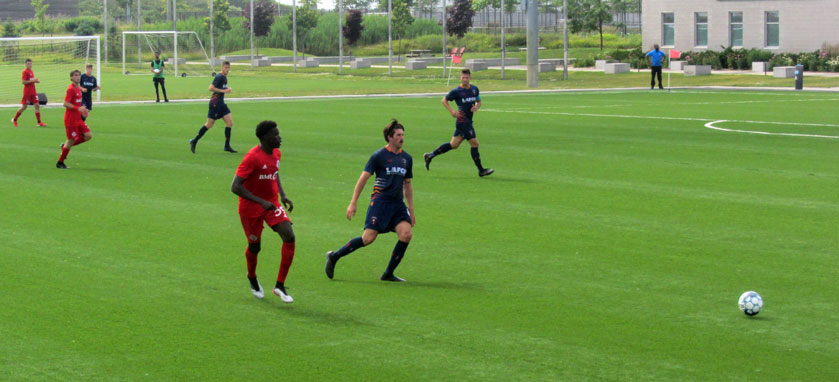 TFC Noble Okello (59) passes ball.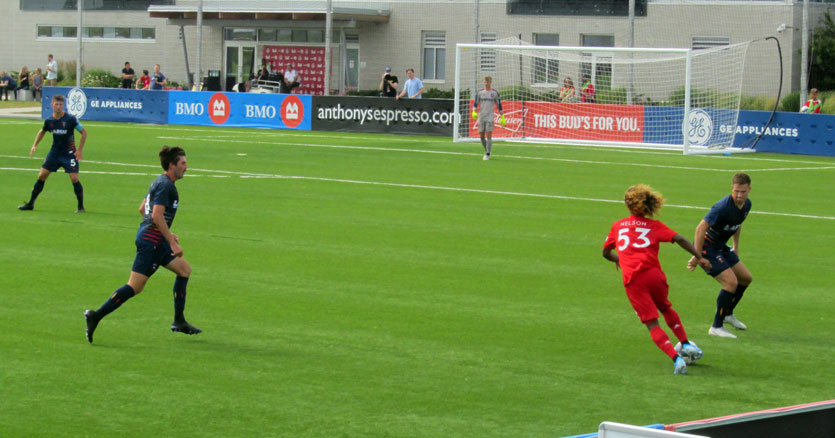 TFC Jayden Nelson (53) cuts towards goal.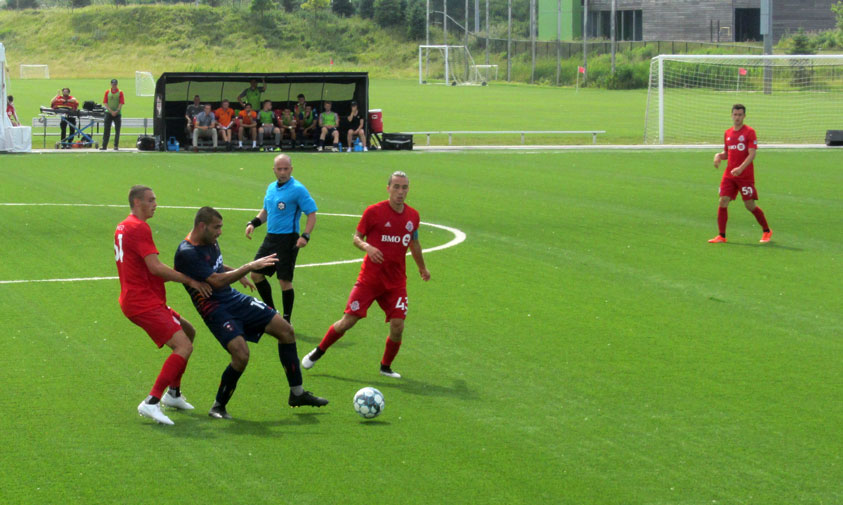 Lansing Pato Botello Faz (19) struggles with TFC Rocco Romeo (61) and TFC Adolfo Ovalle (43).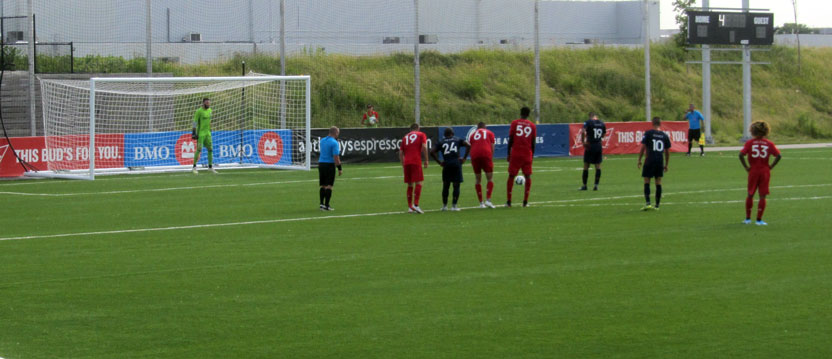 Lansing Pato Botello Faz (19) takes Penalty kick.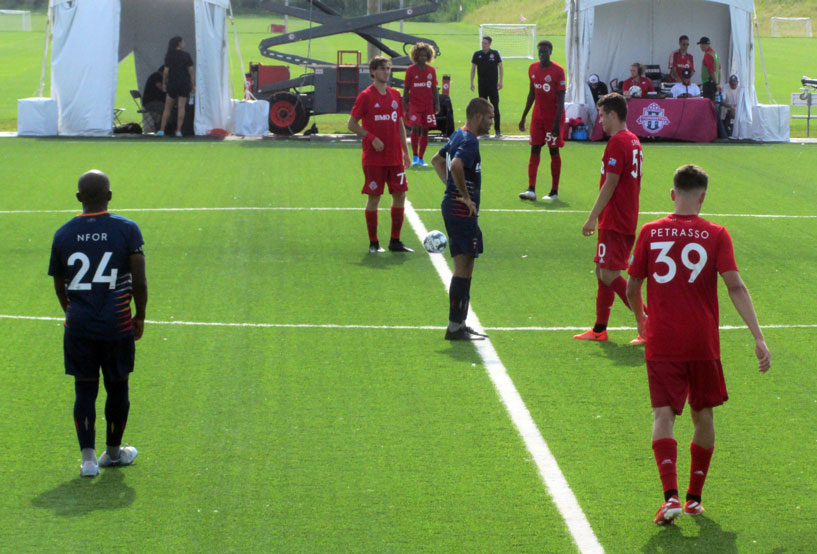 TFC Jordan Perruzza (77) takes second half kickoff.


Lansing Kyle Carr (8) chips freekick into box.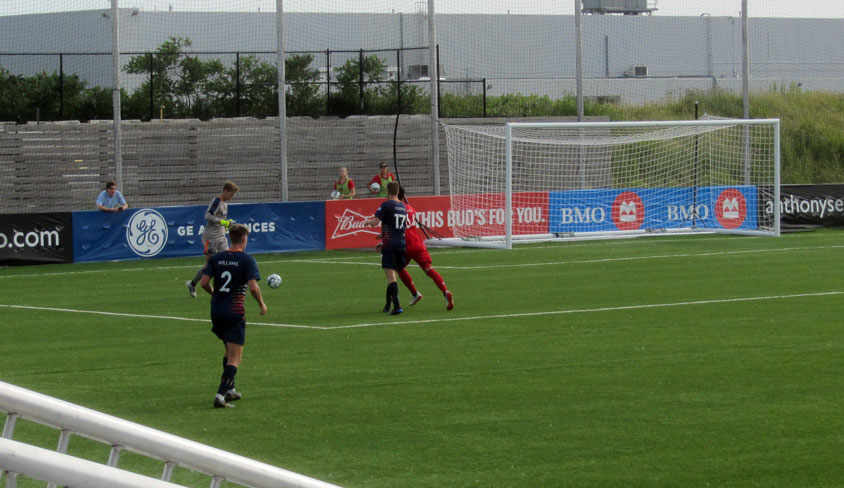 Lansing goalie Stefan Cleveland will clear ahead of TFC Shaan Hundal (64).


Lansing Elma N'For (24) cuts back over own side of center line.


TFC Luca Petrasso (39) takes freekick.
.
.