July 31, 2019 USL League One--Toronto FC II vs Forward Madison FC game recap (by Rocket Robin)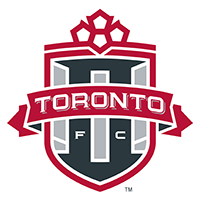 .................................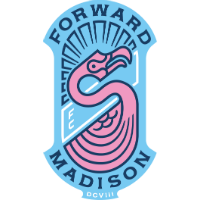 Result and details of the Wednesday July 31, 2019 USL League One game between Toronto FC II
and Forward Madison FC played at BMO Training Centre in Downsview at 4:00pm.

Toronto FC II (all red, white names and numbers)
...................30 Yann-Alexandre Fillion
19 Griffin Dorsey...15 Eriq Zavaletta...61 Rocco Romeo...5 Ashton Morgan (cpt)
39 Luca Petrasso...14 Jay Chapman...27 Liam Fraser...50 Ayo Akinola...58 Jordan Faria
......................20 Ayo Akinola
Subs:...40 Eric Klenofsky (gk)...35 Mehdi Essoussi (mid)...37 Gideon Waja (mid)...42 Patrick Bunk-Anderson (def)
...57 Terique Mohammed (def)...64 Shaan Hundal (fwd)...77 Jordan Perruzza (fwd)
team officials:...head coach Michael Rabasca
Forward Madison FC (all white, navy names and numbers)
...................97 Dayne St Clair
2 Carter Manley...22 Wyatt Omsberg...13 Connor Tobin (cpt)...27 Christian Diaz
11 Paulo Jr...3 Eric Leonard...7 Don Smart...70 Josiel Nunez
............29 JC Banks...20 Oliver White
Subs:...1 Ryan Coulter (gk)...92 Brian Sylvestre (gk)...12 Ally Nganzi (mid)...14 Brian Bement (fwd)
...15 Shaun Russell (def)...21 Louis Bennett (mid)...77 Jiro Barriga Toyama (def)
team officials:...head coach Daryl Shore
Game Officials:...referee Myriam Marcotte...referee's assistants Chantal Boudreau and Melissa Sneddon
...fourth official David Barrie...(teal shirts, black short and socks)
First Half:...game starts 4:08pm...TFC defends south end on this hot and sunny afternoon with a breeze from the west.
5 min...TFC Petrasso gets to long pass on right runs to end line and rolls to TFC Srbely who misses connecting
at 12 yards up middle.
6 min...FM Smart run up left and low centering pass has his backheeler cleared.
7 min...FM Smart cornerkick from left lands on top of the net.
9 min...TFC Faria cross from 25 yards from far left drifts behind net.
10 min...FM White run on right and 20 yard shot has goalie bat down on near post and defenders clear.
10 min...FM Leonard heads flying header wide left from 7 yards.
13 min...FM Nunez 40 yard freekick down middle chipped over players wide left for goalkick.
14 min...FM Smart chips through ball to FM Banks running down left and waits too late to cross and low has goalie dive
forward to stop.
15 min...TFC Petrasso long run down right and cuts toward goal and retreating FM Leonard slides in and pokes ball
forward to goalie.
20 min...FM Smart chips 20 yarder that goalie lets bounce wide right for goalkick.
22 min...TFC Faria wins cornerkick on left on deflected cross.
22 min...TFC Dorsey cornerkick is shoft and defender dives forward to clear.
26 min...FM Paulo Jr runs down right and high cross into box has defender head away. FM Banks recovers partial clearance
and 22 yard shot up middle is just wide right of net.
28 min...TFC Petrasso 15 yard cross from far right is cleared by FM Omsberg at 2 yards in middle.
31 min...TFC Petrasso cornerkick from right. TFC Zavaletta twists 10 yard header in crowd of players in middle wide left.
33 min...TFC Zavaletta threads pass from right to TFC Akinola who muscles with defender at 8 yards and ball partially cleared.
TFC Petrasso blasts 20 yarder from right high and wide left.
36 min...TFC Akinola taps pass left to TFC Morgan who shoots 18 yarder from left that goalie catches on near post.
37 min...FM Diaz chips ball from near left cornerflag and goalie catches overhead on right post.
38 min...TFC Srbely receives short pass and 15 yard shot on left into side netting.
40 min...FM Omsberg intercepts pass at 45 yards pushed forward for FM Nunez to blast 25 yarder down middle that goalie
catches.
41 min...TFC Morgan chips 25 yarder from left that goalie catches.
41 min...FM Paulo Jr GOAL...FM Don Smart chips pass from 50 yards down middle that finds
charging Paulo Jr who runs by retreating TFC Ashtone Morgan and gets to bouncer just inside
box on right before too-slow goalie Yann-Alexandre Fillion can dive on it
and chips 16 yarder over him into middle of empty net.
43 min...TFC Dorsey cross from right on run has FM Diaz dive to give up cornerkick.
44 min...TFC Petrasso cornerkick from right has TFC player head ball down. FM Leonard clears with blast from 10 yards.
45 min...half ends 4:53pm with no added time.
Halftime Entertainment: There's an Anthony's Espresso Machine given to the 'loudest fan at the game'. (Turns out
it went to Matt Srbely's grandmother!).
Second Half:...starts 5:09pm. There's a bright sun in the west. I'm under the canopy and glad I have sunglasses
because of reflection off empty aluminum benches in front of me.
Halftime subs:...TFC Mohammed replaces Morgan.
.................TFC Bunk-Andersen replaces Zavaletta.
46 min...FM Diaz low cross from 20 yards on far left is cleared by boot by TFC Mohammed in middle of box.
48 min...TFC Faria long high cross from left sideline is over right end line on bounce.
49 min...FM Paulo Jr rolls pass through TFC 6 yard box unplayed.
50 min...FM White tries one last pass in box that's intercepted by defender at 8 yards. FM Nunez and Smart were involved
earlier in pass play.
51 min...TFC Petrasso rush up right and rolls 15 yarder that goalie smothers on near post.
53 min...TFC Faria 30 yard freekick from lefft is over players and TFC Bunk-Andersen flicks ball away from box on right!
54 min...TFC Srbely 40 yard chip from left is caught by goalie well wide right of goal.
55 min...FM Tobin holds off TFC Akinola on run on right that allows FM goalie to shank clearance for cornerkick.
56 min...TFC Petrasso cornerkick from right has ball knocked around, no hand ball call and whistle is blown for FM freekick.
57 min...TFC Dorsey long run down right and 18 yard roller is smothered by goalie on near post.
60 min...FM Paulo Jr GOAL...FM Oliver White slides at 50 yard line and taps pass over
to right for FM Paulo Jr to rush down wing. He out-muscles TFC Terique Mohammed having
him fall over at 10 yards. Paulo Jr then roofs 10 yard shot from right near end line
over shoulder of goalie into top left corner of net.
62 min...FM Omsberg and TFC Mohammed crash together at FM 25 yard line jumping for chipped cross on left. Mohammed
is injured and wins freekick.
63 min...TFC Fraser 28 yard freekick from left is popped up high and goalie catches and survives bumps. A pushing match ensues.
64 min...FM (TFC own goal Rocco Romeo) GOAL...FM Wyatt Omsberg at 60 yards in middle
sends low pass forward and right to FM Carter Manley at 40 yard line. Manley rushes
up wing to 20 yard line and taps centering pass to FM Paulo Jr who holds ball on right
edge of 18 yard box and taps it back to Manley as he now runs towards center cutting
into box. Manley trying to avoid being checked from behind tries to cross to open
FM Don Smart on left post instead hits lower leg of TFC Rocco Romeo at 3 yard line
on edge of 6 yard box and bounces over goalie diving forward. Retreating
TFC Griffin Dorsey swings and misses on clearance kick and ball bounces
into left corner of net.
66 min...TFC sub...Perruzza replaces Akinola.
67 min...TFC Jordan Perruzza GOAL...TFC Liam Fraser sends through ball up the middle
from 40 yards that charging Perruzza receives at 22 yards behind three defenders
and at 15 yards chips just over sliding goalie at 10 yards into middle of open net.
68 min...FM sub...Bement replaces White.
69 min...FM Smart is given long pass chip from FM Banks and his 18 yard shot from left is off underside of bar and ball
bounces back out to top of box.
71 min...TFC Dorsey cross from 30 yards on right is well high and left of net.
72 min...TFC Srbely rolls through ball pass from 25 yards too far forward and goalie smothers.
72 min...TFC YELLOW card...Dorsey earns it for sliding tackle at center line on FM Smart.
73 min...TFC goalie catches high 40 yard chip.
74 min...TFC Petrasso runs up right and freezes goalie halfway out at 12 yards on right and rolls 15 yarder wide left of the post.
74 min...FM goalie catches 25 yard cross from far right.
76 min...TFC Dorsey pass has TFC Faria chip from far left and defender heads to concede cornerkick.
76 min...TFC players mess up short cornerkick from right not even getting ball into box.
77 min...FM sub...Toyama replaces Smart.
78 min...FM Paulo Jr rolls pass from right into TFC box that FM Toyama misses.
79 min...TFC Perruzza is centered pass and 30 yard blast is over bar.
80 min...TFC RED card...Griffin Dorsey earns his second Yellow card of the game
for shirt grabbing. He started grabbing FM Jiro Barriga Toyama by the front
and as he was running by him to break in from center line on left grabbed his shirt
from the back. He had earned his first Yellow at 72 minutes for a sliding tackle
at the center line on FM Don Smart. [the TV commentator at that time said he'd
miss the next game because of Yellow card accumulation].
82 min...FM Banks rush across 20 yard line to center from right and cuts roller that goalie dives right to stop and has enough time
to crawl and smother rebound.
83 min...FM sub...Bennett replaces Nunez.
85 min...A FM defender is called off by FM goalie so TFC Chapman tipped ball will roll over end nline for goalkick.
85 min...FM Brian Bement GOAL...FM Jiro Barriga Toyama in middle at 50 yards passes
to charging FM Louis Bennett who rushes up left and sends low cross that has Bement
jump to one-touch shot from left side of net at 6 yards into left side of net past
sprawling goalie. (the three FM players involved in this play were their three subs).
86 min...TFC YELLOW card...Fraser earns it for dissent before restart.
89 min...FM players waste time with short cornerkick on left.
94 min...game ends 5:58pm.
Final Score:.....Toronto FC II......1.......Forward Madison.......4........

Attendance is never announced but I estimated it at 75.  TFC II have played the last 
three Friday afternoons in a row.  The thought process when making the schedule probably 
was to avoid the holiday weekend coming up which might crimp attendance but could 
they draw any less than 75?  [Late edit: the USL web site posted it at 64].  

The weather was not as hot as the last few weeks but the sun was lower on the horizon 
as the season moves along.  I was glad I brought sunglasses as even the last row 
of seats under the canopy didn't protect us from the glare today.  

The referee and assistants were female.  Referee Myriam Marcotte from Quebec City gave 
out three Yellow cards and that didn't start until 72 minutes.  They were all 
to TFC players (which about their average but two were to Griffin Dorsey but by the time 
of his second the score was out of reach).  I liked how the game did not have a lot 
of whistles so there was no added time in the first half and only three in the second.  
I couldn't remember any injuries that needed a trainer and maybe only one lame begging 
by a player for a Penalty kick.  No official water breaks were needed.    
   
I thought something was up when I saw a lot of 'low' numbers warming up for the home team.  
There must have been a practice of the MLS team that had ended just before I arrived.  
I saw a few of them leave the grounds.  I figured there were five MLS players 
and six USL players as the starters.  

Familiar MLS players were defenders Ashtone Morgan (wearing the captain's armband to start) 
and Eric Zavaletta, midfielders Jay Chapman and Liam Fraser (who wore it the second half), 
and forward Ayo Akinola.  I was thinking that would rule them out for the away game against 
New York Red Bulls on Saturday then realized today was only Wednesday (yeah Friday 
afternoon games three weeks in a row have got me in a rut) and they could play.  They all 
need playing minutes.  Some posters suggested this was more a tune up for the next 
two Wednesday's when the MLS team finally enters the Canadian Championship at the semi-final 
stage against Ottawa Fury of USL Championship League—the division that TFC II dropped from 
at the end of last year.  

I wondered how they'd fit with the USL players and it was.....not well.  It felt like 
an All-Star game (yeah I know the MLS one would be played later tonight) but it was like 
the players were not used to each other.  

Ashtone Morgan and Eric Zavaletta played the first half before making way for regular TFC II 
players Terique Mohammed and Patrick Bunk-Andersen.  Akinola made way for Jordan Perruzza 
at 66 minutes.  I counted Morgan taking two shots from 18 and 25 yards both caught 
by the goalie.  Akinola who played as the lone forward didn't get any real chances.  The MLS 
players usually passed off to USL players to let them have a shot but that's often where 
the play would break up or the shot be blocked.  Fraser's through ball pass to Perruzza for 
their lone goal was probably their best moment of the game.  

I later tweeted that MLS coach Greg Vanney did not look pleased when I saw him in the players' 
parking lot (and no I park 300 hundred yards uphill with the rest of the fans).  A reply 
I received of 'who was he with?' I supposed expecting it would be a player or another coach 
or the team president.    It was two of his sons (easy to tell their red hair) and one 
of the sons' friends unless he has a blonde haired boy too.   

MLS team players Jonathan Osorio and Jacob Shaffelburg watched most of the game from the stands.  
Shaffelburg started the season with TFC II even when he immediately showed MLS quality.  It was 
later revealed that he stayed on this team until he built enough time to be considered 
a 'home-grown' player and would now be exempt from such things as the MLS expansion draft.  
I could gush to Osorio that I'd watched his brother Nicholas play on Sunday night 
for L1O Alliance United.   

Man of the Match (who is always a TFC player) was named as midfielder Jordan Faria.  He earned 
the Anthony's Espresso Equipment coffee maker today but it wasn't only the machine given out.  
At halftime the 'loudest' fan was given one too (I was surprised as they don't usually do this 
for such a small crowd).  I thought it was one of the goalie's relatives but found out it was 
midfielder Matt Srbely's grandmother.    

Jordan Perruzza came in at the 66 minute mark and scored 1 minute later.  It was his eighth goal 
this season and is second best in the league but this was the second game in a row he was pushed 
aside to give TFC signing Ayo Akinola the start.  Last week he didn't come into the game 
until 84 minutes and they lost their first home game of the year to lowly Richmond Kickers.  
He came over to the sidelines after the game to see his friends and relatives and I mentioned 
the scoring race and he said something like "but I've got to get into the game!"  I looked through 
my archives later to find it was Perruzza who scored TFC's lone goal in a 1-1 tie the last time 
Forward Madison were in town.   

I don't expect midfielder Noble Okello has returned from the MLS All Stars game yet where he
played last night in the Homegrown Game and scored the injury time tying goal against Chivas
de Guadelajara U-20s before the MLS team lost on Penalty kicks.  

Forward Madison's goalie was Dayne St Clair of Pickering Ontario...the lone Canadian on their 
team. He had to make some good saves.  He played for Vaughan Azzurri in League 1 Ontario's 
inaugural year of 2014.  He then moved on to PDL K-W United and was drafted by Minnesota United 
and is one of five players 'on-loan' from the MLS club.   He had a two sets of friends/relatives 
60 yards apart to meet him after the game.  Patrice Gheisar who is now head coach of the L1O 
Vaughan Azzurri was at the game watching from the stands to see him.  Gheisar would have coached 
the youth teams that St Clair passed through over the years before taking the L1O position.  

Best non-scoring plays were at 5 minutes when TFC Luca Petrasso got to a long pass on the right 
and ran to the end line and rolled a centering pass that TFC Matt Srbely whiffed on at 12 yards 
up the middle.  10 minutes had FM Eric Leonard send a flying header wide left from 7 yards.  
15 minutes had Leonard make a key defensive play by sliding in to poke the ball off Petrasso 
in the FM box.  31 minutes had Petrasso send in a cornerkick from the right that TFC Eric Zavaletta 
in a crowd of players twisted a 10 yarder header wide left.  69 minutes had FM Don Smart given 
a long pass chip from FM J.C. Banks and his 18 yard shot from the left hit the underside 
of the bar with such force that the ball ball bounced out the top of the box.  74 minutes had 
Petrasso run up the right, freeze the goalie halfway out at 12 yards, and roll a 15 yarder wide 
left of the post.  82 minutes had Banks rush along the 20 yard line to the center and cut 
a roller back that the goalie dove to stop on the right with enough time to crawl and smother 
the rebound.  

The loss drops the TFC II record in 18 games to 6 wins, 5 ties, 7 losses for 23 points.  They are 
in a three way tie for sixth but are ranked eighth in the ten team league because they've played 
more games than the other two.  Other teams can break off and pass them in games this weekend.  

Forward Madison improves in 18 games to 7 wins, 4 ties, 7 losses for 25 points and slingshot past TFC.  
They are in a two way tie for fourth.  Fourth is the final playoff spot.  

TFC II hosts the last game in their five game homestand next Friday August 9th at 4:00pm against 
Greenville Triumph SC, the only team they haven't played this season.  I told a USL official 
and a TFC games crew member last week (followed up with an e-mail) that their website lists 
the BMO Training Ground but it links to the site of BMO Field.  I even said there was a link 
to the proper location on the TFC site (under their Academy team) they could use.  This week there 
have been no changes made so there may be a few lost tourists wandering around downtown Toronto, 
17.9 km, away next Friday.  

Rocket Robin
robing@eol.ca
twitter  @RocketRobin01   



Toronto FC II starters


Forward Madison FC starters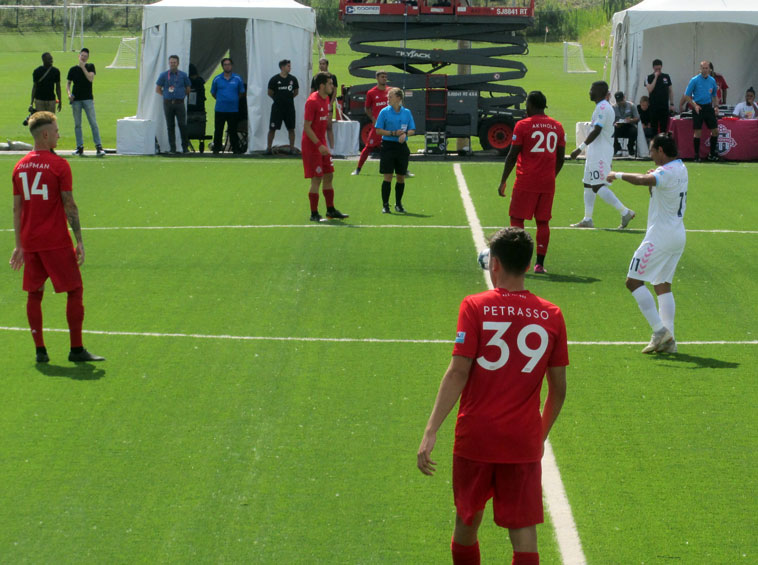 TFC Ayo Akinola (20) takes opening kickoff.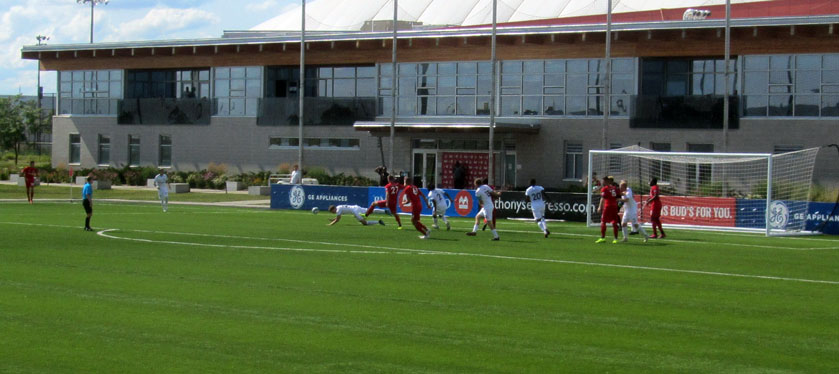 Forward Madison defender dives forward to head ball away for cornerkick.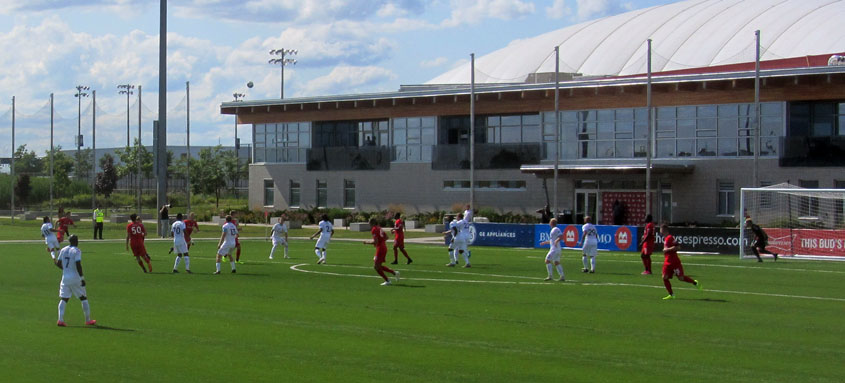 Ball popped up into Forward Madison box.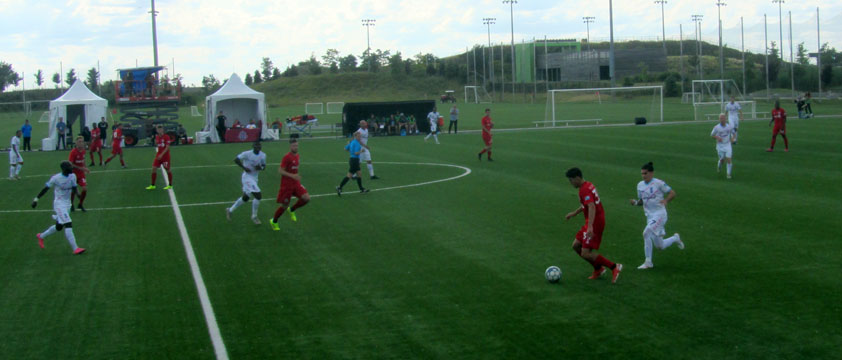 TFC Luca Petrasso (39) tries to elude Forward Madison J. C. Banks (29).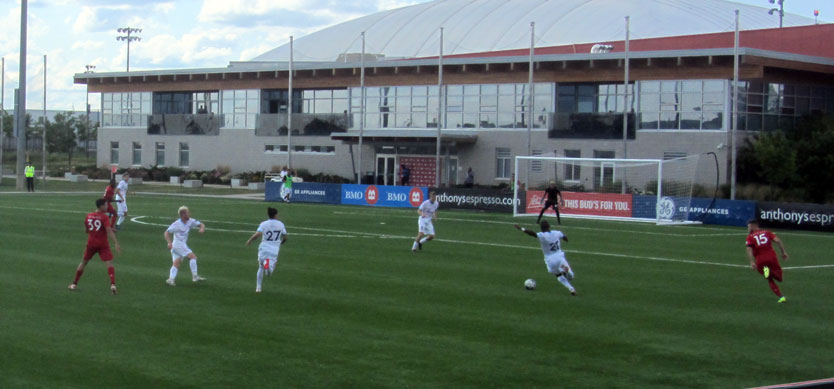 FM Oliver White (20) gets back to cut off pass to TFC Eric Zavaletta (15).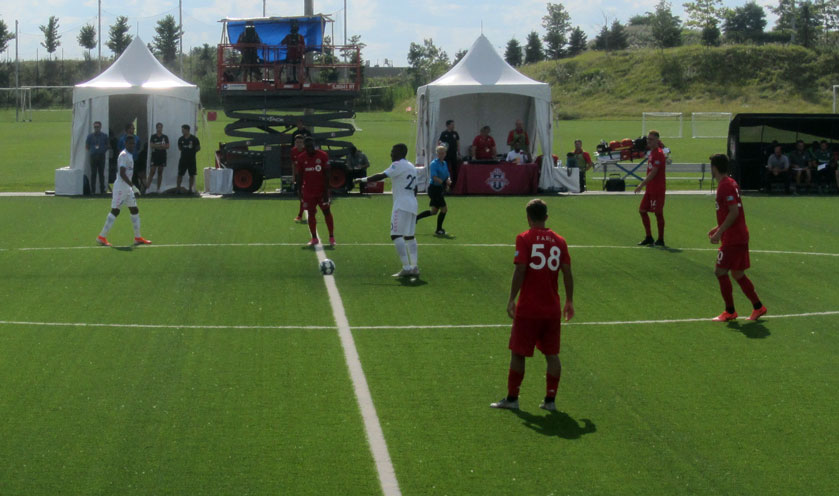 FM Oliver White (20) takes second half kickoff.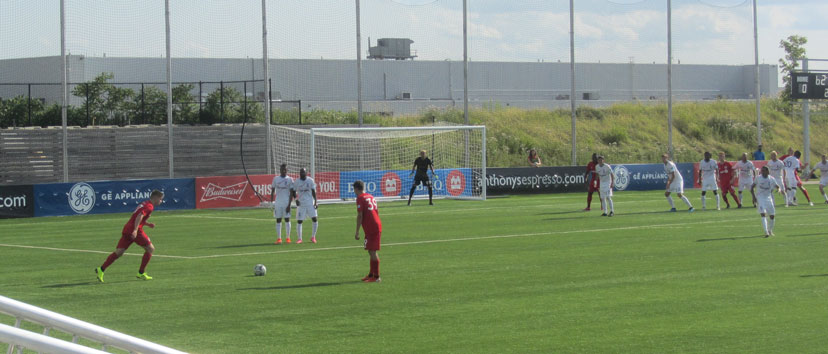 TFC Liam Fraser (27) takes freekick.


TFC Griffin Dorsey (19) leads rush.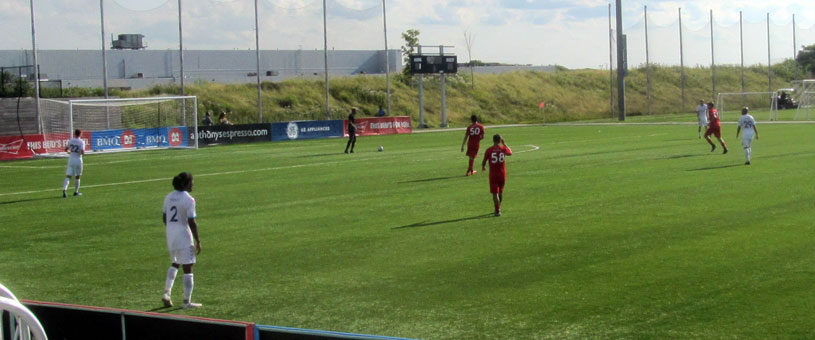 FM goalie Dayne St Clair takes his time with big lead.
.
.