August 9, 2019 USL League One--Toronto FC II vs Greenville Triumph SC game recap (by Rocket Robin)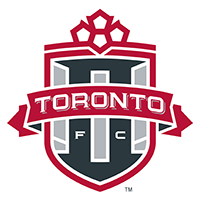 ..........................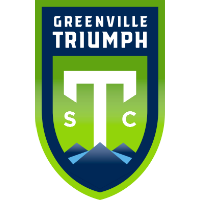 Result and details of the Friday August 9, 2019 USL League One game between Toronto FC II and Greenville Triumph SC
played at BMO Training Centre in Downsview at 4:00pm.
Toronto FC II (all red, white names and numbers)
...................30 Yann-Alexandre Fillion
37 Gideon Waja...61 Rocco Romeo...42 Patgrick Bunk-Andersen...57 Terique Mohammed
39 Luca Petrasso...35 Mehdi Essoussi...43 Adolfo Ovalle (cpt)...59 Noble Okello...58 Jordan Faria
......................77 Jordan Perruzza
Subs:...40 Eric Klenofsky (gk)...20 Ayo Akinola (fwd...50 Matt Srbely (mid)...64 Shaan Hundal (fwd)
...81 Themi Antonoglou (fwd)...85 Antonio Carlini (mid)
team officials: head coach Michael Rabasca
Greenville Triumph (white socks and shirts, green shorts, names and numbers)
..................22 Dallas Jaye
.....12 Evan Lee...14 Cole Seiler...3 Tyler Polak
2 Dominic Boland...5 Maxwell Hemmings...10 Carlos Gomez...8 Aaron Walker (cpt)...6 Paul Clowes
...............9 Jake Keegan...18 Omar Mohamed
Subs:...19 Armando Quezada (gk)...4 Kevin Politz (def)...7 Christopher Bermudez (mid)...13 Choi Sang-Ryeong (def)
...21 Sami Guediri (mid)...31 Edmundo Robinson (fwd)...88 Travis Ward (fwd)
team officials:...head coach John Harkes
Game oficials:...referee Carly Shaw-MacLaren...referee's assistants Melissa Snedden and Jason Olinski
...fourth official Scott Bowman...(teal shirts, black shorts and socks)
First Half:...game starts 4:07pm...TFC defends south end on this mild sunny with clouds afternoon with a gusty wind
from the west. It starts to spit rain before the game starts so the crowd crams into the center partially covered stand.
1 min...TFC goalie catches GT Boland 25 yard cross from right.
2 min...GT Boland chips midair 25 yard shot down middle wide right.
3 min...GT Boland cross from 25 yards on far right is well wide left of net.
6 min...Greenville Dominic Boland GOAL...TFC Terique Mohammed at 15 yards in middle of box
clears ball high and over to left. TFC Luca Petrasso rescues ball on left sideline
at 15 yard line but GT Tyler Polak takes ball off him and sends short pass to GT Omar Mohamed
just outside of left corner of box. Mohamed steps to left but then stops and cuts back
to right and forward and takes 18 yarder from left that goalie Yann-Alexandre Fillion
sprawls to knock down at 4 yards on left post and ball rolls across box where Boland
had stepped behind (TFC) Mohammed and knocks 5 yarder into middle of empty net.
7 min...TFC Okello 25 yard cross from left has TFC player slide about 1 yard in front of ball too late but play was called
offside anyway.
8 min...TFC goalie catches cross from right.
11 min...GT goalie beats TFC Okello to through ball.
11 min...TFC Essoussi has defender stop him from connecting on 10 yard shot up middle.
13 min...TFC Essoussi cornerkick from left is drifted high and behind net in the wind.
15 min...GT goalie is out to top left of box to pick up ball ahead of TFC Okello.
17 min...GT Mohamed 20 yard shot from right has flying goalie punch ball forward to clear.
18 min...an offside goal is called back.
20 min...GT Mohamed dribbles to middle from left and downfield but pass for GT Walker and Keegan is offside.
21 min...GT Gomez cornerkick from right is headed away. GT Boland 25 yard rebound up middle is stopped at 15 yards
by defender that starts fast breakout.
22 min...TFC Perruzza 25 yard shot from slight left is well wide right of net.
.........GT YELLOW card...Polak earns it on a delayed call for a knock down early on previous play.
24 min...TFC Faria 20 yard freekick down middle is caught easily by goalie.
26 min...TFC Perruzza chests down cross from left and shoots 20 yarder that spins off defender and goalie catches.
27 min...GT Boland pops up 15 yard header on right that goalie catches.
27 min...TFC Faria rush down left and crosses over box and GT Polak heads away ball for cornerkick.
28 min...TFC Perruzza cornerkick from right hands in the wind and goalie catches but play is whistled down anyway.
29 min...GT Gomez cornerkick from left is caught in the wind and wide left of net; it doesn't even make center of box!
30 min...Greenville Jake Keegan GOAL...TFC goalie takes goal kick by rolling it forward
up middle to TFC Adolfo Ovalle on edge of box. Ovalle's first touch is too far and Keegan
gets to it but Ovalle slides on check attempt and knocks him over however Keegan has been
able to roll ball forward. GT Carlos Gomez runs in for loose ball and his 8 yard shot
from slight left has goalie make point blank save. Gomez jumps over him to get to loose
ball but TFC Rocco Romeo is now back to block a rebound attempt. Gomez pivots at 12 yards
on left and sends low centering pass that charging Keegan shoots 7 yarder under sliding
goalie and into left side of net with TFC Patrick Bunk-Andersen stuck on the goal line
in the middle of net.
33 min...Greenville Omar Mohamed GOAL...GT Maxwell Hemmings receives long pass downfield
at 40 yard line on right. He cuts crossfield towards middle and rolls ball forward
to GT Carlos Gomez who receives pass at 22 yard line just outside right side of box.
He runs forward towards end line and rolls pass along 7 yard line. Charging Mohamed
shoots 7 yarder down middle between TFC Rocco Romeo and sprawling goalie into center
of net. The obvious offside GT Hemmings who'd continued his run stepped wide left
of the net so he wouldn't interfere in play.
36 min...TFC Okello pass deflects to TFC Perruzza and he scuffs 18 yard shot up middle that goalie smothers.
36 min...TFC Faria 28 yard shot from slight left is wide left.
38 min...TFC Okello 28 yard shot from slight left is wide left.
40 min...TFC Petrasso long run up right and rolls pass to TFC Perruzza but GT Lee steps in front and goalie slides
out to smother ball at 12 yards.
40 min...GT Walker cross along end line is cleared.
41 min...GT Mohamed chips 18 yarder into box and TFC Romeo heads all away at 10 yards.
43 min...TFC goalie is out to 25 yards to head away ball down middle before GT Hemmings can get to it.
45 min...TFC Waja is centered pass from left and 30 yard shot up middle is well wide right.
46 min...half ends 4:53pm.
Halftime Entertainment: There's nothing today like espresso machine giveaway.
Second Half:...starts 5:09pm.
halftime subs:...TFC Akinola replaces Essoussi.
.................TFC Srbely replaces Faria.
46 min...TFC Akinola low pass from left to TFC Perruzza in middle but GT Lee gets in the way to clear ball.
47 min...TFC Perruzza on right rolls cross to TFC Srbely who misses connecting at 7 yards.
48 min...TFC Perruzza and GT Clowes are injured in collision on edge of GT box.
49 min...TFC Mohammed is injured at GT 25 yard line.
50 min...TFC Petrasso chips 28 yard freekick from left and ball is wide right over end line. TFC Okello knocks
ball over end boards.
54 min...TFC Okello is beaten to long chip by goalie catching on bounce at 15 yards.
56 min...TFC Romeo clearfs ball from inside right side of TFC box.
59 min...TFC YELLOW card...Mohammed earns it for bump over on right end line. It was his third bump in the last few minutes.
59 min...GT Gomez 22 yard freekick from right end line is headed away. GT Polak stops clearance and shoots 25 yarder up middle.
TFC goalie smothers ball just inside box thaat tips off GT Hemmings.
60 min...GT sub...Robinson replaces Boland.
61 min...GT Mohamed rolls 20 yarder forward into right side of box but no on is there.
63 min...TFC Ayo Akinola GOAL...TFC Matthew Srbely sends low pass from 40 yard line
in middle between two defenders for charging Akinola cutting in from left who receives
it on left side of box and quickly takes 15 yard shot over sliding goalie Dallas Jaye
at 12 yards into right side of net.
66 min...GT Robinson is tripped up on edge of box but GT Clowes blasts 20 yard shot that flyingg goalie bats wide right of post.
67 min...GT Gomez high cornerkick fro right is whistled down in box.
69 min...TFC YELLOW card...Ovalle earns it for tackle at TFC 45 yard line on GT Mohamed.
71 min...GT Gomez corxnerkick from left is over players in box and out right for TFC throw-in.
74 min...GT Walker is given chip in box and 10 yard shot is smothered by goalie.
74 min...GT YELLOW card...Clowes earns it at TFC 45 yard line.
75 min...TFC Perruzza is centered pass and rolls 15 yard shot tha goalie sprawls to push wide left of post.
75 min...GT sub...Politz replaces Clowes.
.........GT Clowes is injured on last play and needs trainer and a stretcher is brought out but eventually not needed.
78 min...TFC Srbely high cornerkick from left is caught in wind and lands behind net on right.
82 min...TFC sub...Hundal replaces Perruzzo.
85 min...TFC Akinola recovers GT chipped clearance and blasts 25 yarder up middle high and wide left.
86 min...TFC Srbely taps pass to TFC Okello who shoots 22 yarder down middle that goalie catches.
87 min...TFC Akinola 15 yard shot deflects off sliding defender wide left for cornerkick.
88 min...GT sub...Guediri replaces Gomez.
88 min...TFC Srbely high dornerkick from left is headed back and forth until whistled down in box.
89 min...GT Mohamed bends 18 yard shot is just wide left of post.
90 min...TFC YELLOW card...Goalie Fillion earns it for pushing over GT Robinson after whistle blown in favour of TFC.
A shot had been bounced off the boards behind the end line wide of the net.
92 min...TFC Waja on give and go down right has low cross into crowd of players in box caught by goalie.
94 min...GT Robinson eludes sliding defender for break in and 15 yard shot is stopped point blank by sliding goalie.
95 min...TFC Okello rolls through ball pass is smothered by goalie with not TFC players around.
95 min...game ends 5:59pm.
Final Score:.....Toronto FC II........1.......Greenville Triumph........3.......

Attendance wasn't announced but the USL website had it listed as 153 by the time I got home.  
There were times when most of those people were squashed under the last few rows of the 
center stand because a rain started but they later scattered to other seats when the sun 
came out.  I must have lost count but there seemed to be five times when the sun came out 
then overcast and back in the first half alone.  At least the crowd in front of me kept 
the reflection of the sun from the aluminum benches from getting into my eyes.  

Referee Carly Shaw-MacLaren gave out five Yellow cards (three to TFC) in a game that wasn't 
too rough.  There was one scary moment when GT defender Paul Clowes was injured at 75 minutes 
and the stretcher was rolled onto the field but the trainer waved it off and Clowes limped 
off with help into the end zone and was subbed off during the delay.  TFC defender 
Terique Mohammed picked up his seventh Yellow card of the season to tie for the league 
lead (Yes the USL website tracks that stuff).  

TFC II has made some comebacks before but the word must be getting out as the visiting 
teams play right to the end not letting TFC back into a game and slow the pace down 
at the end to kill the clock.  

Greenville games haven't been high scoring affairs.  Even after today their goals for/against 
record is only 20-14.  Today the defenders of Evan Lee, Cole Seiler, and Tyler Polak 
with Dominic Boland coming back to help when he wasn't bombing up the wing were of great 
help to goalie Dallas Jaye.  

The day started with TFC Jordan Perruzza and GT Jake Keegan tied for second (with Steven Beattie 
of Chattanooga) in the scoring race with 8 goals.  That is one behind North Texas Ronaldo Damus.  
Now Keegan pulls into a tie with Damus at least until the rest of the weekend games are played.  
I reminded Perruzza after the game but he knew about the race.  At least he started this game 
as the last two he's come in off the bench including their last game when he didn't get to play 
until 66 minutes and he scored one minute after coming in...that was the game where five MLS 
players were pushed in as starters.  

TFC had Jordan Perruzza alone up front as the lone forward but when forward Ayo Akinola was 
brought in at halftime, Akinola played more on the wing in the spot of who he was brought 
on for.  Akinola had got the two previous starts over Perruzza.  

Man of the Match (who is always a TFC II player) was announced as Ayo Akinola.  An easy choice 
as he was the only goalscorer for the home team.  I don't think he's won a coffee maker before.  
There was no espresso machine prize at halftime for the 'loudest fan' like the last game 
as it's likely a tourist or academy kid would have won it.  

There was a strong gusty cross-field wind from the west that hung balls in the air.  The field 
runs north-south so it wasn't a disadvantage in either half.  

TFC only listed six substitutes and this was a home game!  I expected they'd fill their bench 
even if they'd never bring that player on just to get that game day experience.  They gave 
midfielder Mehdi Essoussi his first start at this level.  I used to watch him last year 
on Toronto FC III when they ran a team in League 1 Ontario.  They also listed a player 
Antonio Carlini #85 who I thought I'd never seen before.  OK he was listed in my notes for 
the last ever TFC III game last season when TFC and TFC II were both out of town and they were 
filling their L1O obligations before starting in the USSDA system.  Carlini's bio lists him 
as yet another player from Ottawa although not a goalie.  He didn't get into the game.  
Noble Okello was back as a starting midfielder after missing the last game being away 
at the MLS Home Grown game and being the hero during their All-Star game festival in Orlando.  
Some of the TFC are away at the CONCACAF U-15 tournament but they are too young for this league.   

Best non-scoring chances were at 26 minutes when TFC Jordan Perruzza chested down a cross 
from the left and shot a 20 yarder that spun off a defender and the goalie caught.  40 minutes 
had TFC Luca Petrasso have a long run up the right and roll a pass to Perruzza but GT Evan Lee 
stepped in front of him and the goalie slid out to smother at 12 yards.  59 minutes had 
GT Carlos Gomez take a 22 yard freekick from the right end line that was headed away.  
GT Tyler Polak stopped the clearance and shot a 25 yarder up the middle that tipped off 
GT Maxwell Hemmings just inside the box and the goalie was able to smother.  66 minutes had 
GT Polak tripped up on edge of the TFC box but GT Paul Clowes following up blasted a 20 yard 
shot that the flying goalie batted wide of the post.  74 minutes had GT Aaron Walker given 
a chip inside the box and took a 10 yard shot that the goalie smothered.  75 minutes had 
TFC Perruzza centered a pass and roll a 15 yard shot that the goalie sprawled to push wide 
left of the post.  This was the same play that Clowes almost needed the stretcher.  89 minutes 
had GT Omar Mohamed bend an 18 yard shot just wide left of the post.  Added time had 
TFC Gideon Waja on a give and go down the right had his low cross into a crowd in the box 
caught by the goalie.  Added time then had GT Edmundo Robinson elude a sliding defender for 
a break-in and his 15 yard shot was stopped point blank by the sliding goalie.  

Today brings to an end TFC II's five game home stand.  It started so well with a 3-0 win 
but after the next game being a tie, they've lost their next three games.  They've fallen 
from fourth right after that first win to a tie for seventh and may fall further behind 
the playoff line of fourth in the ten team league after the later weekend results are in.  

TFC II's record falls to 6 wins, 8 losses, 5 ties for 23 points and a goal for/against 
of 31-33 with the negative being the first since back on May 24th.   A win today—the ultimate 
six point game--would have tied them with Greenville. 

Greenville's record improves to 8 wins, 6 losses, 5 ties for 29 points.  That puts them 
in fourth place (right on the playoff line) flipping over Chatanooga Red Wolves 
and Forward Madison although those teams haven't played this weekend.  

TFC II's next game is Saturday August 17th away in Richmond.  Their next home game 
is Friday August 23rd against....Greenville Triumph SC....again?!  This was the only team 
TFC had not played this season so they're making up for it now.   I wonder how many 
of the travelling fans/families will be back here for that one.  

Rocket Robin
robing@eol.ca
twitter  @RocketRobin01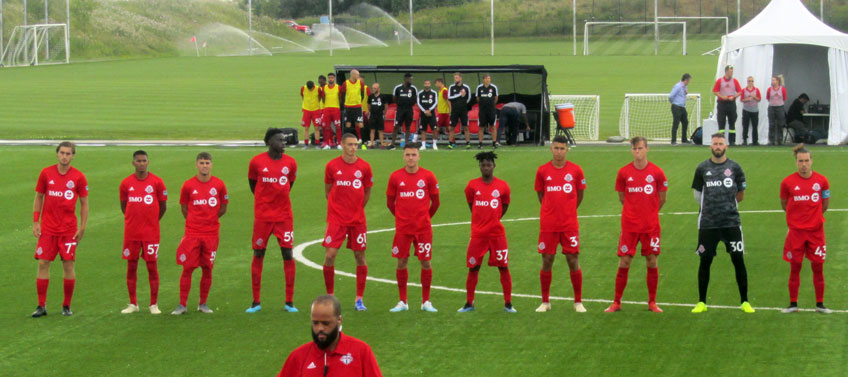 Toronto FC II starters


Greenville Triumph starters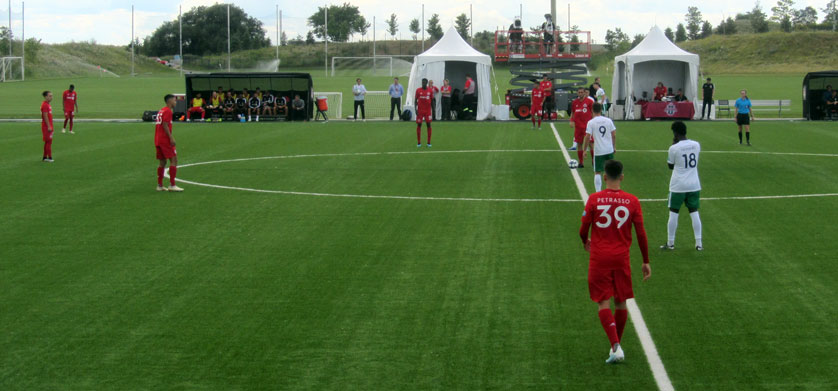 TFC Jordan Perruzza (77) takes opening kickoff.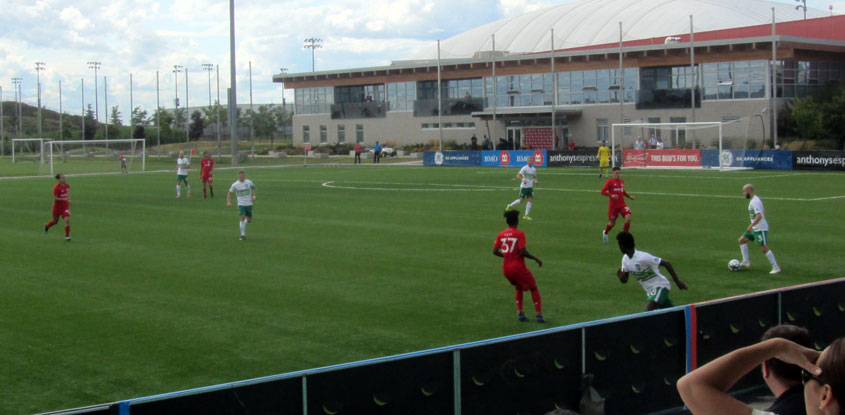 Greenville Triumph Tyler Polak (3) dribbling ball.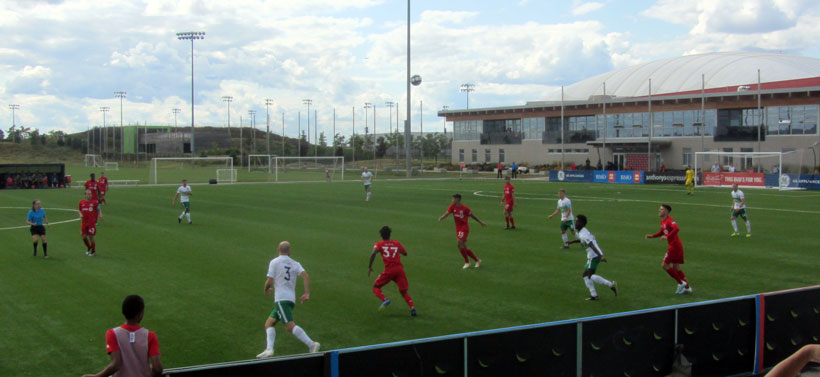 The ball is popped up in the midfield.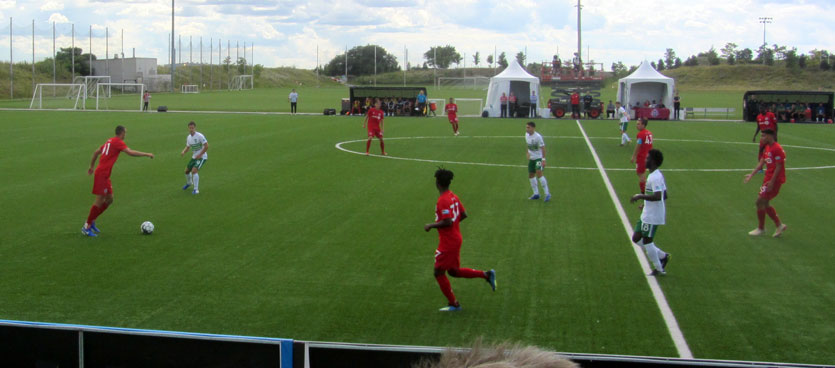 TFC Rocco Romeo (61) gets ready to pass.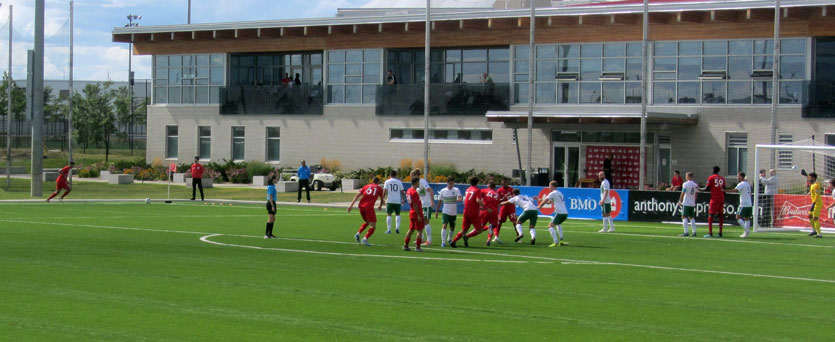 TFC Mehdi Essoussi (35) charges up to send in cornerkick.


Greenville Triumph Carlos Gomez (10) sends in cornerkick.


TFC Jordan Faria (58) takes freekick down middle.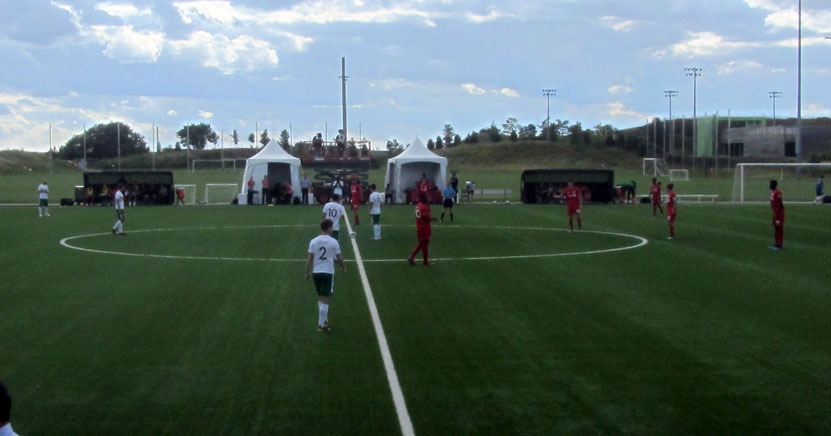 Greenville Triumph Jake Keegan (9) takes second half kickoff.


Action inside Greenville Triumph box.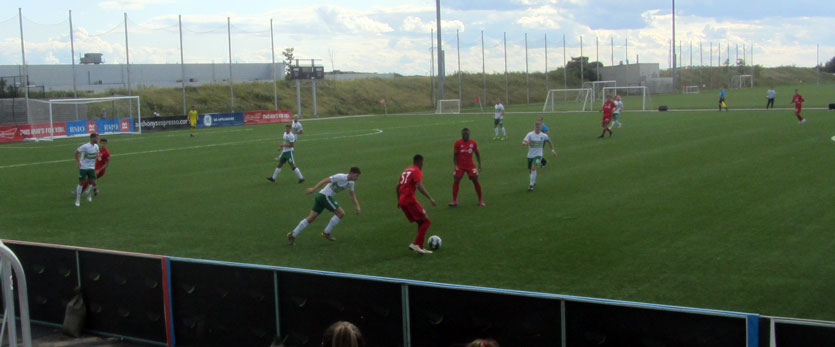 TFC Terique Mohammed (57) ready to pass.


A GT cornerkick is whistled down in box.

TFC Terique Mohammed (57) takes throw-in.
.
.