August 23, 2019 USL League One--Toronto FC II vs Greenville Triumph SC game recap (by Rocket Robin)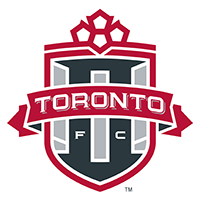 ..........................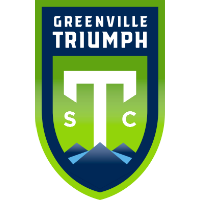 Result and details of the Friday August 23, 2019 USL League One game between Toronto FC II and Greenville Triumph
played at BMO Training Ground in Downsview at 4:00pm.
Toronto FC II (all red, white names and numbers)
................40 Eric Klenofsky (cpt)
19 Grifin Dorsey...61 Roccco Romeo...42 Patrick Bunk-Andersen...57 Terique Mohammed
39 Luca Petrasso...37 Gideon Waja...35 Mehdi Essoussi...53 Jayden Nelson
...........20 Ayo Akinola...77 Jordan Perruzza
Subs:...30 Yann-Alexandre Fillion (gk)...58 Jordan Faria (mid)...59 Noble Okello (mid)...64 Shaan Hundal (fwd)
...72 Jelani Peters (def)...81 Themi Antonoglou (fwd)...98 Jahkeele Marshall-Rutty (fwd)
team officials:...head coach Michael Rabasca
Greenville Triumph SC (white socks and shirts, blue shorts, names and numbers)
................22 Dallas Jaye
14 Cole Seiler...4 Kevin Politz...12 Evan Lee...3 Tyler Polak
..........6 Paul Clowes...8 Aaron Walker (cpt)
.....5 Maxwell Hemmings...10 Carlos Gomez...18 Omar Mohamed
.................9 Jake Keegan
Subs:...2 Dominic Boland (def)...7 Christopher Bermudez (mid)...11 Cameron Saul (mid)...13 Choi Sang-Ryeong (def)
...21; Sami Guerdiri (mid)...31 Edmundo Robinson (fwd)...88 Travis Ward (fwd)
team officials:...head coach John Harkes
Game officials:...referee Ben Hoskins...referee's assistants Melissa Snedden and Brad Doubrough
...fourth official David Barrie...(teal shirts, black shorts and socks)
First Half:...game starts 4:07pm...TFC defends north end on this warm afternoon with a bright sun from the west with
a brisk gusty wind from the south with clouds appearing then moving away.
3 min...Perruzza can't win freekick on edge of GT box in middle.
3 min...GT Keegan cross deflects off TFC Bunk-Andersen on right end line for cornerkick.
4 min...GT Gomez cornerkick from right is high and GT can't get shot away on left.
5 min...TFC Akinola run on right and rolls 18 yard shot near end line that goaglie dives forward to smother.
8 min...TFC Akinola low cross from 25 yards on right has defender get foot to and another defender clears at 10 yards.
10 min...TFC Bunk-Andersen makes key header in middle of box to stop cross from right reaching player waiting on left.
12 min...TFC Nelson chips short cross from left rather than shoot from 15 yards and TFC Perruzza is called offside.
14 min...GT Hemmings rush on right on 2 on 2 and rolls back for GT Keegan who shoots 22 yarder wide left of post.
16 min...TFC Mohammed cross from 20 yards on left has GT Polak head away in middle of box.
16 min...TFC Essoussi low shot from 15 yards on far left is caught by goalie diving forward.
19 min...GT Seiler chips 35 yarder from right has goalie punch ball away.
19 min...GT Mohamed shot from 25 yards knock TFC Romeo down at 20 yards with head injury and he needs trainer.
24 min...TFC Nelson cross off face of GT Seiler wins cornerkick from left edge of box.
24 min...TFC Nelson high cornerkick from left is caught by goalie in crowd of players just right of post.
25 min...GT Gomez cornerkick from left bounces through box but play is whistled down.
26 min...TFC Bunk-Andersen beats GT Keegan to through ball pass at 16 yards up middle.
27 min...GT Walker low 20 yard shot up middle is wide left of post.
27 min...GT Politz wins freekick making defensive play at 22 yards on left but is injured.
30 min...TFC Mohammed on 1 on 6 rush pushes ball too far forward and goalie smothers.
31 min...TFC Nelson cuts to middle and blasts 25 yard shot well high and right of net.
32 min...TFC Nelson cross over to right where GT Polak heads dangerous 25 yarder back to goalie.
33 min...TFC Nelson and Petrasso work out short freekick at 30 yards and finally cross into box
and TFC Bunk-Andersen flicks 8 yard header over bar.
35 min...GT YELLOW card...Seiler earns it for bodycheck on TFC Mohammed injurying him at full speed in opposite
direction near center line sideline and needs trainer.
37 min...GT Keegan has TFC Bunk-Andersen block 15 yard shot.
38 min...GT Mohamed cross into box from left has TFC Bunk-Andersen head away.
39 min...GT Clowes 50 yard chip from left is caught by goalie at 15 yards.
40 min...GT Gomez cornerkick from right has GT Hemmings head 12 yarder in crowd of players that goalie leans
forward to catch.
41 min...TFC goalie makes poor clearance pass off of GT player's face at 3 yards along right end line. GT Clowes
finishes play with 18 yard low shot between players that goalie smothers.
43 min...GT Polak 35 yard freekick from left over to GT Seiler on right whose pass attempt is cleared on right
side of box.
46 min...GT Seiler quick throw-in up right has GT Hemmings low cross along right end line is cleared in 6 yard box.
47 min...GT Gomez taps pass to GT Hemmings who can't win Penalty kick call on dive forward.
48 min...half ends 4:55pm.
Halftime Entertainment: Ther's an Anthony's Espress machine given to the loudest fan.
Second Half:...starts 5:10pm.
Halftime sub:...TFC Peters replaces Romeo.
45 min...GT Mohamed long run down left thanks to GT Polak rolling him pass. Mohamed crosses from 25 yards has GT Keegan
twist 10 yarder from left just wide left.
48 min...GT Mohamed receives long cross field pass and 25 yard shot from left is bent wide right of net.
51 min...TFC Perruzza eludes sliding defender and slides himself to connect before charging goalie and sends 12 yarder
from left into ouside webbing of net.
52 min...TFC Akinola run on right and cross from end line from 15 yards has TFC Nelson not able to turn header from 10 yards
on left side of box.
55 min...GT Walker tapped back ball and low 30 yard shot up middle between players is wide left.
58 min...TFC Nelson high cornerkick from right has TFC Akinola head down at 8 yards on left and ball is cleared from box.
58 min...TFC YELLOW card...Akinola earns it for bash into GT Polak at GT 40 yard line injurying him. We could hear the
referee telling him he was adding up a few infractions that's he'd made in the last few minutes.
....TFC Peters was injured upfield and needed trainer before restart.
61 min...TFC sub...Okello replaces injured Peters.
63 min...TFC Mohammed rolls centering pass and TFC Petrasso rolls 22 yarder down middle just wide left of post although goalie
dove but let ball go by.
64 min...GT Hemmings 30 yard chip cross from left has GT Gomez but ball was over his head at 10 yards and bounce wide right.
67 min...TFC Nelson recovers GT Polak partial clearance and after a few steps rolls 12 yarder that goalie dives to stop
and crawl to smother at 4 yards.
70 min...GT Mohamed 35 yard cross from right is too close to goalie who grabs ball ahead of GT Hemmings.
71 min...TFC Nelson can't win freekick on right edge of box.
72 min...TFC Akinola is checked off ball on left side of box. TFC player ends up blasting 25 yarder down middle well over net.
73 min...TFC Perruzza is checked off ball in GT box.
74 min...GT Mohamed rolls through ball forward down left from 40 yards but no GT player made run.
75 min...TFC Akinola runs ball over end line on bumping match along left side of box.
78 min...GT Hemmings is injured at TFC 35 yard line on right.
78 min...GT Gomez 40 yard freekick from left has leaping GT player head 15 yarder wide left.
80 min...TFC sub...Faria replaces Nelson.
.........GT sub...Boland replaces Mohamed.
81 min...GT YELLOW card...Hemmings earns it for holding onto TFC Dorsey on right edge of box.
82 min...TFC Petrasso chips 22 yard freekick along right end line and GT player on left post heads away but whistle is blown anyway.
83 min...TFC Petrasso can't win freekick on high chip.
84 min...TFC Akinola bends 25 yard cross from right that goalie catches.
85 min...GT Keegan dummies shot and GT Gomez behind him blasts low 15 yarder that goalie pushes wide right of post.
86 min...GT player's corxnerkick from right has leaping GT player heads over net from 12 yards in crowd of players.
87 min...GT player's cross from right has goalie catch on near post preventing play in box.
87 min...TFC Akinola rush down right and centers pass just a step ahead of diving TFC Perruzza.
88 min...GT sub...Bermudez replaces Hemmings.
90 min...An offside flag is put up on cross on TFC Akinola has TFC Essoussi jam in on left post.
91 min...GT Keegan would have been offside is he had touched ball but let's ball go past him and GT Gomez runs for it up right
dribbling to end line and on end line eventually crossing into box and GT Bermudez heads over net from 8 yards.
91 min...GT sub...Saul replaces Keegan.
92 min...GT Bermudez run on left and 25 yard low shot is just wide right of post.
92 min...TFC Perruzza can't win freekick at GT 30 yards line.
93 min...game ends 5:58pm.
Final Score:.....Toronto FC II.......0.......Greenville Triumph SC......0.....

Weather was mostly a bright crossfield sun from the west with a few clouds.  The metallic canopy that overhangs 
the back four rows of the stands was missing.  I asked around with the grounds crew and security after the game 
and apparently all the seating was moved aside last weekend for some tournament to widen the field and not 
everything has been put back yet.   The sun is hard to squint into but today I hadn't left my sunglasses 
in the parking lot so I was OK.  We the fans were just glad it wasn't raining.  There was quite a wind from 
the north which hung high goal kicks and punts in the wind.  I was wondering if Greenville could take advantage 
in the second half as TFC wasted it for the first half.  

Attendance was not announced but I estimated it may have reached almost 150 with fans drifting in as the game 
went on.  There were less travelling fans here (translation at this level meaning relatives and friends) than 
the last home game which was also against Greenville South Carolina exactly two weeks ago.  I guess like us, 
Americans have limited vacation time. [Late news:  The league website published attendance more than a week
later as 220]       

Eric Klenofsky earned the shutout for TFC with a few key saves.  This was only his third appearance of the year 
and his parents were in the stands all the way from 'Noo Joi-Zee' dressed in New York Yankees souvenir clothing.  
I wonder how did Klenofsky know so far ahead of time that he'd be the starting goalie today or did the parents 
just get lucky to be here this weekend?  He also played captain for the absent midfielder Adolfo Ovalle.  
League records reveal Ovalle picked up another Yellow card at the end of the Richmond game last weekend 
and that accumulation suspended him for today's game.  

Dallas Jaye earned the shutout for Greenville.  He has played every minute of their 21 games and has allowed 
a league low as a team of only 14 goals.  

Referee Ben Hoskins from Halifax gave out three Yellow cards in this game.  Best of all he didn't fall for any 
weak Penalty calls and even ignored quite a few requests for freekicks near the box unless entirely deserved.  
Two of the Yellows were to Greenville players which I believe is the first time TFC have had less cards than 
their opponents.  

The game was a bit rougher on the injury front including just plain accidents.  TFC defender Rocco Romeo took 
a ball blasted off his head halfway through the first half blocking a shot and needed the trainer.  
Defender Jelani Peters immediately started warming up but Romeo finished the half.  Peters replaced him 
to start the second half.  Peters was then injured at 58 minutes away from the play at the same time 
as TFC Ayo Akinola earned a Yellow for bashing over GT Tyler Polak, injurying him.  Peters made way for 
midfielder Noble Okello which gave TFC more of an attacking punch.  35 minutes had GT Cole Seiler earn 
a Yellow card for charging into TFC Terique Mohammed as both players approached a ball at full speed from 
opposite directions near the center line sideline.     

Today provided a duel between TFC Jordan Perruzza and GT Jake Keegan who were tied for second in the scoring 
race with nine goals each.  Happiest person (besides every other team glad that neither team earned 
the maximum points) is Ronaldo Damus of North Texas who leads the race with ten goals.  Both players had 
limited chances as they were mostly well covered.  

A different strategy was used by TFC today.  They used two forwards with Ayo Akinola and Perruzza up front.  
Griffin Dorsey was used as a defender but it was almost like he was given orders to stay back and not bomb 
up the wing until the last 15 minutes when TFC really opened it up.  The role of bombing down the wing 
and taking many of the freekicks and cornerkicks was given to Jayden Nelson.  

Of course with Akinola playing all 90 minutes that ruled him out of the MLS team's roster tomorrow at home 
against Montreal Impact.  One of the fringe players I saw walking out the doors of the training ground after 
the big team's practice was Tsubasa Endoh so that should mean he'd be at least on the bench.  There really 
were no MLS player's on today's roster.  Noble Okello who earned his TFC debut as a substitute in the 
Canadian Championship game against Ottawa Fury last week after the accumulated score was already out of reach 
was used today as a sub at 61 minutes because of injury.  

I still don't understand how Greenville can do so well getting by on a roster of only 20 players.  Even the new 
CPL league with a maximum of 23 has problems with injuries and suspensions that many times I've counted only 
five subs but the Triumph both times here had a full seven subs on their bench.  I guess one way is to have 
Dallas Jaye play every minute in net...Miguel Uribe was listed as the backup goalie today.  Triumph didn't even 
bring in their first sub until the 80 minute mark and then their later ones were more to waste time and hold 
on to the result.  

Best non-scoring chances of the match were at 14 minutes had GT Maxwell Hemmings rush on the right on a 2 on 2 
rush and rolled the ball back for trailing GT Jake Keegan who shot a 22 yarder wide left of the the post.  
24 minutes had TFC Jayden Nelson send in a high cornerkick from the left that was caught by the goalie 
in a crowd of players just wide of the right post. 33 minutes had TFC Nelson and Luca Petrasso work up a short 
freekick at 30 yards and finally cross into the box and TFC Patrick Bunk-Andersen flicked an 8 yard header 
just over the bar.  40 minutes had GT Carlos Gomez cornerkick from the right had GT Hemmings head a 12 yarder 
in crowd that the goalie leaned forward to catch.  Next minute had GT Paul Clowes finish a play with an 18 yard 
low shot between players the the goalie smothered.  That play was started by a poor clearance pass by the goalie 
off a GT player's face near the right end line.  Second half right after kickoff and GT Omar Mohamed make 
a long run down the left thanks to GT Tyler Polak and his cross from 25 yards had GT Keegan twist a 10 yarder 
from the left just wide left of the post.  51 minutes had TFC Perruzza elude a sliding defender and he slid 
himself to connect before the charging goalie could get to it and his 12 yarder from the left was into the short 
side webbing of the net.  Next minute had TFC Akinola run on the right and cross from the end line from 15 yards 
and TFC Nelson was not able to turn a header from 10 yards on the left side of the box.  63 minutes had 
TFC Terique Mohammed roll a centering pass and TFC Luca Petrasso rolled a 22 yarder down the middle just wide 
left of the post although it looked like the diving goalie knew it would roll wide and chose to let it go by.  
67 minutes had TFC Nelson recover GT Polak's partial clearance and after a few steps rolled a 12 yarder that 
the goalie dove to stop and crawl to smother at 4 yards.   85 minutes had GT Keegan dummy a shot and GT Gomez 
behind him blasted a low 15 yarder that the goalie pushed wide right of the post.  The cornerkick had 
GT Seiler head over the net from 12 yards in a crowd of players.  87 minutes had TFC Akinola rush down the right 
and roll a pass just a step ahead of the diving TFC Perruzza.  Extra time had Akinola cross from the right 
and TFC Mehdi Essoussi jam the ball in on the left post but he was offside.  GT Gomez crossed from the right 
end line and GT Christopher Bermudez headed down the middle just over the bar from 8 yards.

I saw TFC Luca Petrasso on our side of the field talking to some relatives after the game.  They answered 
my question that they did get to see older brother Michael Petrasso at York Lions Stadium two weekends ago 
when he scored for Valour FC against York 9 FC.  Michael at the post game press conference said his friends 
and family were in the stands.  The relatives said they were in a special tent.   I'm never sure how much 
post game content makes the OneSoccer broadcast so I offered them a link to my own site where I've posted 
the audio.   

Greenville was TFC II's last home game opponent two Friday's ago.  The team played two days later out 
in Saskatoon (2217 km away) against an all star team named 'SK Selects' organized to test the market for 
a future CPL team for the province of Saskatchewan.  I could find no details of what strength of team 
TFC sent out there other than that Ralph Priso was given a Red card with half hour to go.  Priso is 
a seldom used 2002 midfielder.  I am unsure if their roster was more like their U-19s because the one 
photo I saw the numbers were different and none of the three in the picture I recognized.  The Selects 
won 2-0.  

The result improves TFC's record to 6 wins, 8 losses, 7 ties for 25 points.  They pull into a tie with 
FC Tucson but have played one more game.  They are seven points away from the fourth place playoff line 
with only seven games to go.  That line may move upward as playing the first game of the weekend means 
they have to wait to see how the other teams do.   It was their second tie in a row as last week they 
scored two goals to come from behind away in Richmond.  The problem why they're not right on the playoff 
line is before that they lost their previous three home games and dropped possibly too far back.  

Greenville's record improves to 8 wins, 6 losses, 7 ties for 31 points.  That's good enough for fifth 
place just one point behind both Chattanooga and South Georgia.  

Interesting on the walk down the 500+ yard long driveway once I was past the gate, I saw a bunch 
of teenagers playing in a fenced off field.  I believe they were from the TFC Academy.  Something 
I'd never seen before it that they had three digit numbers on their uniforms.  At least they were 
in the 'one hundreds'.  That's always been the legend of some of the Mexican teams that TFC would play 
in the CCL.  By game time they'd often change to numbers to double digits.  This scrimmage had 
'Player 147' pass to 'Player 126' etc.  These kids may have been some who swelled attendance to today's 
USL game arriving later in street clothes.  Some who were NOT Academy players were a bunch of kids 
in personalized t-shirts in the stands.  One giveaway is that about a third were female so this must 
have just been a TFC summer camp money maker.  

Rocket Robin
robing@eol.ca
twitter @RocketRobin01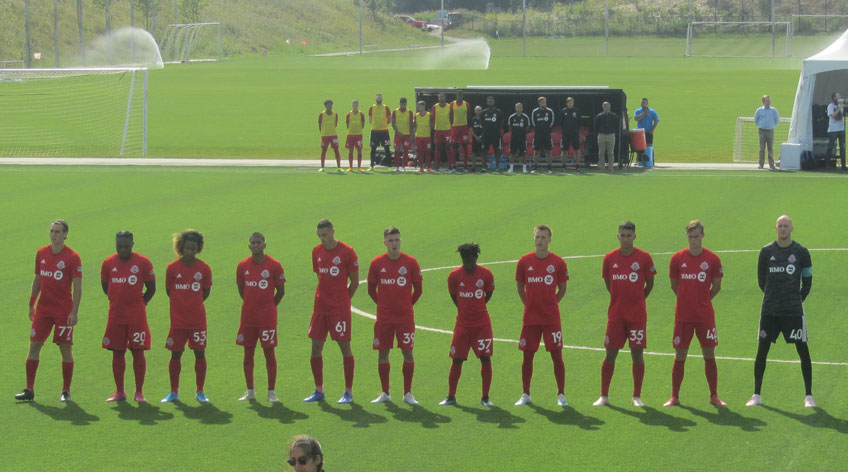 Toronto FC II starters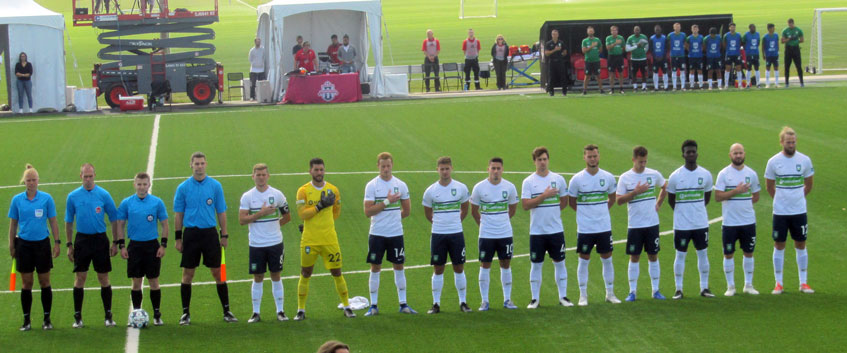 Greenville Triumph starters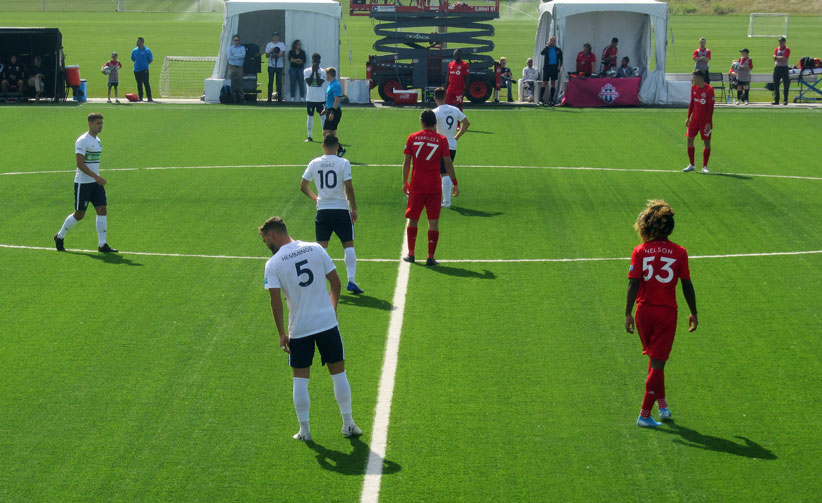 Greenville Triumph Jake Keegan (9) takes opening kickoff.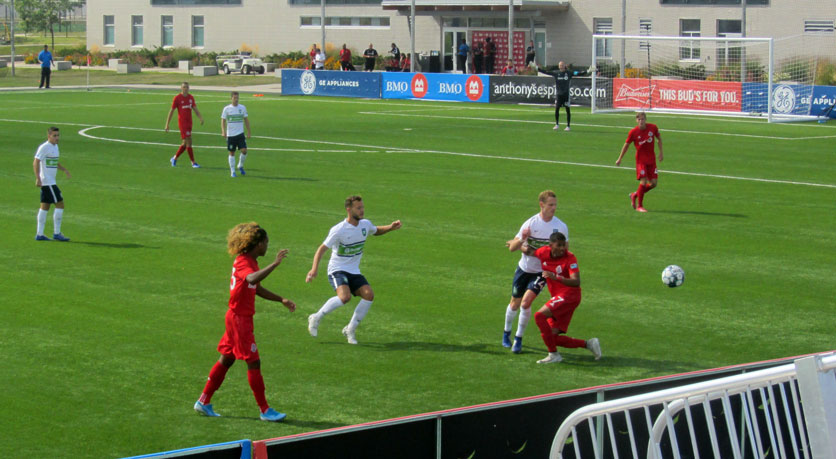 midfield action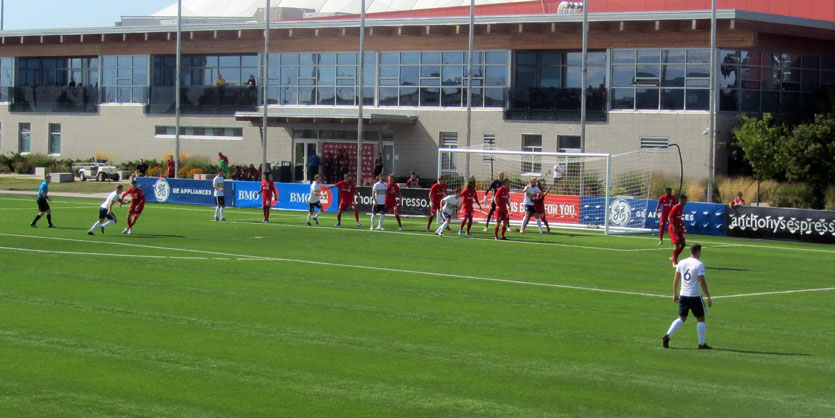 The players are positioned for a GT cornerkick.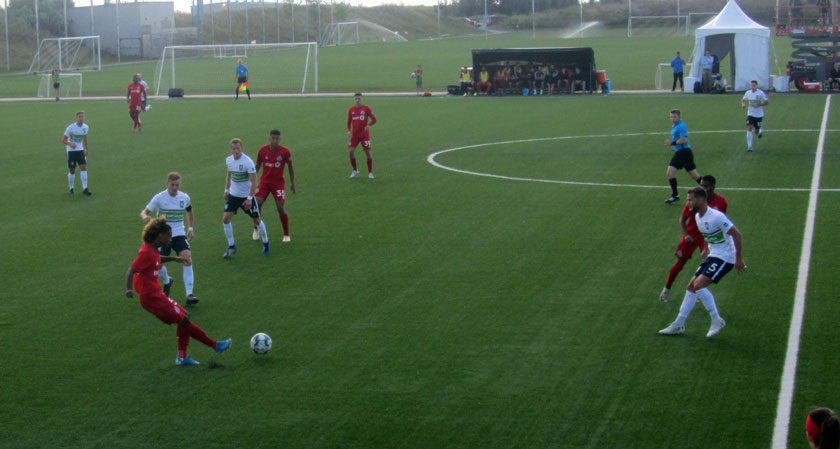 TFC Jayden Nelson (53) passes ball back.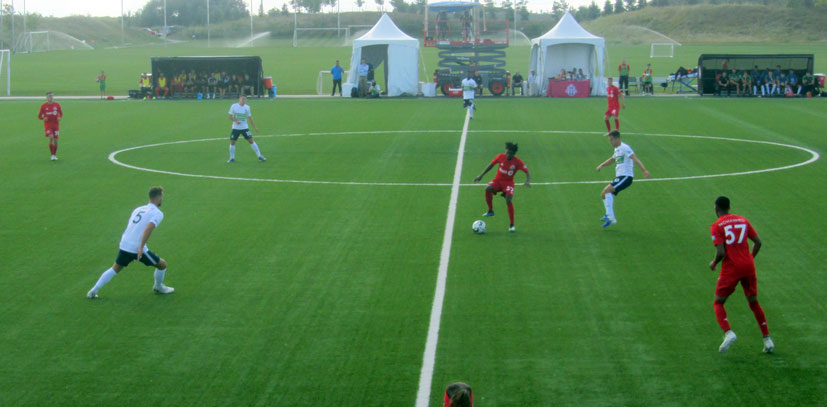 TFC Gideon Waja (37) controls ball.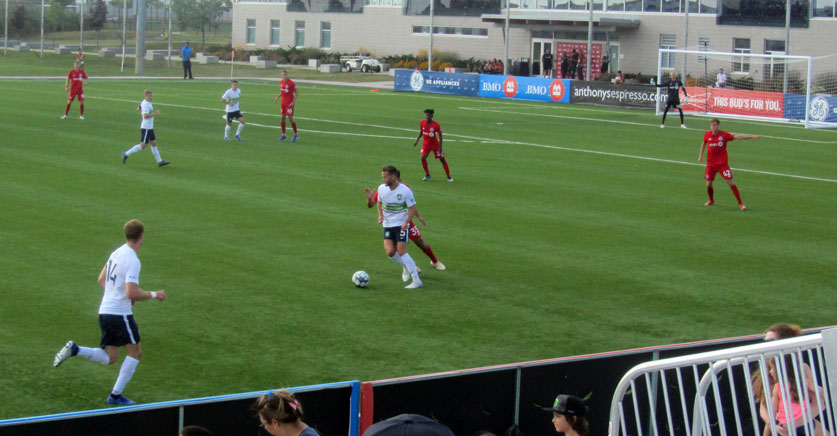 Greenville Triumph Maxwell Hemmings (5) controls ball.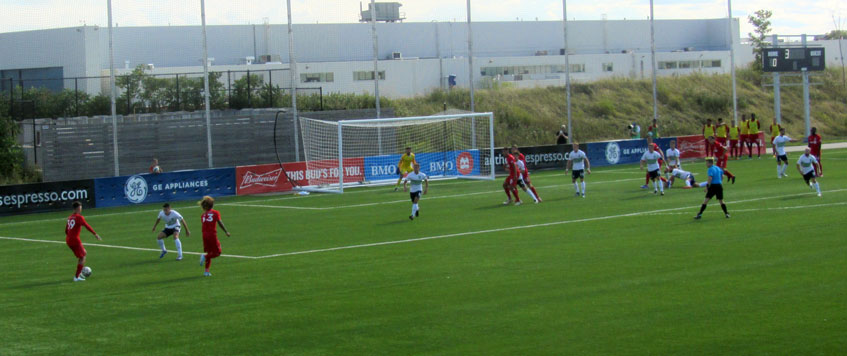 TFC Luca Petrasso (39) works ball to edge of box.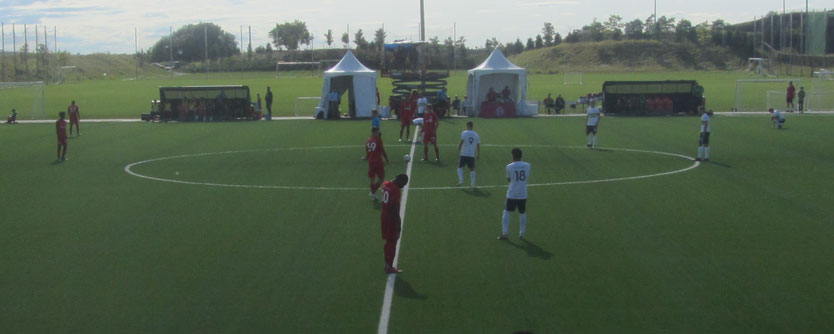 TFC Jordan Perruzza (77) takes second half kickoff.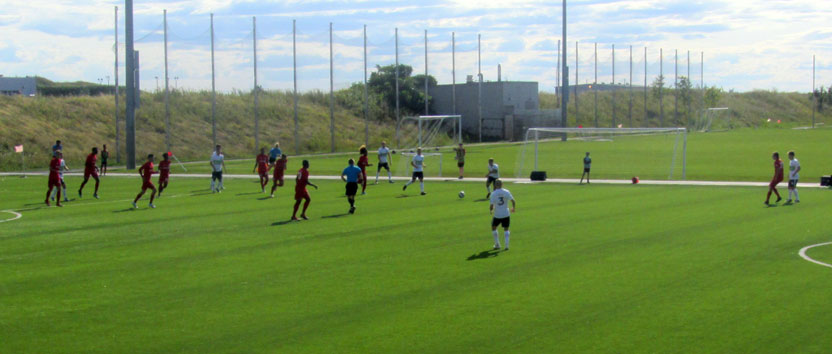 Greenville Triumph Paul Clowes (6) passes around on edge of TFC box.

TFC Luca Petrasso (39) dribbles in GT end.


A TFC late freekick from edge of the GT box.
.
.