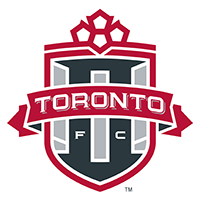 ...........................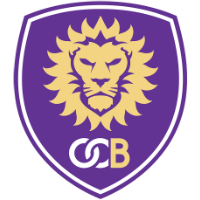 September 13, 2019...Toronto FC II vs Orlando City B game report (by Rocket Robin)
Result and details of the Friday September 13, 2019 USL League One game between Toronto FC II
and Orlando City B played at BMO Training Ground in Downsview at 4:00pm.
Toronto FC II (all red, white names and numbers)
..................40 Eric Klenofsky (cpt)
88 Jesus West...61 Rocco Romeo...42 Patrick Bunk-Andersen...57 Terique Mohammed
58 Jordan Faria...39 Luca Petrasso...37 Gideon Waja...35 Mehdi Essoussi...19 Griffin Dorsey
..................77 Jordan Perruzza
Subs:...90 Eleias Himaras (gk)...52 Julian Dunn-Johnson (def)...53 Jayden Nelson (fwd)...64 Shaan Hundal (fwd)
...85 Antonio Carlini (mid)...97 Ralph Priso-Mbongue (mid)
team officials:...manager Michael Rabasca
Orlando City B (all white, black names and numbers, purple trim)
.......................1 Juliano Chade
2 Leonardo Simas...13 Jordan Hill...4 Brandon John (cpt)...15 Tanner Hummel
11 Thiago Souza...10 Rafael Santos...18 Austin Amer...29 Lucas Ontivero...25 Luc Granitur
....................9 William Bagrou
Subs:...12 Christian Herrera (gk)...5 'Serginho'...7 Tresor Mbuyu (fwd)...14 Randy Mendoza (def)
...20 Steven Hernandez
team officials:...manager Roberto Sibaja
Game officials:...referee Brad Doubrough...referee's assistants Chantel Boudreau and Peter Pendli
fourth official Yusri Rudolf (all black uniforms)
First Half:...game starts 4:07pm...TFC defends north end. There'd been a pregame light rain and it is windy yet fumes
from the airport runway behind the stands were hanging in the air. 1 min...OCB goalie catches 30 yard chip from right at 15 yards.
3 min...TFC Perruzza low cross from 22 yards on far left has OCB Hill concede cornerkick from 5 yards.
3 min...TFC Faria high cornerkick from left is well over players and out for throw-in.
5 min...TFC Dorsey receives pass in middle and rolls 28 yarder wide left.
6 min...OCB Souza has two 25 yard shots on left that's stopped by defenders.
7 min...OCB Ontivero cornerkick from right has defender flick header through box. OBD Souza shoots ball from 10 yards
into outside webbing of net.
8 min...OCB Souza cornerkiuck from left is over goalie's arms and TFC Bunk-Andersen pops header up on right side of goal.
OCB John chips 12 yarder onto top of net.
9 min...TFC Dorsey 20 yard cross from far left is caught by goalie stepping forward.
10 min...TFC Dorsey receives pass on left at 35 yard line and rushes towards middle and 22 yard shot is high and wide right.
11 min...TFC Muhammed recovers ball on left side of box, centers pass and TFC Perruzza blasts 10 yarder down middle well
over net and back netting is 25 foot high behind net.
14 min...TFC Petrasso pushes ball to OCB goalie from 30 yards down middle rather than pass.
16 min...TFC Essoussi run up left and long low pass through two TFC players over to TFC Faria on right who gets 20 yard low
shot that goalie sprawls to save on near post.
19 min...TFC Faria 22 yard freekick up middle hits left post. TFC Dorsey deflects to him for open shot from 12 yards low from
left hits fallen goalie. TFC Waja whiffs on rebound at 12 yards and ball bounces out of box.
21 min...OCB Lucas Ontivero GOAL...OCB Leonardo Simas at 50 yard line on right chips ball
forward to Ontivero who turns inward at 25 yard line around defender TFC Patrick Bunk-Andersen
and his low 22 yard shot from right is into left corner of net beyond diving goalie
Eric Klenofsky.
25 min...OCB Simas bends cross from 40 yards on right too far forward for OCB players on left and bounces wide right
for goalkick.
27 min...OCB Ontivero is injured on sideline with TFC West collision and needs trainer but as he's off the field
at TFC 35 yard line.
29 min...TFC Dorsey makes short run dribbling from left and low 15 yard shot is saved by sprawling goalie. Rebound is for
TFC Perruzza at 6 yards but goalie blocks shot, ball is tapped back to TFC Faria on right and his 12 yard blast is well over net.
31 min...OCB Ontivero steals ball off TFC Mohammed at TFC 50 yard line and runs up right but rolls pass to OCB Bagrou is offside.
33 min...OCB Granitur long run down left from center line and blast from 25 yards has flying goalie push ball to wide right
of box and ball cleared.
34 min...OBD Souza cornerkick from left has TFC Romeo pop up header on left post and then play is whistled down in the box.
35 min...TFC Petrasso on 2 on 2 rush takes 28 yard shot that deflects wide left for cornerkick.
36 min...TFC Dorsey cornerkick from left is cleared on right side of box.
37 min...TFC Gideon Waja taps ball forward up left for TFC Jordan Perruzza and his low 10 yard shot was saved by sprawling
goalie at top left of 6 yard box. The ball pops off goalie and hits hand of retreating OCB Jordan Hill at 7 yards allowing
goalie to then get up and smother. Referee Brad Doubrough awards TFC a Penalty kick.
.......OCB Yellow card...Goalie Juliano Chade earns it for arguing Penalty kick call.
38 min...TFC Jordan Perruzza GOAL....Perruzza makes slow run on Penalty kick and shoots
low to left side of net as goalie dives right.
42 min...TFC Essoussi short pass down middle to TFC Perruzza who is even with last defender. TFC Perruzza bends 20 yarder
to top right corner that goalie bats down and beats TFC Petrasso to pick up bounce.
43 min...TFC Petrasso cornerkick from right has TFC Perruzza duck and head all 12 yards up middle wide right.
46 min...OCB Ontivero run up left and 30 yard shot wins cornerkick on deflection off defender at 25 yards.
47 min...OCB player's cornerkick from right is low and short and ball is cleared on right post but OCB players appeal that
it was off hand of TFC Romeo.
47 min...half ends 4:54pm.
Second Half:...starts 5:09pm. There's a gusy win from the east.
48 min...TFC Faria cross from 20 yards on far right has TFC Dorsey on right side of 6 yard box head back across box
and defender in center of box heads away to start OCB break out.
49 min...TFC Perruzza run on left and 22 yard shot is stopped by goalie at 8 yards who first punches it up but catches on bounce.
49 min...TFC Dorsey rolls centering pass from left to TFC Perruzza who has 15 yard shot tipped over net.
50 min...TFC Petrasso cornerkick from right has goalie punch ball forward in crowd of players at 10 yards to clear.
...TFC YELLOW card...Faria earns it for holding an OCB player back on the subsequent breakout.
51 min...OCB Granitur 22 yard low shot up middle deflects off sliding goalie at 12 yards for cornerkick on right.
52 min...OCB players cornerkick from right is cleared in box.
55 min...TFC Jordan Perruzza GOAL...TFC Luca Petrasso on edge of 18 yard box passes right
to TFC Jordan Faria who crosses 15 yarder along 6 yard line. Perruzza slides forward
in middle of box leaning on OCB Leonardo Simas to tap in 6 yarder to open side just
inside left post.
57 min...TFC Faria bends 22 yard cross from right well wide left of goal.
58 min...OCB sub...Hernandez replaces Granitur.
59 min...TFC Dorsey can't win Penalty kick on dive running into left side of box.
61 min...OCB sub...Serginho replaces Ontivero.
.........TFC sub...Nelson replaces Dorsey.
63 min...TFC Nelson is checked off ball just inside box when he's fed pass in middle.
65 min...TFC Nelson rush on left and rolls 20 yard shot to goalie rather than making centering pass.
66 min...OCB Simas can't win Penalty kick on rush down right. He needs trainer inside TFC box for injury.
68 min...OCB William Bagrou wins Penalty kick call when he's pulled down just inside the TFC box
by TFC Terique Mohammed after working in give and go with OCB 'Serginho'.
69 min...OCB Thiago Souza GOAL...Souza blasts Penalty kick to top left corner of net as goalie
dives low to left side.
71 min...OCB YELLOW card...Souza earns it for holding TFC Perruzza at OCB 30 yard line.
72 min...TFC Faria low 30 yard freekick from left is cleared by defender inside box.
74 min...TFC Petrasso dribbles from right to center and low 25 yarder is wide left.
The sun comes out for all of three minutes!
75 min...OCB Souza cornerkick from right is flagged down as ball was bent behind end line before
bending back into play.
76 min...TFC Nelson dribbles 1 v 3 and low 22 yard shot is stopped.
77 min...TFC Bunk-Andersen bounces 10 yard header even with left post wide left as he gets to high cornerkick
from right.
77 min...TFC Priso replaces Essoussi.
79 min...OCB Simas flicks ball over defender and OCB Souza scissor kick from 20 yards on right wins cornerkick on deflection.
82 min...TFC Petrasso 20 yard shot tips off player.
84 min...TFC (OCB Tanner Hummel own goal) GOAL...TFC Jayden Nelson rushes up left wing eluding
OCB Thiago Souza on run to end line and then cuts along line to 12 yards and chips pass across 6 yard box
past goalie guarding short side post and in front of three retreating defenders in center of box.
TFC Luca Petrasso on right side charges into net a step ahead missing the ball. TFC Jordan Perruzza takes
a step back and Hummel slides towards right post and pokes ball into own net from 1 yard.
89 min...OCB Souza has shot blocked just inside TFC box.
90 min...OCB Bagrou is controlling play but referee whistles play down as OCB Hernandez is injured and needs trainer.
94 min...TFC Bunk-Andersen makes key clearance in box.
95 min...TFC YELLOW card...Goalie Klenofsky earns it for time wasting.
95 min...TFC sub...Hundal replaces Faria.
95 min...OCB Serginho 60 yard chip from left has TFC goalie catch ball on jump at 15 yards in front of charging OCB John.
96 min...game ends 6:00pm.
Final Score:....Toronto FC II......3......Orlando City B.......2.......

Attendance wasn't announced at the game.  I thought it was double of their last game 
so about 140.  The USL website lists it officially as 120.  

There was some pregame rain then it was fine until right at game time when a mild rain 
started again.  The groundscrew have not put the canopy back over the stands which 
did protect the last five rows of seats.  With a crowd of this size, everyone would 
have been sheltered.  A gusty crossfield wind from the east didn't give either team 
an advantage.  The sun even came out twice in the second half for a total of about 
6 minutes but it was storm clouds overhead all afternoon.  

Referee Brad Doubrough gave out two Yellow card to each team and one PK each.  
He also passed on giving out at least three more (two against TFC) including most 
controversially in first half added time when a low OCB cornerkick from the right was 
cleared from the near post but OCB players insisted it hit Rocco Romeo's hand.  
The referee's assistant would have the best view and didn't see anything wrong.  I had 
an interesting seat in the back row between the referee assessor and the referee's 
father but they were twenty feet apart.  

I thought today's lineup might load the TFC II team with a bunch of Canadian players 
on the MLS squad who have not been given much playing time as TFC have to play the 
finals of the Canadian Championship against Montreal Impact on the next two Wednesdays 
plus their usual weekend games for the next month.  Nope.  Nobody I'd expect to be 
in those games were in today's lineup.   Oh and Julian Dunn-Johnson was back 
in the lineup but confined to the bench.  

Man of the Match (who is always a TFC player) was named as two goal scorer 
Jordan Perruzza.  One was a Penalty but it looks like all the league leading scorers 
have some Penalty kick goals.  Perruzza brings his total to 12 for the season trailing 
only Ronaldo Damos of North Texas SC who's increased his total to 16 since last week 
and NTSC hasn't played yet this weekend.  

Jordan Faria was just awarded 'USL League One Goal of the Week' by fans for his 
Giovinco-esque freekick in their last game.  He almost pulled that off again when 
at 19 minutes he took a 22 yard freekick up the middle that hit the left post.  

Backup goalie for TFC today was wearing the #90 kit.  He is 17 year old (March 8, 2002) 
Eleias Himaras.  I saw him play one game last year for TFC III (when they had a team 
in League 1 Ontario).  It was played September 18, 2018 (wow that's almost exactly 
a year ago).  It was a rescheduled game and TFC III (which was officially their U-19 team) 
filled their roster with a bunch of younger teenagers to finish their schedule earlier 
so they could join the USDAA by the end of that month.  It was rough with Vaughan 
winning 6-0 with some of the goalscorers now on CPL teams.  That probably seals the deal 
that Kevin Silva who we haven't seen for months is off the team.  Maybe his loan is over 
and he went back to Hearts (Scotland)?  

When writing out the rosters before the game on the USL website I noticed OCB listed 
one Canadian.  He is Brandon John who is captain of the team!  I've been watching him 
for years.  I looked back through my own archives and found he'd played for SC Toronto 
and TFC Academy and Vaughan Azzurri (as recently in 2017).  I asked him after the game 
when he came over to the sidelines to talk to family and friends how he ended up on 
Orlando City B.  He said his agent got him onto Orlando City U-23, their PDL team, 
and this year he was invited to continue on with their 'B' team.  I asked him if he had 
got called up for Saint Vincent and The Grenadines (where he was born) during the 
CONCACAF Nations League break.  He answered no.  He has played for the Canadian U-20s 
and U-23s in the past.  He's now age 24.  I guess I've been stunned by CPL players 
declaring for other countries recently.   Looking this stuff up before the game I found 
what I though was a mistake in one of my pages.  John confirmed he did score at the 
2 minute mark of the 2017 L1O Cup Final.  I doubted myself as I didn't have him on my 
lineup listing Brandon Mills not Brandon John (although I expect they both played).  
More spelling mistakes than I'd like on that day including today's referee who was 
the fourth official in that game!

Best non-scoring chances started at 7 minutes when an OCB cornerkick from the right 
had a defender flick a header through the box and OCB Thiago Souza put a 10 yarder 
into the outside webbing of the net.  Next minute Souza sent a cornerkick from the left 
over the goalie's arms and TFC Patrick Bunk-Andersen popped up a header on the right side 
of goal and an OCB player chipped a 12 yarder onto the top of the net.  11 minutes had 
TFC Terique Mohammed recover a ball on the left side of the box and center a pass 
to TFC Jordan Perruzza who blasted a 10 yarder down the middle well over the net 
and the 25 foot high protective netting behind the endzone.  16 minutes had 
TFC Mehdi Essoussi run up the left and send a long low pass through two TFC players 
and over to TFC Jordan Faria on the right who got away a 20 yard low shot that the goalie 
sprawled to save on the near post.  19 minutes had Faria take a 22 yard freekick up 
the middle that hit the left post.  TFC Griffin Dorsey then had the ball deflect to him 
in the open and his low shot from 12 yards hit the fallen goalie and deflect 
to TFC Gideon Waja who whiffed on the ball at 12 yards and the ball bounced out of the box.  
29 minutes had Dorsey dribble from the left and his low 15 yard shot was saved by the 
sprawling goalie but the rebound bounced out to Perruzza at 6 yards and the goalie blocked 
his shot and was tapped back to Faria on the right and his 12 yard blast was well over 
the net.  33 minutes had OCB Luc Granitur make a long run down the left from the center 
line and blast a shot from 25 yards that the flying goalie pushed wide right.  42 minutes 
had Essoussi make a short pass down the middle to Perruzza who was even with the last 
defender.  Perruzza bent a 20 yarder to the top right corner that the goalie batted down 
and beat Petrasso to pick up the rebound on the bounce.  49 minutes had Perruzza receive 
a centering pass from the left and his 15 yard shot was tipped over the net.  51 minutes 
had the TFC goalie slide at 12 yards to deflect a 22 yard shot up the middle away for 
a cornerkick.  77 minutes had Bunk-Andersen get to a high cornerkick from the right 
and bounce a 10 yard header while in alignment with the left post wide left.  

I read an interesting article on the USL website posted from 'Soc Takes' blog writer 
Colton Coreschi dated September 9th.  There'd be more than ten teams next season with 
three USL Championship MLS 'B' teams dropping to USL League One.  LA Galaxy II, 
Portland Timbers 2, and the new New England Revolution farm team still being organized.  
That would add to the promised Riverside California team operated by Serie A side AS Roma, 
and already announced Omaha Nebraska.  Rochester Rhinos and Penn FC were supposed 
to return next season.  Wow enough teams to have an East and West Division and cut down 
on travel costs.  Wow 17 teams...Then one day later the story had to be amended.  
Ryan Madden, a USL spokesperson informed Soc Takes that the three MLS 'B' teams would 
NOT be dropping.  Also Rochester and Penn FC are not coming back for 2020.  So lucky 
if the league adds Omaha and the Riverside team unless that team wants the 'glam' 
of the higher level.  Wow, message board posters get torn apart for speculating 
on rumoured new CPL cities but this story at the professional journalism level with 
a one day staleness factor beats all!  

Like me following the CPL, a smaller league means that you see the visitors multiple 
times a year and it's easier to follow the top players you've seen.  

Orlando came into the game losing their last eight games in a row.  Now make that nine!  
Their record falls to 3 wins, 18 losses, and 4 ties for 13 points.  They are the only 
team of the ten in the league with an 'e' beside their name (for at least a month) 
in the standings as they have no hope of reaching the playoffs. 

TFC II broke out of an eight game winless streak with the win.  Their record improves 
to 7 wins, 9 losses, 8 ties for 29 points.  That moves them up one position for now 
to eighth place only four points out of the playoffs with the three teams at 33 points 
playing this weekend.  

So a team on an 8 game losing streak vs a team on an 8 game winless streak on Friday 
the 13th!  However it was an exciting game that could have gone either way.  An own goal 
at 84 minutes to the team in worse shape seems so appropriate.  

TFC have only four more games to go.  They have one home game left and that's exactly 
two weeks from now, Friday the 27th at 4:00pm against South Georgia.  As soon as that 
game finishes on probably the one day all the TFC players will come to the sideline 
to thank their fans I've to to blast out of there to get to the L1O Final 
at Ontario Soccer Centre.     

Rocket Robin
robing@eol.ca
twitter @RocketRobin01



Toronto FC starters


Orlando City B starters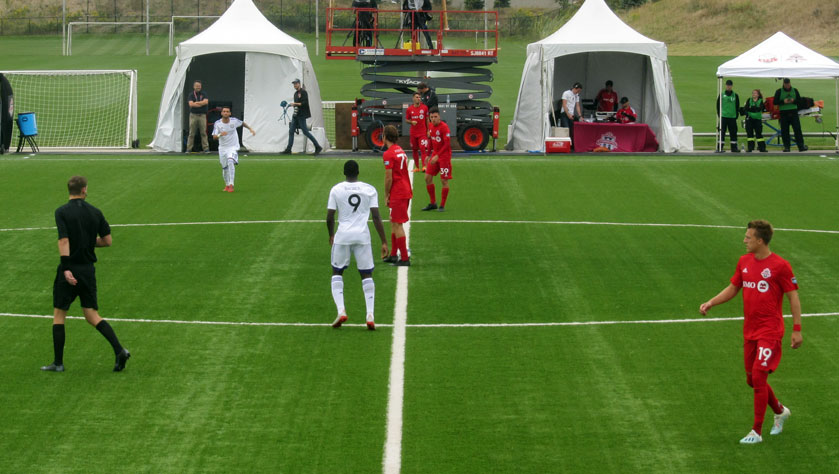 TFC Jordan Perruzza (77) takes opening kickoff.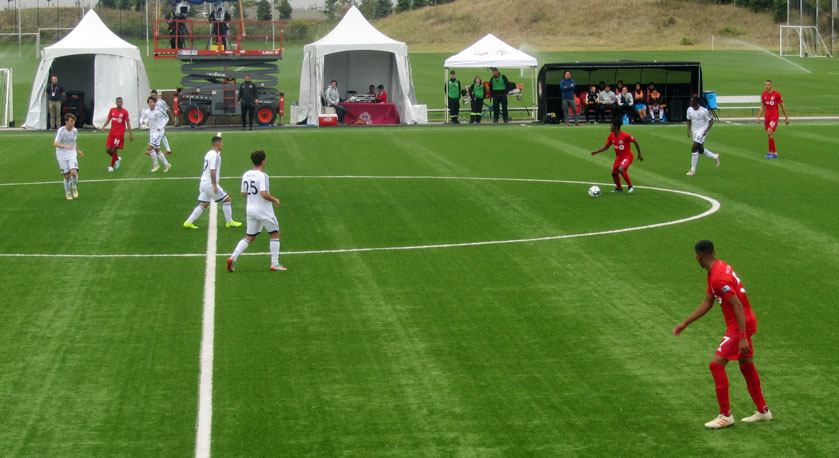 TFC Gideo Waja (37) dribbles out of own end.


TFC Griffin Dorsey (19) rushes down left.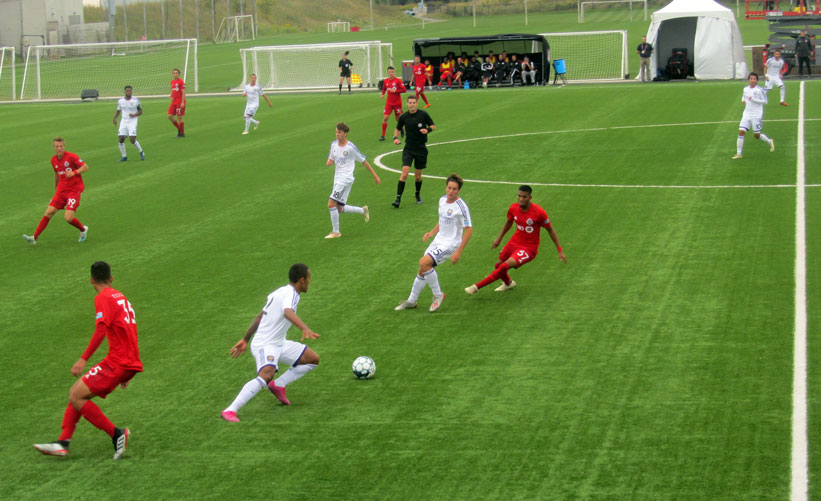 OCB Leonardo Simas (2) cuts upfield.


TFC Jordan Faria (58) takes freekick.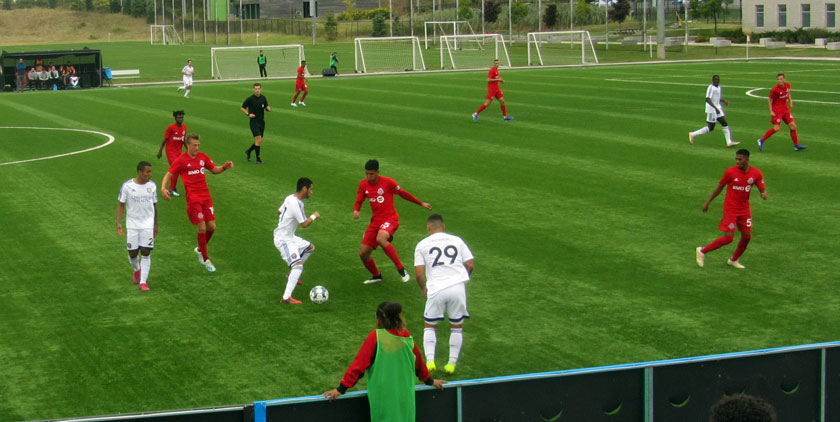 OCB Thiago Souza (11) tries to dribble by TFC Mehdi Essoussi (35).

TFC Jordan Perruzza (77) scores on Penalty kick.


OCB William Bagrou (9) takes second half kickoff.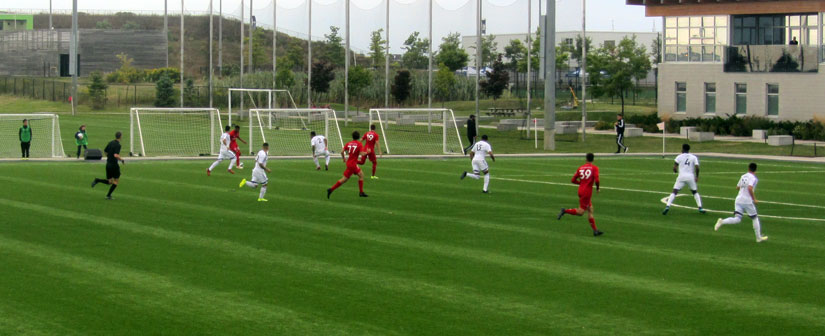 TFC Terique Mohammed (57) leads rush down left.

OCB Thiago Souza (11) scores on Penalty kick.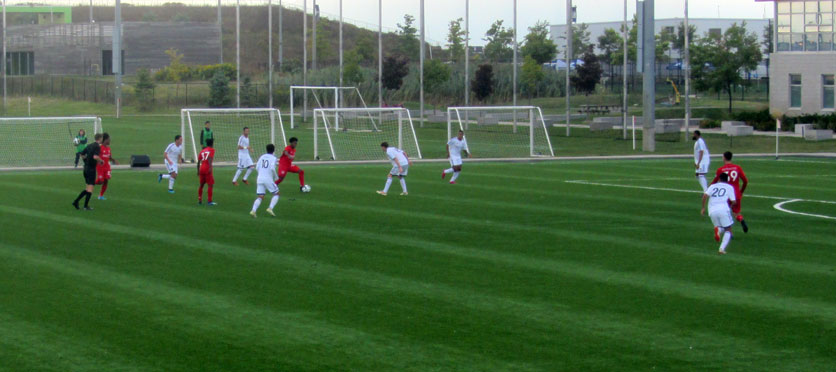 TFC players rush.
.
.