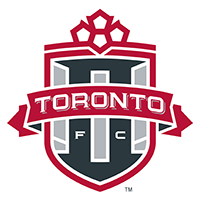 ...........................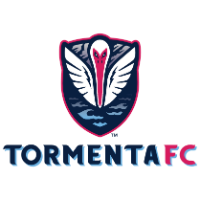 September 27, 2019 USL League One...Toronto FC II vs South Georgia Tormenta game report (by Rocket Robin)
Result and details of the Friday September 27, 2019 USL League One game between Toronto FC II
and South Georgia Tormenta FC played at BMO Training Grounds in Downsview at 4:00pm.
Toronto FC (all red, white names and numbers)
..................40 Eric Klenofsky (cpt)
48 Dante Campbell...36 Franco Ramos Mingo...42 Patrick Bunk-Andersen...88 Jesus West
53 Jayden Nelson...59 Noble Okello...97 Ralph Priso-Mbongue...85 Antonio Carlini...84 Jacob Shaffelburg
..................77 Jordan Perruzza
Subs:...90 Eleias Himaras (gk)...19 Griffin Dorsey (def)...20 Ayo Akinola (fwd)...37 Gideon Waja (mid)
...39 Luca Petrasso (mid)...43 Adolfo Ovalle (mid)...52 Julian Dunn-Johnson (def)
team officials:...manager Michael Rabasca
South Georgia Tormenta FC (all white, navy names and numbers)
..................1 Pablo Jaro (cpt)
2 Michael Mecham...5 Joshua Phelps...15 Jordan Skelton...13 Daltyn Knutson
19 Nicholas Wells...3 William Conner Antley...6 Ricardo Gomez...21 Jad Arslan
................9 Mikie Rowe...10 Marco Micaletto
Subs:...29 Matias Reynares (gk)...8 Nil Vinyals (mid)...17 Yaw Amankwa (mid)...20 Jerry Saint-Vil (def)
...24 Shinya Kadona (fwd)...25 Kobe Perez (mid)
team officials:...manager John Miglarese
Game officials:...referee Marco Kalic...referee's assistants Chantel Boudreau and Twane Anderson
...fourth official David Barrie...(all black uniforms)
First Half:...game starts 4:07pm...TFC defends south end on this cloudy afternoon with strong gusty winds
from the west.
1 min...TFC Shaffelburg makes short run up left and blasts 22 yarder off right post and defender clears ball from box.
2 min...SGT Micaletto gets behind defender at 45 yards waiting for ball to get caught in wind and rush up right to blast
low 25 yard shot that's stopped by sprawling goalie at 10 yards and rebound is cleared.
3 min...TFC Shaffelburg first touch is off SGT Antley rolls over end line on right.
12 min...TFC Perruzza pushes ball forward to TFC Okello on top right of box for short run but defender is back to give
up cornerkick.
13 min...TFC Nelson cornerkick from right is over crowd of players in box and TFC Perruzza heads 10 yarder into top right
corner but referee's arm was up long before. Perruzza was holding SGT Mecham to boost off him.
15 min...TFC Okello low 25 yarder up middle as falling in front of defender has goalie smother in middle of goal.
18 min...TFC Campbell run to right end line and cross has defender head away in front of TFC Perruzza on left post.
TFC Okello recovers ball at 18 yards but eventually he's checked off ball.
21 min...TFC Franco Ramos Mingo GOAL...TFC Jayden Nelson sends in cornerkick from the right
side and Mingo in middle of goal dives to right and heads ball forward from 8 yards into
right side of net past goalie Pablo Jaro just inside post as SGT Jordan Skelton charges
over and lands on top of fallen Mingo.
23 min...SGT YELLOW card...Wells earns it for tripping TFC Shaffelburg.
24 min...TFC Nelson 30 yard freekick from left is over players and over right end line.
27 min...SGT defender clears ball on edge of SGT box after another break up forward pass which would have been
a TFC 2 on 0 rush.
29 min...TFC Nelson wins cornerkick after run down right.
29 min...TFC Nelson cornerkick from right is partially cleared. TFC Campbell balsts 28 yarder well high and wide right.
31 min...TFC Shaffelburg outmuscles defender to send high cross from left side of box and play is whistled down although
defender clears.
33 min...TFC Perruzza 28 yard shot from right over head of charging player at 8 yards and well wide left.
35 min...SGT Micaletto high cornerkick from left has SGT Mecham knock ball down at 12 yards on right and TFC Priso
slides to clear.
39 min...TFC Bunk-Andresen gets back to break up SGT Rowe and SGT Arslan long rush up left side beating multiple defenders
and cut into left side of box.
40 min...SGT Micaletto cornerkick from left has SGT Phelps head 5 yarder on right into outside webbing of net.
42 min...TFC Shaffelburg cross from 25 yards on left has defender at 6 yards head away.
43 min...TFC Nelson cornerkick from right has defender in middle head away. TFC Campbell passes up middle to left
and TFC Shaffelburg blasts 20 yarder well over net.
44 min...SGT Rowe rolls through ball to SGT Antley on left and he blasts 12 yards shot that goalie double palms at chest level
over to right where defender clears.
45 min...half ends 4:42pm with no added time.
Halftime: A give away of an espresso machine has good odds as there are less than 100 people here.
Second Half:...starts 5:07pm...the weather is still cloudy now with SGT players having the wind at their back.
halftime sub:...SGT Amankwa replaces Wells.
46 min...SGT Micaletto low 30 yard freekick from right has sliding TFC Perruzza at 7 yards concede cornerkick on right.
46 min...SGT Micaletto high cornerkick from right has SGT player head ball back across box. SGT Mecham shoots 20 yarder from
right well over net.
50 min...TFC Shaffelburg cross from top left of box over fallen defender but ball is over head of TFC Okello and to TFC Nelson
but he was called offside.
51 min...TFC Campbell is beaten but gets back to push ball to goalie checking an SGT player from behind in box.
52 min...SGT sub...Vinyals replaces Mecham.
53 min...TFC Shaffelburg run down lef tand low cross into box has defender clear for cornerkick.
53 min...TFC Priso low cornerkick from left has sliding TFC Perruzza deflect 6 yarder wide left but wins cornerkick.
54 min...TFC Nelson low cornerkick from left has charging TFC Perruzza on left deflect wide left.
57 min...SGT Micaletto rolls pass too forward on left for SGT Arslan and ball rolls for goalkick.
58 min...TFC Shaffelburg and SGT Antley wrestle on Shaffelburg's run up left side as both ball over on endline
but referee whistles for SGT freekick.
60 min...TFC West pokes through ball and goalie beats TFC Perruzza to dive on ball at 8 yards.
61 min...SGT Micaletto cornerkick from right has TFC Perruzza shank clearance.
61 min...TFC YELLOW card...Perruzza earns it for hip check on SGT Micaletto running out of corner.
62 min...SGT Micaletto high 25 yard freekick from far right has TFC Okello flick header to left and TFC Priso clears
on end line.
63 min...SGT Micaletto is slipped through pass on left and backheel centering pass to SGT Rowe who blasts 12 yard shot
from short right that goalie bats away.
64 min...SGT YELLOW card...Micaletto earns it for complaining to one of the referee's assistants.
65 min...TFC Okello rolls pass forward to TFC Shaffelburg on right who runs to end line and pass back to TFC Perruzza
but defender clears before he can get to ball at 10 yards.
69 min...After sustained TFC pressure, TFC Nelson takes 25 yard shot down middle over net.
73 min...TFC Shaffelburg cross from far right from 25 yards has off-balance TFC Okello head ball as SGT goalie also jumps
for ball and TFC wins cornerkick. Okello is injured on play and needs trainer.
75 min...TFC Perruzza almost draws second Yellow card for not giving goalie 10 yards on goalkick.
77 min...TFC sub...Akinola replaces Perruzza.
77 min...SGT Antley low centering cross has defender give up throw-in.
78 min...TFC sub...Petrasso replaces Carlini.
81 min...SGT goalie is out to 30 yards to clear ball before TFC Akinola can get to through ball pass.
82 min...SGT Micaletto long run up right and cross is through box but no one is there.
83 min...SGT Phelps makes key clearance to break up 3 on 1 rush.
84 min...TFC sub...Ovalle replaces Okello.
85 min...TFC Bunk-Andersen gives up SGT Antley cornerkick.
86 min...SGT Rowe 28 yard freekick from far right has SGT player at 6 yards head ball away in crowd of players for
SGT player to blast but no one there.
88 min...TFC YELLOW card...Nelson earns it for rolling into goalie after the goalie had cleared ball.
92 min...TFC Shaffelburg can't win Penalty kick on run into box and play carries on because he's over end line.
94 min...TFC Petrasso run to left end line and rolls cross that goalie picks up.
96 min...SGT Phelps receives short throw-in and sends high 70 yard chip from left that goalie leaps to catch
at 10 yards in middle of box.
96 min...game ends 5:58pm.
Final Score:.....Toronto FC II........1..........South Georgia Tormenta FC.......0.......

Attendance was not announced but was shown on the USL website as 51.  That must be an all time low 
this season and in any season (they played at different stadiums in previous years).  The game crew 
had to borrow two boys from the crowd to have enough hands to hold all corners of the two flags 
brought out for the national anthems!  There had been rain the night before and storm clouds were 
overhead the whole afternoon but we were going to get a big one later in the evening—a real skyopener.  
TFC II had been officially eliminated from the playoffs last weekend losing on the road 
to Greenville Triumph—as if that would halve the crowd!  

Man of the Match (who is always a TFC player) was named as midfielder Ralph Priso.  He was most 
noticeable on cornerkicks because he would pair with Jayden Nelson and they would often dummy 
who would kick it (usually Priso with Nelson sending it in) with the threat of playing it short 
which always keeping a player near them rather than defending inside the box.  He also made 
a key defensive clearance at 35 minutes.  Priso held his own for a 17 year old.  He won one 
of the team sponsor's coffee machines I believe for the first time.  I was surprised (because 
on low attendance days they often skip this) there was a machine given away to the 'loudest TFC fan' 
at halftime.  I think it was midfielder Antonio Carlini's parents--I'm not sure but with 
only 51 fans here it's a pretty good guess.    

Argentinian Franco Ramos Mingo scored his third goal of the season.  He plays back on defence 
but is one of the players who will come forward for cornerkicks.  Interesting that eight minutes 
earlier Jordan Perruzza scored on a near identical play but it was called back because Perruzza 
was holding onto SGT defender Michael Mecham then boosting himself off his shoulder to head 
into the top right corner.  Mingo changed it up by diving towards the ball as it came into the box.   

Eric Klenofsky earned the shutout for TFC with a couple of key saves.  I didn't know if one goal 
would be enough with Toronto having to defend into the strong gusty wind in the second half but 
South Georgia wasted too much time not pressing with nature's advantage.  Tormenta (Spanish) 
translates into Storm in English.  Both teams mostly kept the ball on the ground.  TFC had 
a few goal kicks and high passes upfield hang up in the wind then drop short.  Both goalies 
today were captains of their teams.  

Referee Marco Kalic (travelling from Manitoba—these games must look good on a resume) gave out 
four Yellow cards (two to each team) in a game that wasn't rough.  He saved up not giving three 
of them until the second half.  Last two were dumb on the players' part as at 64 minutes 
SGT Marco Micaletto complained to a referee's assistant about a call and at 88 minutes 
TFC Jayden Nelson rolled into the goalie who'd just cleared the ball from the box.

On my walk from the parking lot ('fans' park about 600 yards uphill) I saw four TFC II players 
walk up the driveway.  I have noticed players do that many games this season then don't see 
them play that day.  I asked and one of them answered that they would not be in the 18 but 
would be back to watch the game but were just going out to get some lunch.  I thought 
previously they'd watch the game from the complex's second floor but I wasn't sure.  Quite 
a few message board fans have asked all season "Where's (insert name of player), is he injured?". 
I've avoided answering as I didn't know if any players I saw were sneaking off or in a huff 
because they wouldn't be playing.  I will keep that discretion going just in case they didn't 
come back (:  The USL site shows 37 different players have played for them this season 
so there's always going to be some who don't see the field each game.  

One player who looks like he's gone is American goalie Kevin Silva.  I saw young (age 17) 
Eleias Himaras dressed in Silva's #90 kit for the second home game in a row.  I remember 
reading that Himaras was from London (Ontario) so asked at the League 1 Ontario championship 
game that night a team official with FC London about him.  "Yes he played for us."  Ah-ha!  
The FC London team at all but the L1O level is known as 'London TFC Academy'.  The MLS TFC 
are not interested in the adults playing at the L1O level but are really scouting the young 
teenagers that they can bring into their own system.  We can jump to the conclusion that 
Silva's loan spell ended and he may be back with the Scottish club 'Hearts'.        
 
No 'drop downs' from the MLS club today except forwards Jacob Shaffelburg and Ayo Akinola.  
Wow Shaffelburg clanged one off the post at 1 minute and was strong the entire 90.  I was 
surprised he wasn't even on the bench in the second leg of the Canadian Championship game 
against Montreal on Wednesday night but Toronto FC kept to the tourney's 'A MINIMUM of three 
Canadian players must be the lineup and start' to the letter of the rules and had two 
of the three subbed off by 61 minutes.   Akinola wasn't subbed in until 77 minutes replacing 
Perruzza just in time who'd almost drawn a second Yellow for not giving the goalie 10 yards 
on a freekick. Akinola didn't have enough time to impress.       

Best non-scoring chances were at 1 minute with Shaffelburg's 22 yard shot off the right 
post after a short run up the left side.  Next minute had SGT Marco Micaletto get behind 
a defender at 45 yards waiting for the ball that wasn't held back by the wind and rushed 
up the right to blast a low 25 yarder that was stopped by the sprawling goalie at 10 yards.  
13 minutes had TFC Nelson's cornerkick from the right over a crowd of players and Perruzza 
headed a 10 yarder into the top right corner but the referee's arm was up long before for 
holding onto a defender.  18 minutes had TFC Dante Campbell run to the right end line 
and cross that had a defender head away in front of Perruzza waiting on the left post.  
35 minutes had SGT Micaletto send in a high cornerkick from the left that SGT Michael Mecham 
knocked down at 12 yards on the right but TFC Priso slid to clear.  39 minutes had 
TFC Patrick Bunk-Andersen get back to break up a play by SGT Mikie Rowe and Jad Arslan 
who had a long run up the left side beating multiple defenders to cut into the box.  
Micaletto sent the resulting cornerkick from the left over to SGT Joshua Phelps who headed 
a 5 yarder into the outside webbing of the net.  44 minutes had SGT Rowe roll a pass through 
some players to SGT William Conner Antley who blasted a 12 yarder that the goalie double 
palmed at chest level over to the right.  53 minutes had TFC Shaffelburg run down the left 
and send a low cross into the box that a defender conceded a cornerkick.  Priso took 
the cornerkick low from the left and a sliding Perruzza deflected a 6 yard shot wide left 
but earned another cornerkick.  This one Nelson took and the charging Perruzza deflected 
wide left on the short side.  63 minutes had Micaletto slipped a through pass on the left 
and he backheeled a centering pass to  Rowe who blasted a 12 yard shot from the short right 
side that the goalie was able to bat away.  86 minutes had Rowe send in a 28 yard freekick 
from the far right that an SGT player in a crowd of players headed away at 6 yards to an 
open spot in the box but no SGT player was there to blast a shot. Six minutes of added 
time was frittered away.  

The win improves TFC's record to 8 wins, 10 losses, and 8 ties for 32 points with two more 
road games to go next week to complete the season.  They are eighth in the standings 
and could move up to sixth.  The USL website wrote that this eighth win was the best 
of any season at any level in their USL history.  Now that's easy to believe without 
going through my own archives.  That would include their play as TFC II in what is now 
classified as the 'Championship Division' from 2015 to 2018 (USL Pro) and two years 
of running a PDL team in 2015 and 2016 replacing Toronto Lynx.  

I feel that this new USL League One is the proper level for them.  The team roster has 
always been made up of the last year MLS draft picks who didn't make the MLS team and have 
at most two years to impress before being released and their Academy kids (overwhelmingly 
Canadian) who have come through their organization--some from the age of 12.  To finish 
near .500 must inspire the players to play better after so many years of being beaten down 
to bottom three of up to sixteen team conferences. 

The loss drops South Georgia's record to 8 wins, 9 losses, and 10 ties for 34 points 
and they stay in sixth place but were officially eliminated from the playoffs.  Only four 
of the ten teams qualify for post season play.  

The DJ got to play Depeche Mode's 'Just Can't Get Enough' (TFC and TFC II's victory song) 
for one final time this year.  Some of the players came over to greet the fans/parents—I was 
expecting more just because it was their last home game and they won!  Actually I was 
eyeing the exit because I now had a crosstown drive to arrive at the L1O championship 
game that evening.  Good thing I didn't stay too long as I was caught in a rush hour 
traffic jam (well worse than usual) that eventually passed a very serious car accident 
that immediately silenced my previous half hour of cursing. 

I'll give myself a Gold Star in Attendance for being able to be at all fourteen of their 
home games!  Twelve of them were this same time of Friday at 4:00pm and I rearranged 
some things to catch the others.  One reason for the odd times is the field has no 
stadium lights.  I just found the times and this location very convenient.  Selfishly 
I hope they keep the same schedule dates next season.  

This may be my first article published by BGN which has a large American audience.  
That's why I pointed out things like 'London Ontario' for a player's hometown.  

Rocket Robin
robing@eol.ca
twitter @RocketRobin01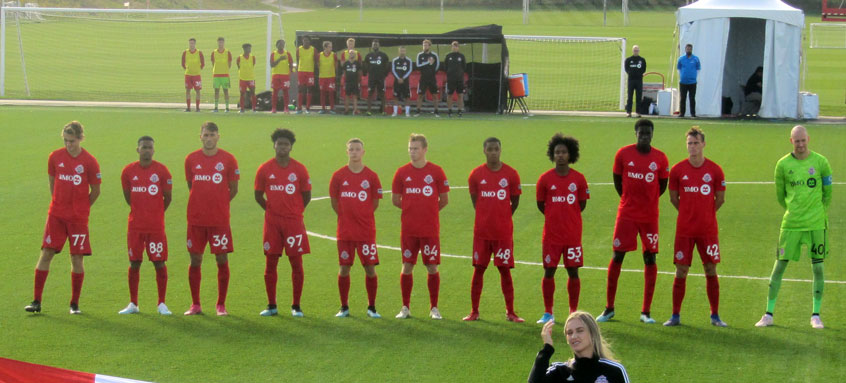 Toronto FC starters


South Georgia Tormenta FC starters

SGT Mikie Rowe (9) and Marco Micaletto (10) take opening kickoff.


midfield action


SGT Daltyn Knutson (13) dribbles up left wing.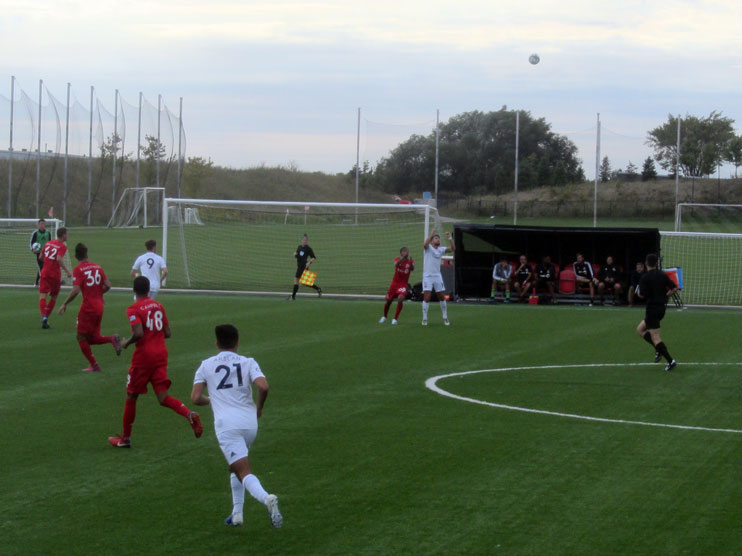 TFC Jesus West (88) and SGT Nicholas Wells (19) wait for high ball.


SGT player sends cornerkick high over box.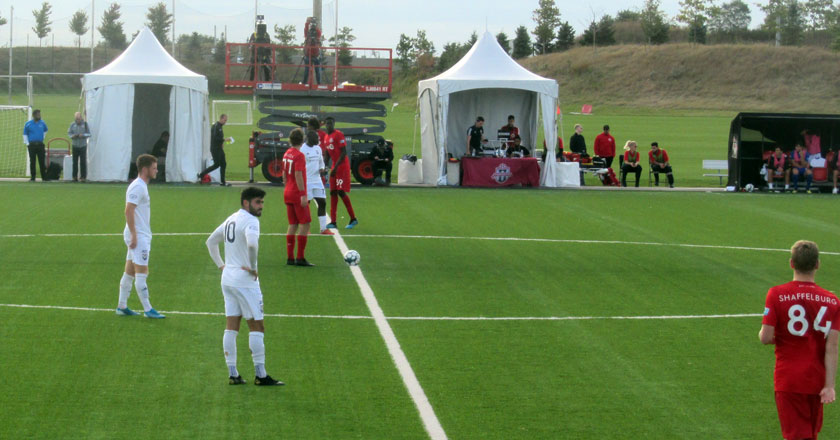 TFC Jordan Perruzza (77) takes second half kickoff.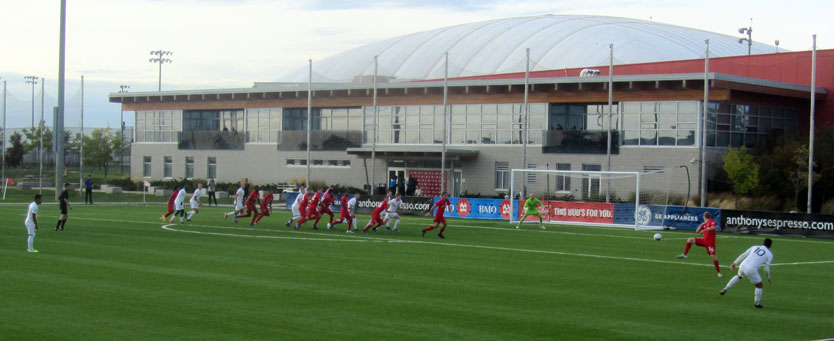 SGT Marco Micaletto (10) sends in freekick past TFC Jacob Shaffelburg (84).


TFC Patrick Bunk-Andersen (42) dribbles ball in own end.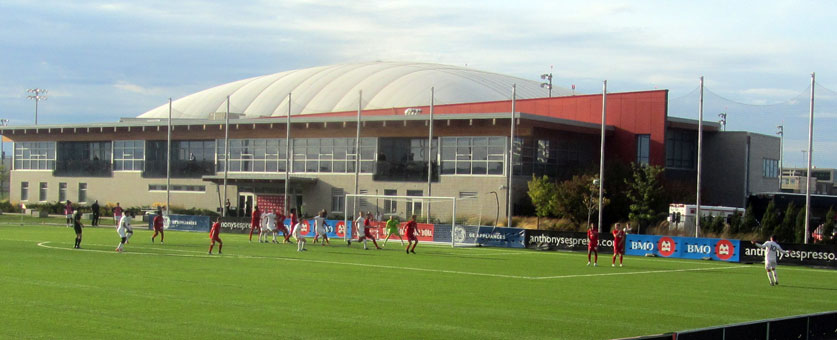 SGT Marco Micaletto (10) sends in another freekick.
.
.