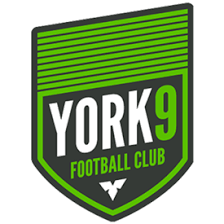 ................................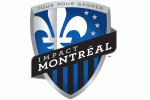 York 9 FC (olive socks, black names and numbers, white shorts and shirts)
......................29 Nathan Ingham
3 Morey Doner...13 Luca Gasparotto...6 Roger Thompson...20 Diyaeddine Abzi
..............8 Joseph Di Chiara........23 Wataru Murofushi
....19 Kyle Porter...18 Ryan Telfer...10 Manuel Aparicio (cpt)
......................12 Simon Adjei
Subs:...1 Matt Silva (gk)...2 Daniel Gogarty (def)...7 Austin Ricci (fwd)...11 Emilio Estevez (mid)
...22 Rodrigo Gattas (fwd)...77 Steven Furlano (def)...92 Michael Cox (fwd)
team officials:...head coach Jim Brennan
Montreal Impact (black socks and shorts, black & blue striped shirt fronts, black backs, white names and numbers)
......................23 Clement Diop
......2 Victor Cabrera...5 Zkaria Diallo...4 Rudy Camacho
..........6 Samuel Piette (cpt)...13 Ken Krolicki
...15 Zachary Brault-Guillard...29 Mathieu Choiniere...19 Omar Browne...25 Daniel Kinumbe
......................37 Maxi Urruti
Subs:...41 James Pantemis (gk)...7 Harry Novillo (mid)...8 Saphir Taider (mid)...11 Anthony Jackson (fwd)
...18 Orji Okwonkwo (fwd)...28 Shamit Shome (mid)...32 Micheal Azira (mid)
team officials:...head coach Remi Garde
Game Officials:...referee Yusri Rudolf...referee's assistants Gianni Facchini and Sean Hornsby
...fourth official David Barrie (teal shirts, black shorts and socks)
First Half:...game starts 7:38pm. York defends north end on this hot evening.
3 min...York Thompson takes 60 yard chip in middle just too far forward for York Telfer on right to get to ball
and bounces over end line.
6 min...Imp Kinumbe is cut out on run into left side of York box by York Doner.
6 min...Imp Choiniere low cross from left into box. York Thompson shanks clearance to left edge of box where
defender has to head out for throw-in.
9 min...Imp Urruti cornerkick from right has Imp Diallo head ball down at 12 yards but ball is cleared by defender
out left side of box.
11 min...York Porter wins freekick on knock down on left by Imp Cabrera.
12 min...York Porter 28 yard freekick from left bounces through box out right for cornerkick.
12 min...York Porter 25 yard low cross from left is cleared in box at 6 yards on near post by Imp Camacho.
13 min...York goalie gets clearance partially blocked by Imp Urruti but he clears it on second chance when tapped
back to him a second time.
15 min...York Telfer blasts 30 yard short up middle well over net.
16 min...Imp Kinumbe cross from near left cornerflag has York Abzi clear in center of box.
17 min...York Abzi blasts low 30 yarder up middle just wide right of net.
19 min...Imp Kinumbe rolls pass from 40 yards down left too far for Imp Choiniere and out for goalkick.
21 min...York YELLOW card...Adjei earns it for sliding tackle on Imp Cabrera at Imp 50 yard line after Cabrera
had kicked ball away.
23 min...Imp Urruti 35 yard freekick from left has York Gasparotto leap to head ball away in middle of box.
24 min...York Thompson 65 yard chip down middle has goalie catch at 15 yards.
25 min...Imp goalie is out to left edge of box to make clearance.
26 min...Imp players work out short cornerkick from left but effort is wasted as ball never reaches box.
28 min...York Aparicio pass on right from 35 yards is bounced to York Murofushi racing into box but goalie slides
out to right at 6 yards before he can get to it to gather up.
28 min...York Telfer cornerkick from right is headed down on left side of box by York Thompson at 10 yards and ball
bounces to goalie who smothers it.
29 min...York Porter is knocked over in middle at 28 yards but has already passed over to York Doner on right who crosses
high from right edge of box and ball flies over end line on left.
29 min...Imp YELLOW card...Brault-Guillard earns it for injurying York Di Chiara on sliding tackle at Imp 50 yard line
and needs trainer.
32 min...Imp Kinumbe low cross from 20 yards on left has York Thompson make big clearance in middle of box.
33 min...Imp Choiniere bends 22 yarder from left well wide right of net.
34 min...Imp Urruti runs into York box but York Gasparotto checks him off ball on right side of box.
35 min...Imp Piette 28 yard blast from left hits top of bar.
36 min...York Adjei rush to middle and forward and low 25 yard shot is just wide left of post.
36 min...Referee breaks up York Di Chiara and Imp Piette potential dust up at Imp 50 yard line.
38 min...Imp Cabrera wins duel with York Porter on right as he pushes ball over end line for Imp goalkick.
39 min...Imp Kinumbe throw-in from left gets ball back and high cross is over box.
41 min...York Abzi chips 25 yarder from left too far forward for any charging York players and goalie stops wide left of net.
43 min...Imp Krolicki rolls 55 yard pass too far forward and ball picked up by goalie.
44 min...Imp Brault-Guillard at 30 yards on right sends low cross into box, Imp Browne touches pass on right while inside box
and Imp Choiniere in middle at 15 yards shoots low and wide right but wins cornerkick off deflection by sliding defender.
45 min...Imp Browne cornerkick from right has York Abzi as nearest defender on right head ball away on edge of 6 yard box.
45 min...York Thompson pops up header on cross from right into box and ball cleared.
46 min...York Abzi is injured when body checked at York 40 yard line.
47 min...half ends 8:25pm.
Second Half:...starts 8:41pm. There is no sun now.
47 min...York Doner catches Imp Choiniere preventing shot from 15 yards on left. York Gasparotto then heads down Choiniere's
cross into box.
50 min...York YELLOW card...Di Chiara earns it on delayed call for sliding tackle on Imp Krolicki at Imp 45 yard line injurying him.
51 min...Imp Brault-Guillard wins cornerkick on low cross along right end line that deflects off near post but sliding defender
had deflected it out.
52 min...Imp Urruti cornerkick from right has leaping defender head away in crowd in box.
52 min...Imp Browne is tapped pass on right and runs towards middle and 22 yard shot is sent well over bar.
53 min...York Telfer 35 yard cross from right has York Porter not able to twist header from 7 yards on left.
54 min...York Di Chiara low cross from 12 yards on far left has sliding Imp Cabrera clear in 6 yard box. Di Chiara gets ball back
on left side of box and can't win Penalty kick on Imp Cabrera tackle.
54 min...York Adjei 15 yard shot deflects off sliding Imp Camacho and over net for cornerkick.
55 min...York Telfer cornerkick is whistled down for a dust up between York Di Chiara and Imp Camacho before it's taken.
55 min...York Telfer cornerkick from right has Imp Krolicki as closest defender head ball over net.
58 min...York Abzi taps pass to York Telfer who turns and fires 25 yarder down middle well over net.
61 min...Imp Omar Browne GOAL...Imp Maxi Urruti backheels centering pass from 22 yards over
to Imp Mathieu Choiniere who flicks ball from 25 yards forward and to left for Urruti at 12 yards but
York Luca Gasparotto in between them heads ball from 15 yards back towards goalie Nathan Ingham but too
far to right and Browne steps forward to get to ball on second bounce and fires from right side 5 yarder
into empty net.
63 min...York Telfer low 30 yard shot from left is wide right.
64 min...Imp Browne blasts 30 yard shot off York Gasparotto at 25 yard line.
65 min...Imp sub...Taider replaces Choiniere.
.........Imp sub...Shome replaces Browne.
66 min...Imp Shome cross from 25 yards on far right is just a step behind Imp Brault-Guillard at York 15 yard line.
66 min...Imp Krolicki chips pass from 30 yards in middle forward to 15 yard on left but York Gasparotto heads away
before Imp Taider can get to it.
67 min...Imp Urruti dribbles through players on left side of box and has low shot from left edge of 6 yard box stopped
point blank by sliding goalie.
70 min...York player makes big clearance on edge of box to prevent Imp break-in.
72 min...York sub...Gattas replaces Adjei.
73 min...York Gattas 25 yard cross from left end line has goalie palm ball through box. York Aparicio gets away scissor kick
after Imp headed clearance from 12 yards that's wide left.
76 min...Imp Kinumbe blasts shot from 15 yards on left well over net.
77 min...York Di Chiara in middle rolls pass from 15 yards forward and right to offside York Porter who rolls in 10 yarder
that's called back offside.
77 min...Imp Brault-Guillard 25 yard low shot from right is picked up by goalie.
78 min...York Telfer high cross from left end line is over York Gattas on right end line and out for throw-in.
80 min...York Aparicio 50 yard pass down left bounces pass down left but too far for York Porter and out for goalkick.
80 min...York Doner cross from 28 yards on right headed away in box.
80 min...Imp Taider long run up left wing and dribbles towards middle and rolls pass to Imp Shome charging just inside
right side of box. Shome rolls pass back towards center but York Gasparotto clears at 10 yards.
81 min...York goalie is out to 25 yards on right to clear ball away before Imp Urruti can get to it.
81 min...York goalie out to 25 yards on left to slide and clear ball away before Imp Taider can get to it.
82 min...York Ryan Telfer GOAL...York Rodrigo Gattas chips pass from 55 yards up middle that finds Telfer
charging forward. Telfer knocks down ball at 25 yards then blasts 18 yarder from slight left into top center
of net over goalie Clement Diop on 6 yard line.
83 min...York Ricci replaces Porter.
84 min...Imp Kinumbe low cross from 25 yards on left is through box unplayed.
84 min...Imp sub...Azira replaces Piette.
86 min...York Telfer beats Imp goalie to ball on left at 25 yard line and cross has Imp Camacho in 6 yard box head ball
over own end line.
87 min...York Rodrigo Gattas GOAL...York Ryan Telfer cornerkick from left has York Luca Gasparotto
at 8 yards in middle flicks header down and to right where sliding Gattas shoots 4 yarder forward into right
side of net past diving goalie.
87 min...York YELLOW card...Gattas earns it for pulling off his shirt to celebrating his goal as he ran
to the right cornerflag.
89 min...Imp defender chips 50 yarder down middle to Imp Urruti at 10 yards on left side of box and as he turns away from goal
goalie trips him up with hands tangling with legs of Urruti rather than ball. Referee Yusri Rudolf called a Penalty kick
and Urruti needs trainer for injury.
91 min...Imp Saphir Taider GOAL...Taider rolls Penalty kick to right side of net as goalie dives to left.
93 min...York Abzi beats Imp Shome to ball at 30 yard line on left and runs up wing. He sends in low cross from left edge of box
over leg of Imp Brault-Guillard at 12 yards and sliding Imp Cabrera pops up ball at 3 yards in middle. Ball is over head
of York Ricci and goalie leans forward and punches ball forward. York Di Chiara one-touch kicks 8 yarder down middle off
top of bar.
94 min...game ends 9:30pm.
Final Score:.......York 9 FC.......2.......Montreal Impact........2........
Series tied 2-2 of two game aggregate series

Attendance was announced at the game at 4996.  Mentions on twitter and message boards have most 
people believing that.  Just before the singing of 'O Canada' there were still many hundreds 
of fans (my estimate) waiting to get in to the north gate...the line had not decreased for the 
previous half hour as new people had replaced the ones who were let inside.  At halftime 
I could see CPL commissioner David Clanachan on the deck below. 

It's easy to imagine that if just one family of four saw the line, turned around and headed 
home they would have had an even 5000 although that would have brought derision because 
Cavalry FC announced crowds of an even 4000 twice for their games and weren't believed.  
(Some sites have now listed the attendance as 5252).  

Two individual errors cost York 9 the game.  Luca Gasparotto was trying to head the ball 
back to goalie Nathan Ingham to avoid Maxi Urruti but the ball was too far right of Ingham 
so he missed catching it and Omar Browne tapped a 6 yarder into the open net.  Injury time 
and York held the lead but an Impact player chipped a long ball from 55 yards down the middle 
to Urrutti at 10 yards on the left side of the box but Ingham tripped him up as Urruti was 
running away from the box and the referee called a Penalty kick.  Head coach Jimmy Brennan 
was quite forgiving in the post game press conference.  

I gave Gasparotto an assist on the goal that gave them the lead heading the ball over for 
Gattas to score from close range.  

Gattas came on as a sub tonight 72 minutes.  York head coach Jimmy Brennan said at the
post game press conference later it was because he wanted to have his big guys in front 
to wear down the Impact center backs so that's why Simon Adjei got the start.  

I was surprized that York could score two goals in this game as they've had trouble this 
entire season.  Brennan asked me before the game for a score and I said 1-1.  He said how 
about 1-0 York?  We must both have been thinking a low scoring game. 

Very exciting last 25 minutes plus added time tonight.  We were asked who we wanted to interview.  
The head coach and one player only from each team.   "Browne?" We were told he didn't speak 
English.  Piette was our choice because he's a Canadian international and would probably say 
a good word for this expanded tournament.  How about York?  We were undecided and it would 
be too cruel to ask Gasparotto but just then Telfer scored the tying goal.  "Him!"  was 
the unanimous choice.   

Piette said the two away goals were important and the small field effected their play and now 
he expects Impact will have the home field advantage.  

I'm not a close follower of Montreal Impact so I didn't recognize their roster except I saw 
that goalie Evan Bush the usual starter was listed as 'not present' on the line up sheets.  
Some posters said there were about four regular starters in tonight's rosters.  I'd expect 
that the Impact will use more regulars in the return leg two Wednesdays from now.  

The rules of the Canadian Championship have remained unchanged.  Only three Canadian starters 
need be in the lineup.  Montreal did use four.  Three of their subs were Canadian.  The York 
roster was all-Canadian except starters Wataru Murofushi from Japan and Simon Adjei from Sweden.  

A few links with Toronto FC in this game besides the rivalry with Montreal Impact.  Ryan Telfer 
is on a year long loan with York from TFC.  York captain Manny Aparacio came up through 
the TFC Academy system to the USL level.  Omar Browne scored twice against TFC earlier this 
year in CONCACAF Championship play while with Independiente of Panama knocking them out 
of the tournament and impressing Montreal enough to sign him.  This Saturday night TFC plays 
the Impact in  MLS play in MLS Rivalry week.  

The return leg is Wednesday July 24th but in between both teams will have weekend games 
in their regular leagues and CPL teams also play league games next Wednesday.  Maybe next year 
the CPL can deliberately schedule a bye week the weekend before the second leg to give their 
team an advantage although with the competition happening in the middle of their season, 
it will be difficult.  Also CPL teams have very small rosters and choices are limited when 
players are injured.  With the odd number of teams this year, it turned out Valour FC had 
the weekend off which didn't help as they were eliminated from the Canadian Championships 
the last round.  The MLS did juggle their schedule for CONCACAF play to give their teams 
time off to concentrate and rest.  This is why teams like Toronto FC had three games in hand 
for much of the early season.  York and Cavalry play each other in league play the Sunday 
before the return legs giving them one less day of rest than normal!  

The winner of this series plays the winner of Cavalry vs Vancouver Whitecaps.  It's the winner 
of HFX Wanderers FC vs Ottawa Fury that play defending champions Toronto FC who got a bye all 
the way to the semi-final.  If even more CPL teams next year will that privilege last?  

York 9 FC was once again squeezed on the OneSoccer live stream.  The HFX game started at 6:00pm 
which because of time zones is 7:00pm local time.  I don't think it would have been a problem 
for the York game to start at 8:00pm...the early starts are often used as an excuse for low 
attendances on weeknights because of fighting rush hour traffic.  (usual starting times for 
York on Wednesday's are 7:00pm).  The game was joined 'in progress' at the 22 minute mark.  

The other games tonight all held in CPL cities were Ottawa of USL beat HFX Wanderers 3-2 
and Cavalry and Vancouver Whitecaps of MLS playing to a 0-0 result.  Early indications I've 
read give Cavalry the best chance of advancing because if the next game were a tie with each 
team scoring that would put Cavalry through on the away-goal rule.  

The team organizers had other events here as well.  There was a band setting up outside the 
gates when I first got here and former Canadian women's national team players Melanie Booth 
and Melissa Tancredi were signing autographs behind the stands on the north side.  Probably 
arranged with the help of the CSA because they usually have a hand in operating the tourney.  
Tonight they controlled the press conference too.  Allstate Insurance are still a partner 
so I asked a CSA official about whether there was going to be another 'Allstate Soccer Show' 
but his answer was it's not been decided.  All tonight we were bombarded by advertisements
to buy tickets for the CONCACAF League of Nations games as they will be held in Toronto. 

Earlier today I missed a press conference for League 1 Ontario team Oakville Blue Devils just 
before lunch.  I declined a day earlier and was glad I did because it was just an announcement 
that the team now has a craft beer sponsor.  That would have been a long drive.  Since I would 
have arrived by car, I wouldn't have even been able to have a sample.  

I got through all night without boasting that'd I'd helped pay for the Voyageur's Cup.   

Rocket Robin
robing@eol.ca
twitter @RocketRobin01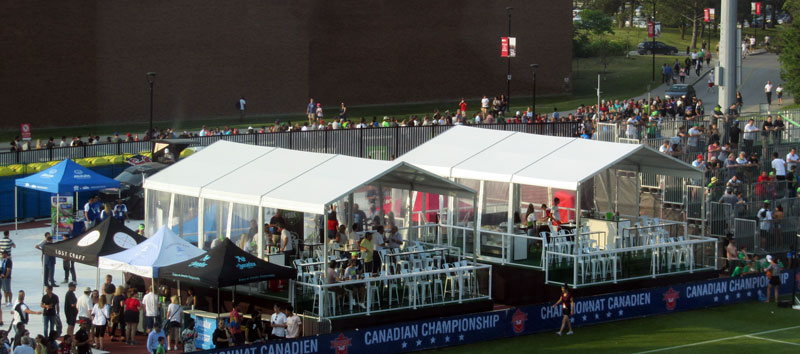 Just minutes before kickoff and there are still thousands of fans trying to get through north end gate.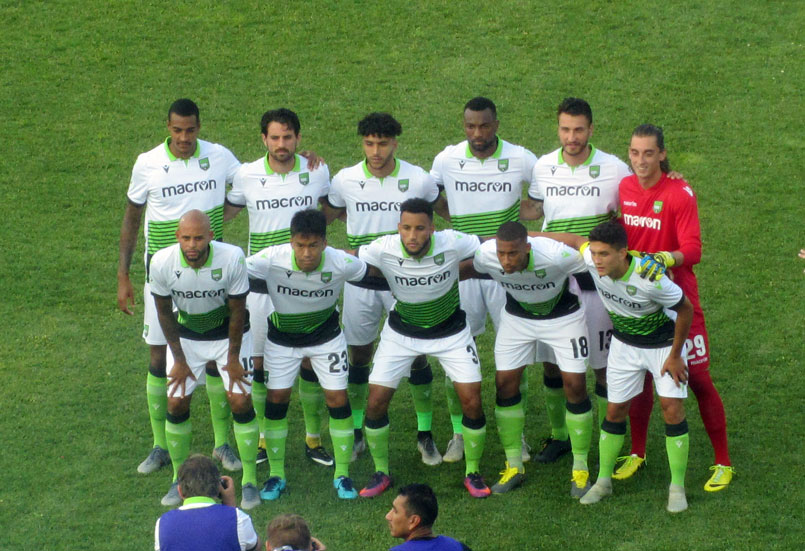 York 9 FC starters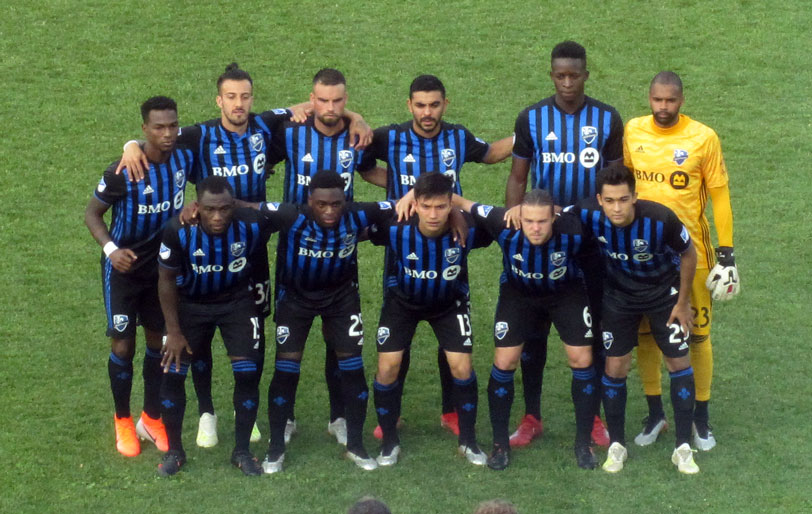 Montreal Impact starters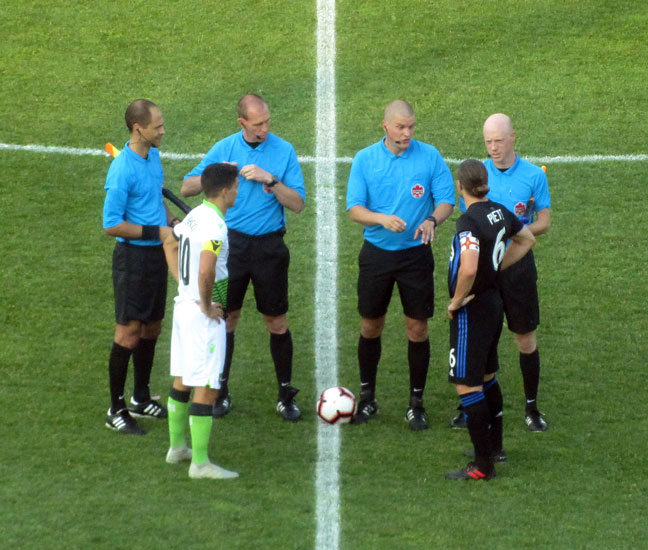 York 9 FC Manuel Aparicio (10) and Montreal Impact Samuel Piette (6) at coin toss.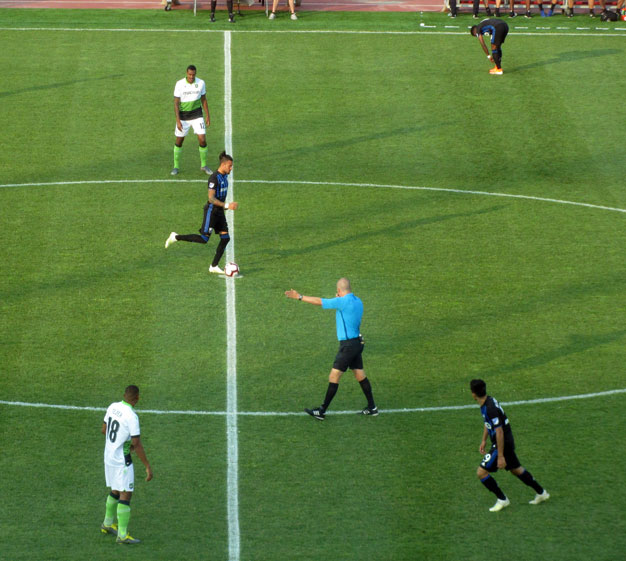 Montreal Impact Maxi Urruti (37) takes opening kickoff.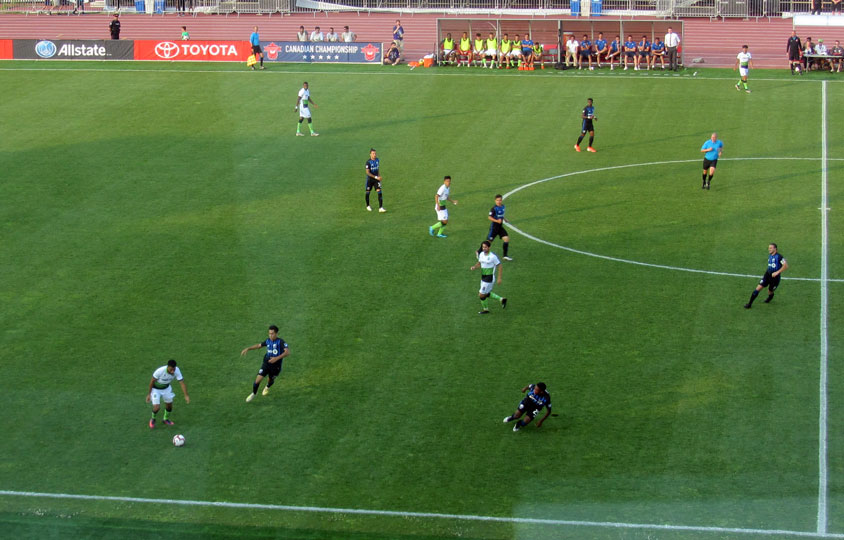 York Morey Doner (3) tries to break down right.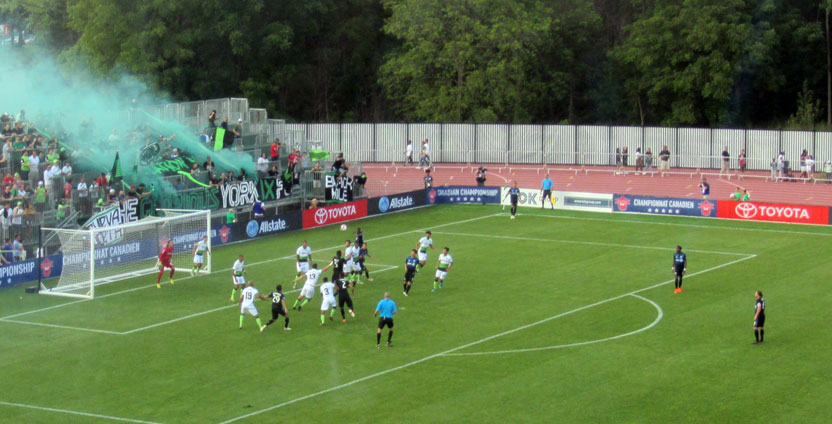 Montreal cornerkick sents into York box.


York Kyle Porter (19) freekick is sent into Montreal box.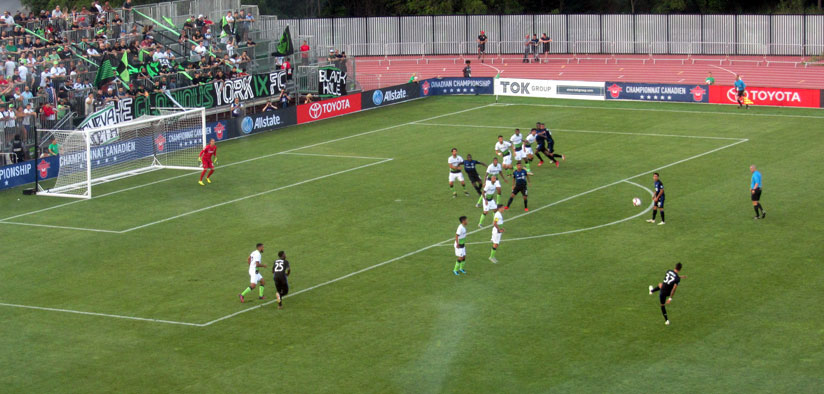 Montreal Maxi Urruti (37) takes freekick.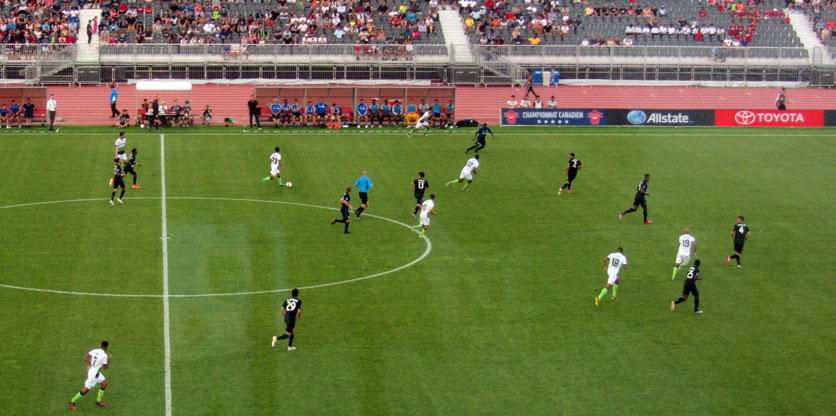 York Wataru Murofushi (23) leads rush upfield.


York Sion Adjei (12) takes second half kickoff.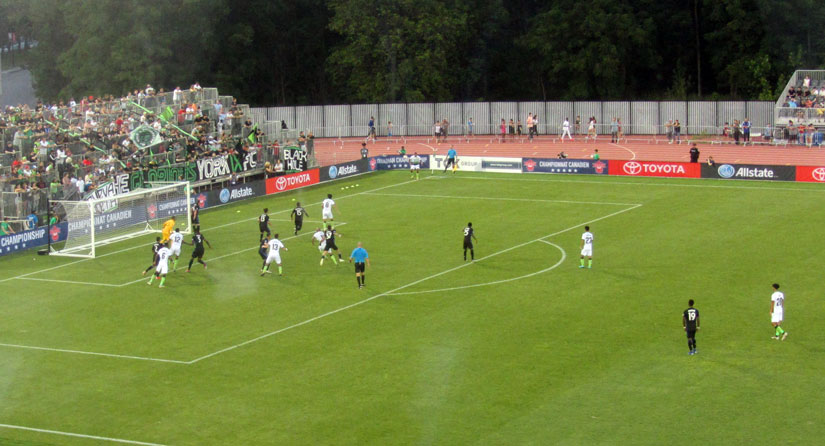 York Ryan Telfer (18) takes cornerkick.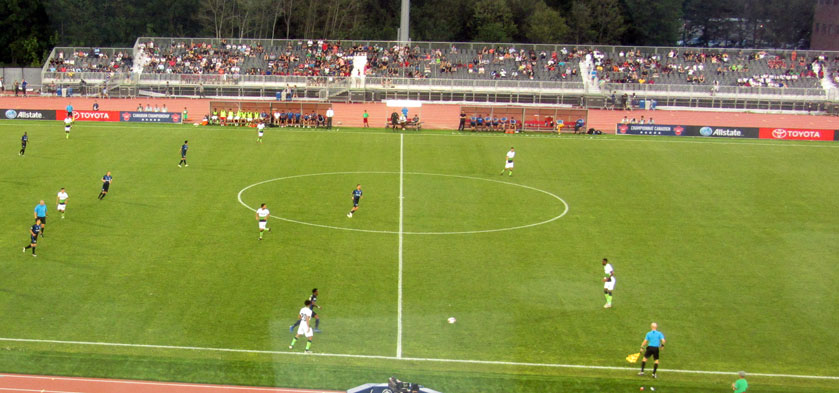 biggest crowd of the season!

July 10 2019 Canadian Premier League--Post game press conference after York 9 FC vs Montreal Impact 
game held at York Lions Stadium (by Rocket Robin)


Montreal Impact head coach Remi Garde answers questions

Montreal Impact Remi Garde...3 min 50 sec
first question and answer in French, is it a challenge to bring the intensity against a lower-level team?  
another French question, how did you see the previous games scouting for York 9?  


Montreal Impact midfielder/captain Samuel Piette answers questions  

Montreal Impact Samuel Piette...4 min 11 sec
first question and answer in French, your thoughts on the match and how you responded to York scoring? 
another question in French, how did you feel playing in Toronto but not against TFC? 


York 9 FC forward Ryan Telfer and head coach Jimmy Brennan answer questions 

York 9 FC Ryan Telfer and Jimmy Brennan...10 min 14 sec
(the French reporters had disappeared), was the glass half full or half empty? What were your thoughts
on the Penalty call? What was your thinking on the starters you used tonight?  What does a night like 
this say for Canadian soccer?  (for Telfer) your thoughts on the goals?  (for Brennan) Do you think
a game like this will help after the disappointing Spring season?  How will you play the next game
in Montreal?  (for Telfer) What was the team spirit like in the last ten minutes? (for Brennan)
What will cut down on the mental errors?       
 

Match Stats   (given out at the game) 

York 9 FC                                        Montreal Impact      
  2       Goals                                      2  
 15       Total Shots                               11   
  2       Shots on Target                            4   
 10       Shots off Target                           5   
  3       Blocked Shots                              2  
  8       Shots from inside box                      6
  7       Shots from outside the box                 5 
  2       Headed Shots                               1
  3       Corners taken                              4
 11       Fouls conceded                            14   
  8       Open Play crosses                          7   
  2       Offsides                                   1   
 57       Duels won                                 50  
 53.3%    Duels won %                               46.7%  
538       Total passes                             526  
 80.9%    Passing accuracy                          81.7%
 50.5%    Possession                                49.5%  

.
.