October 11, 2018 CPL--Canadian Premier League tryouts in Vaughan Day 1 (by Rocket Robin)
  
Details of the Thursday October 11, 2018 first day of trials for the Canadian Premier League held at the Ontario Soccer Centre 
in Vaughan.  This is the fourth city in the seven city cross Canada open trial process.  

The check-in of registrants started around 8:00am and was still happening when I arrived just before 9:00am.  All had checked 
through by 9:30am and then they could get started.  The check in was to pick up an armband and a coloured pinney to decide 
which group you would work out with.  Players then weighed in, had their height checked, and a mug shot photo taken holding 
their armband so the digits could be seen.  Numbers were in the 600s to 800s...I'd assume the Halifax trials started at 001.  
I asked later in the day and it finished out with just over 220.  Where were they from?  I could see some logos from 
League 1 Ontario clubs on track bags or shorts but there were more Bayern Munich and Barcelona bags.  I'm not fooled as how 
many kids on the subway have the t-shirts etc?  Hey how many 300 pound guys at BMO Field have Giovinco shirts?  Hey buddy 
are their two of you in there?  

The trials were held both indoor and outdoors.  Everyone started indoors with Alex Bunbury giving them a warm welcome and some 
warm up drills.  Coaches from the seven teams were here.  

There were four colours of pinneys.  The Green and Blue guys were sent outside to be tested on skill tests.  From other trials 
include the broad jump, shot velocity, agility tests, and height jumps. The Orange and Yellow guys were to stay inside 
to immediately start on 8 v 8 games.  That's where I stayed.  The indoor centre has one regulation side field but that was 
divided into three width-wide fields for these games.  There are appropriate coloured marks that players can see the boundaries.  
So that in theory would have 8 players x 2 teams x 3 fields or 48 players being evaluated at once.  Some teams had ten players 
so there was some subbing in and out to give them a chance.  The pinneys were numbered 1 to mid 40s and were fairly easy to see 
except the white on light green.  

So the games were just under 30 minutes (afternoon games were shorter but there were more of them).  The mix was your eight 
would play against a team of a different colour...so your Orange group of eight would play the Yellow group of eight.  After 
that your Orange guys would move one or two fields over and play....the same group of Yellow guys!   Instead of playing different 
Yellow guys you were matched against the same guys.  This seemed to be meant to accommodate the coaches so they wouldn't have 
to move around.  There were three or four coaches watching each game.  

The balcony running the circumference of the field was the best place to see the field.  I started watching the Orange vs Yellow 
group in the center.  I couldn't read their armbands but could see their pinneys.  Ooh Orange 45 and 21 scored and the Yellow 7 
scored.  I thought I could find out who they were at lunch...nope!  That game ended and they moved to the south end field.  
Orange 45 scored twice in that game and 21 scores once.  Yellow 15 scored and with no referees for him it's a good thing there 
were no offsides.  He scored a second one with no offside.  That game lasted 22 minutes.  Now on to the next game...that should 
make them in the north end right?  Nope.  They disappeared.  It turns out there must have been enough groups of eight to make 
four teams of each colour so they had a resting period.  The person in charge called out after that game that everyone was 
supposed to play three times so my guys got their third chance before lunch.  There was one last 15 minute game after there's 
at 11:55am just in the center field to accommodate the odd numbers.  

Lunch from 12:15 until 1:30pm.  Then it would be the Green vs Blue guys coming in from outside.  Lunch was catered sandwiches.  
I brought my own lunch.  I sat downstairs near the exit and talked with some of the guys.  They felt it would have been better 
to do the fitness tests first and play the games in the afternoon...especially agreed to by the guy with an ice pack on his ankle.  
(The saddest guy however was a guy who had to watch the trials with his foot in a cast and was getting around on crutches).  
One outdoor guy said they weren't given instructions but he just did what the guy in front of him did.  Another says his 
instructions were "Run, slalom, run, slalom"...he understood to mean run without the ball, dribble around the pylons with the 
ball then repeat.   

I thought I'd see the outdoor field setup.  On the way through the parking lot to get there I saw Laza Lowe, the head coach 
of Sanjaxx Lions of League 1 Ontario.  He said he has about four guys here today with the caveat that those were the guys who 
told him they were trying out.  He had watched the outdoor trials in the morning and wasn't too pleased with the whole method 
of open tryouts.  He talked about NASL and the National Soccer League in the early 1980s and the big crowd of 5000 for local 
matches and internationals of 25000 at Varsity against (insert name of famous foreign team).  He said the league needs the 
geographical rivalries.  His NSL examples were mostly ethnic teams Toronto Italia, Panhellanic etc.  I said there wouldn't 
be much to start and could only think of York and Hamilton (yeah Edmonton vs Calgary has been proven even before the league 
has kicked off).  It did feel cool,  no excuse for me not throwing a jacket in my car this morning.  

I felt the outdoor tests would be about as exciting as watching skiing.  Except for the tv coverage with its instant graphics, 
how can you tell if one player is 2/100s of second faster than the guy before him?  I decided to go back inside and watch 
the Blues vs Greens.  

I thought this time I'd be like the coaches and stay in one spot so I could see everybody.  Ooh some of the light green shirted 
guys have no number at all.  And I complained about white being hard to see. After the second game the Blue teams disappeared 
and were replaced by generic white uniformed guys.  Who are these guys?  Later I found out it was them being allowed to shed 
their pinneys because of how hot it was inside.  I was thinking they were different right until the last minute because there 
were six games (times three) after lunch although they were shorter in duration.  

OK the last game ends at 3:27pm.  All the outdoor guys have drifted back inside.  Now all the players gather round after a half 
hour break while the coaches are upstairs choosing who to invite back for a second day.  The players armband number is read 
out...I was going by pinney number until the blue team shed theirs.  My notes were like 'Oooh Green 21 who was a goalie looked 
like he was knocked unconscious'.   I had only marked down one armband number...a goalie that I thought I knew.  #816.  
The absolute last number they read out, which wasn't in any order was '816'...or did he say '860'?  We in the balcony weren't 
the ones who were expected to hear the announcements anyway with the generators drowning out most of the talking on the field.  

Slow to leave the field was a guy I knew for sure.  It was former Pro Stars goalie Jonathan Albanese.  I met him at the doorway 
coming to the foyer.  Nope he didn't make it.  I watched one game while he was on one of the Blue teams.  He said he got to play 
four games and he had a shutout in his first two, one where he allowed one goal in a tie, and another which they lost 3-0.  He was 
supposed to be on the goaltenders list after the outdoor tests but must have been displaced sometime in the indoor portion.  
He said it could have been age related too because he's not one of the younger guys.  He said the Pro Stars goalie who displaced 
him Aaron Peters who I was sure was the '816' guy didn't make the cut either.  Interesting that the L1O Ottawa South United Force 
goalie Jared St Thomas made the cut in the tryouts in Hamilton while holding a 3.33 GAA average in playing every minute 
of OSUF L1O play.  With L1O play though for teams like OSUF and Pro Stars it's not just about making the first save, they have 
to save the rebound, and the second rebound (can I get some help defenders please?).  

I wasn't worried about not knowing who passed the first day of trials because I know that would be instantly posted before 
I got home.  So here's that list:   (there's not as many L1O guys as I was expecting but I'll squeeze their team on this list 
in a day or so).    
 
Another thing is I will add photos of the day's action later as well.  

Whether solo stars or team-oriented talents, only 60 trialists will return on Day 2 of the Open Trials in Toronto – who might 
those trialists be? Here's the first cut list:

Sunny Dhaliwal       Goalkeeper           Aurora FC  
Spiro Koskinas       Goalkeeper           Masters FA  
Baj Maan             Goalkeeper           Sigma FC (but always see him as a backup, he's not gotten a minute in L1O this season)  
Carter Osborne       Goalkeeper
Senad Poracanin      Goalkeeper
Morad Al-Muhandes    Defender             North Mississauga    
Michael Caccavo      Defender
Aron Carlos          Defender
Carmine Fiore        Defender
Pierre Gomez         Defender
Marcus Holmes        Defender
Elijah Hosein        Defender
Abdullah Masud       Defender
Taejon Mikle         Defender             Darby FC   
Anthony Peticca      Defender
Drew Ramsay          Defender
Jacob Rodrigues      Defender
Lorenc Sharko        Defender
Holden Smith         Defender
Yong-Chan Son        Defender
Lucas Sterling       Defender
De Vante Walker      Defender              Vaughan Azzurri   
Daniel Whyte         Defender              North Mississauga (but I'm sure I saw his name as a success at the Halifax tryouts)
Alfred Hess          Defender
Peter Accardi        Midfielder
Ian Blugh            Midfielder
Boris Gujardo        Midfielder
Jonathan D'Aguilar   Midfielder
La'el Daniel         Midfielder            Darby FC     
Emilio Estevez       Midfielder            North Mississauga  
Duwayne Ewart        Midfielder            Unionville Milliken   
Maximilian Ferrari   Midfielder            Aurora FC    
Giovanni Folino      Midfielder
Julian graca         Midfielder
Mohamed Hassen       Midfielder
Ehsan Hirji          Midfielder            Sanjaxx Lions    
Kevin Lazo           Midfielder
Tristyn Lee          Midfielder
Ismael Longo         Midfielder
Abdoul Madaraka      Midfielder
Victor Munoz         Midfielder
Andrea Nguionza      Midfielder
Thomas Nykl          Midfielder
Konata Mannings      Midfielder
Mohammed Mohammed    Midfielder
Junior Abya          Forward
Jordan Carey         Forward
SamIr Oshin          Forward
Gonzalo Cabrera      Forward
Luca DiMarco         Forward
Marvelous Drumps     Forward
Milan Gandesha       Forward
Ismaila Jagana       Forward
Elijah Larin         Forward
Nico Ossa-Williams   Forward
Basel Rashrash       Forward                Unionville Milliken SC then finished year with Aurora FC   
Jesse Tavener        Forward
Gavean Valdez        Forward
Julian Wade          Forward
Ardit Xhameni        Forward

Rocket Robin
robing@eol.ca
twitter RocketRobin01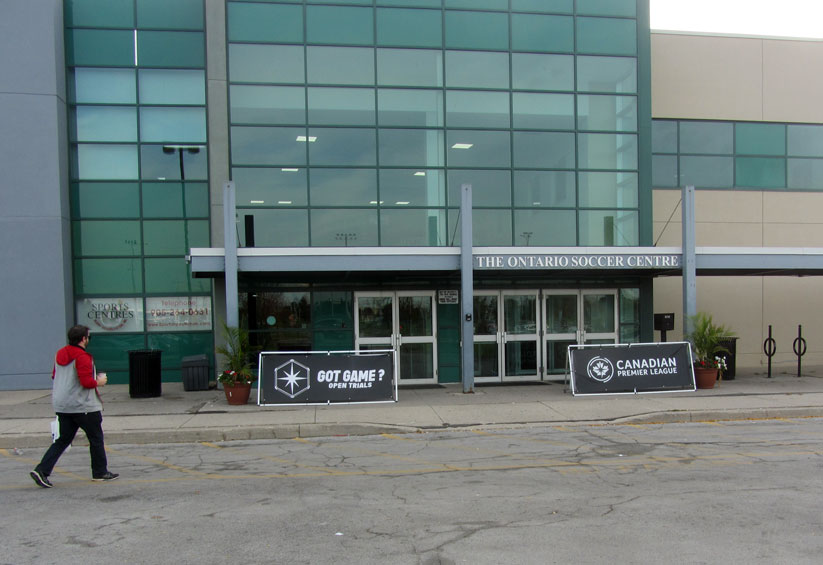 Signs outside the Ontario Soccer Centre.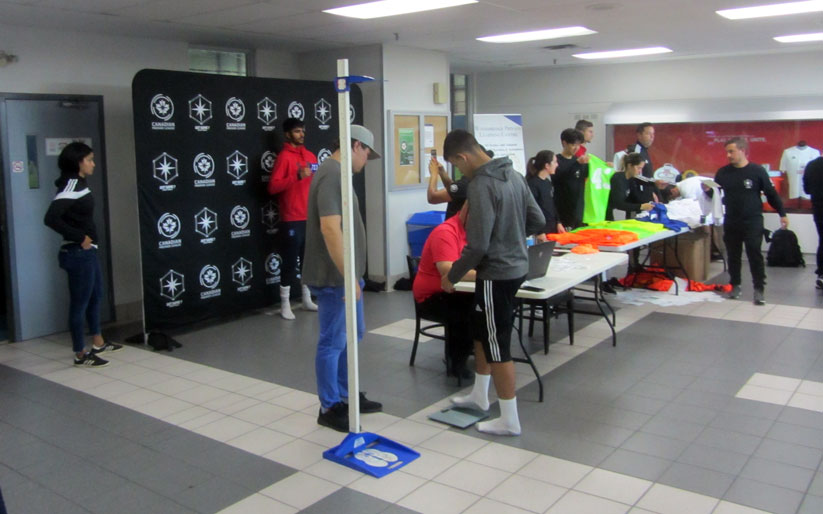 Weigh in, height taken, photo registration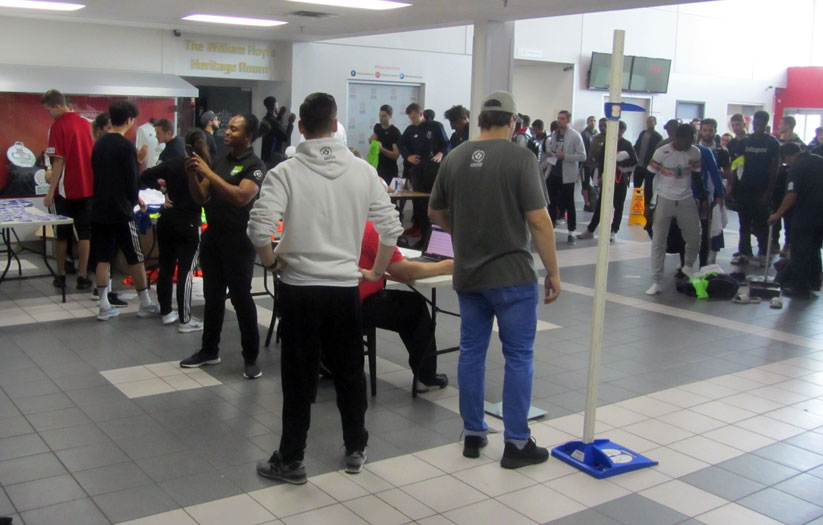 There's still a line up after 9:00am.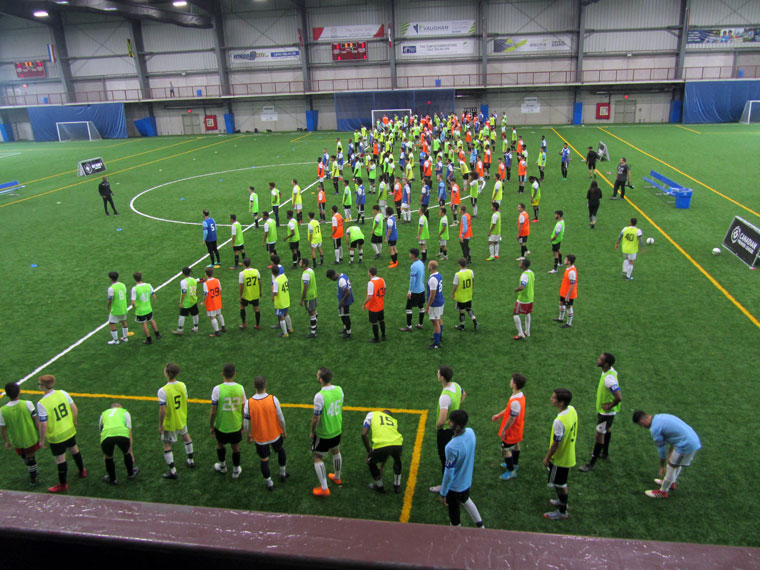 Opening warm-ups with Alex Bunbury.

The soccer field was split in three for width-wide games.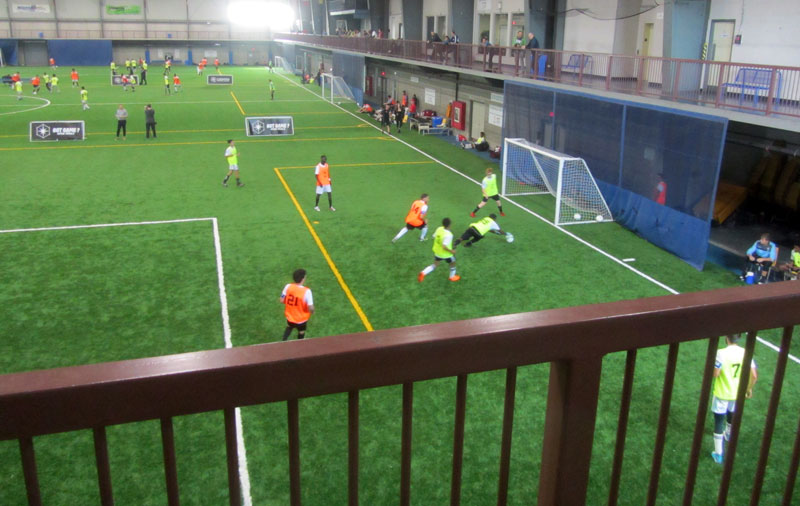 One of the morning games.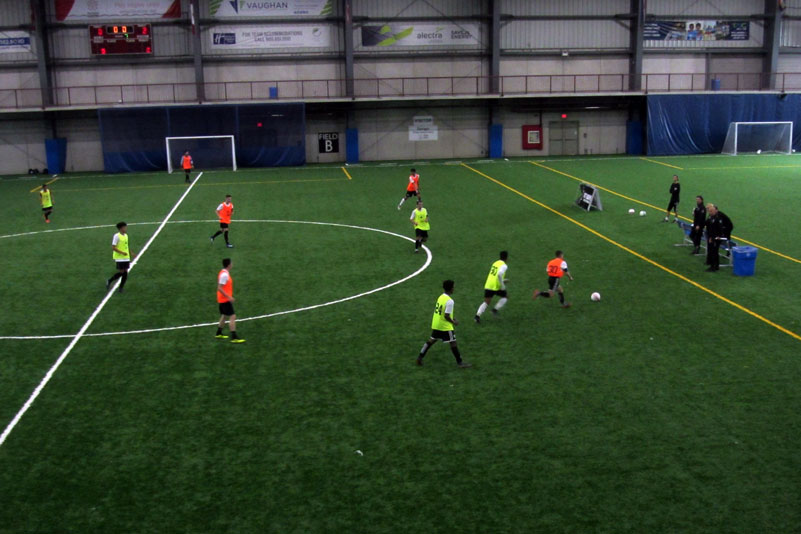 Orange #30 the rumoured youngest and smallest of the trialists was back for Day 2.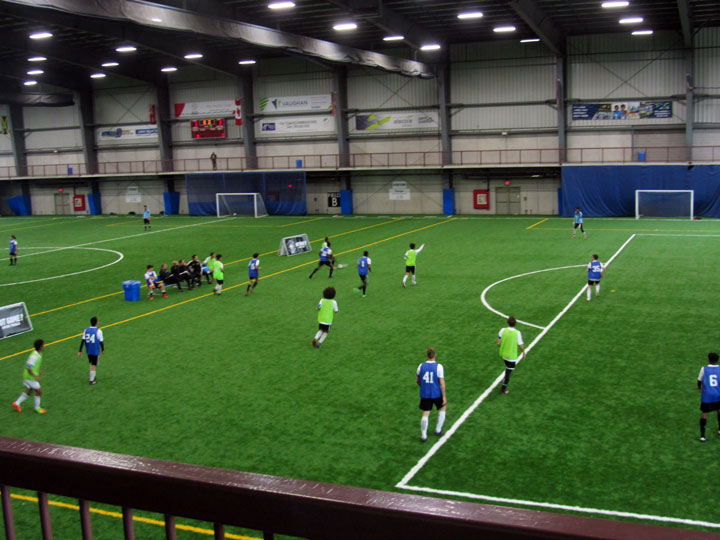 Action from one of the afternoon Blue vs Green games.

Players gathered around to hear the first day cuts.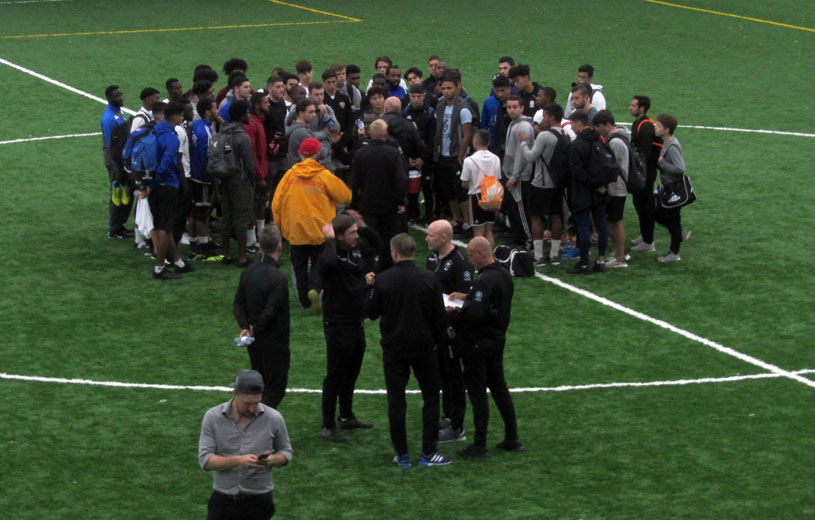 Well here are the survivors.
.
.