October 12, 2018 CPL--Canadian Premier League tryouts in Vaughan Day 2 (by Rocket Robin)

Details of the Friday October 12, 2018 second day of trials for the Canadian Premier League held at the Ontario Soccer Centre 
in Vaughan.  This is the fourth city in the seven city cross Canada open trial process.  

Today the competition was among the 60 finalists.  

I couldn't get here today until 10:15am and it was at halftime of one of the games.  

I got here in time to see the Orange pinneys vs the Yellow pinneys (at least they had easy to see dark numbers).

I saw the Yellows win the half 3-1.  I had no idea of who was wearing what pinney.  Yellow 6 scored two of their goals.  

The next game was between the Green Pinneys vs the Orange Pinneys.  Although I didn't hear officially, I expect 60 guys would
be enough to fill three teams, so each team played two halfs.  

Before the next game started I met Micki Benedetti from the league office who gave me the Ok to watch the games (although there
were an assortment of parents up here on the balcony so I guess it wasn't a closed session like I feared).  She said from the 
first tryout in Halifax surprised the league in how much talent was there and it raised their expectations for team placements 
as it is so high.   

She also said the finalists from now on will not be given an automatic invitation to a training camp.  The league will wait
until all seven tryouts are complete and then announce the 100+ invitees.  So that will subdue the celebration of surviving
the morning cuts if you will not hear that you've got an invite for more than a month!  

She said they are aware that some people are trying out at more than one location.  It's up to the individual who may learn
from their rejection and coach's advice to do better at the next one.  

The start of the next game was delayed because of a soft ball and it took awhile to settle on another Macron ball from the
many used in the warm ups.  I heard that complaint yesterday at lunch time from one of the players.  He said they felt
like volleyballs.  I'm sure Macron wouldn't have got so famous with defective equipment so it must have been just an inflation
problem.  "Hey Beavis did he say they have soft balls?  huh huh huh".  "Yeah Butthead, he did! huh huh huh".  I felt a few 
yesterday as some were shot onto the balcony.  Smooth is all I'll say but that could have been because they were so new.  

The Green v Orange game had two 30 minute halfs.  I figured the Green team won 1-0 with Green #36 scoring the goal.  He was
easy to identify as he had dyed florescent red coloured hair but again not sure what his name was.  

Kiril Dimitrov (one of the successful trialists in Halifax) came up to the balcony to watch.  I'd expect he'd be curious
about his L1O Unionville Milliken teammate Duwayne Ewart who had survived the first day.  He asked about his own Wikipedia 
profile and I showed him that he was now four years younger!  It probably took two days to update given the time it took 
me to contact the editor 'shotgun pete'.  

Cuts were made just before lunch the same way as yesterday by shouting out the armband numbers just like a Bingo game.  
I thought I'd see a lot of fist pumping or shout outs but it was if everyone had on their best poker faces.  

After lunch there was a final 60 minute game.  I figured out the Yellow team beat the Orange team 2-0.  Even the pinney
numbers were different from the morning games.  So for me to say Yellow 6 scored in the first half and Yellow 7 scored
in the second half doesn't mean much.  

There was a final goodbye by the coaches and Alex Bunbury and the players fled to the exits...after all they had two
full days of soccer.  That's not how it was presented to me at the beginning of the day.  The coaches had luggage in hand 
and left too without anything formal.  All the press was in-house.  There were no mainstream media here like television
or newspapers.  Rob of "From The Black Hole" podcast introduced himself to me.  The guy who has a paywall for his 
CPL content wasn't here either day.  I suppose Vaughan is too far for the downtown Toronto guy.  

I did congratulate Forge head coach Bobby Smyrniotis who coached Sigma FC in L1O until last month.  He had four of his
Sigma guys passing the tryouts in Hamilton and today had goalie Baj Maan make it to at least the second day in Vaughan.  

I still have a way of talking to a successful trialist as there are two more days of League 1 Ontario playoffs this
weekend and next Saturday's final so I may find something. 

I got home and found the results had been published and thirty trialists had survived lunch.  
There were twelve L1O that made the top 60 so seven who made the top 30 is about the same
proportions.  There were still rumours swirling that the 'best' L1O players had been prescouted
and would not be at these tryouts.    

Here's the list of players who have made the final cut in Toronto:

Baj Maan                    Goalkeeper            Sigma FC (but always see him as a backup, he's not gotten a minute in L1O this season)
Carter Osborne              Goalkeeper
Senad Poracanin             Goalkeeper
Carmine Fiore               Defender
Pierre Gomez                Defender
Anthony Peticca             Defender
Drew Ramsay                 Defender
Jacob Rodrigues             Defender
Lorenc Sharko               Defender
Holden Smith                Defender
Yong-Chan Son               Defender
De Vante Walker             Defender                 Vaughan Azzurri 
Daniel Whyte                Defender                 North Mississauga (but I'm sure I saw his name as a success at the Halifax tryouts)
Jonathan D'Aguilar          Midfielder
La'el Daniel                Midfielder               Darby FC
Emilio Estevez              Midfielder               North Mississauga 
Duwayne Ewart               Midfielder               Unionville Milliken
Maximilian Ferrari          Midfielder               Aurora FC
Ehsan Hirji                 Midfielder               Sanjaxx Lions
Ismael Longo                Midfielder
Victor Munoz                Midfielder
Andreas Nguionza            Midfielder
Konata Mannings             Midfielder
Mohammed Mohammed           Midfielder
Jordan Carey                Forward
Luca DiMarco                Forward
Marvelous Drumps            Forward
Milan Gandesha              Forward
Julian Wade                 Forward
Ardit Xhameni               Forward


The coaches watch from the balcony.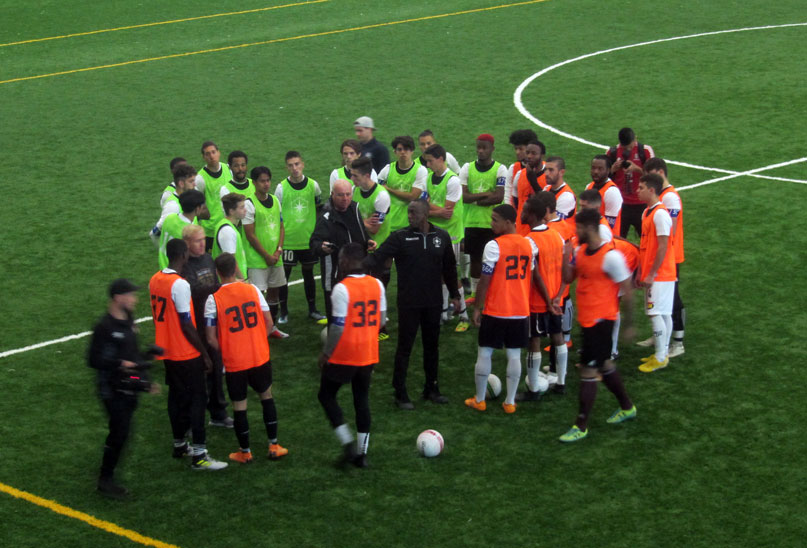 Alex Bunbury talks before an orange vs green half.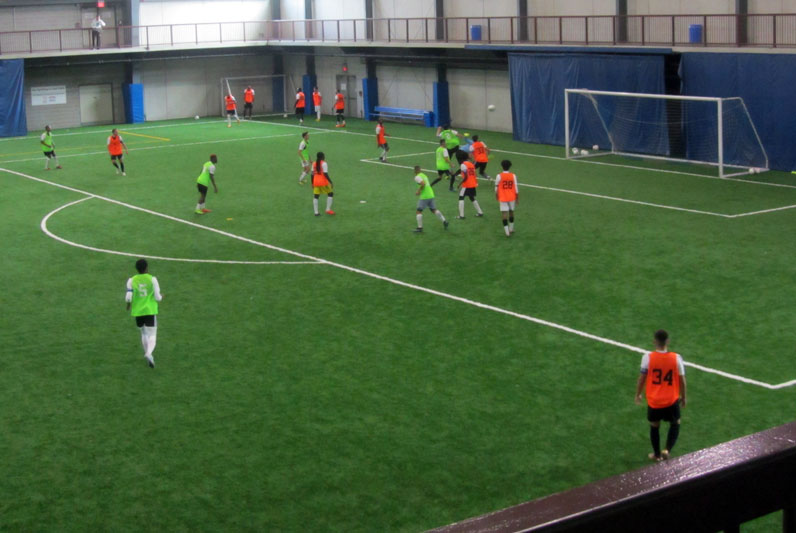 Full sided games on full fields were today's games.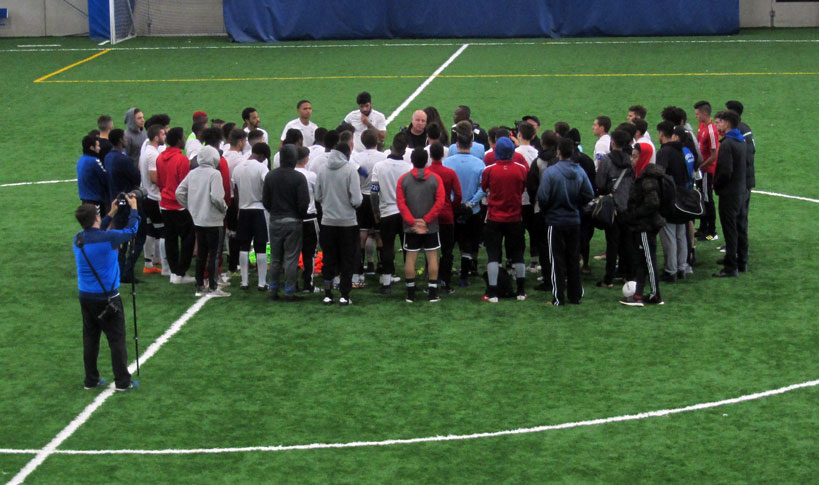 The morning cuts from 60 to just under 30.

After lunch the start of a 60 minute game between the finalists.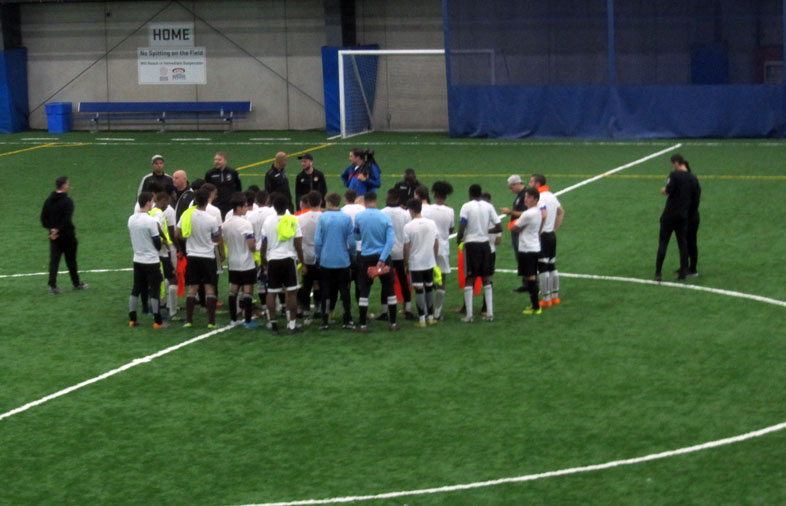 Coaches say goodbye to the finalists.
.
.